Electricity market rigging claim
ITV News has been told by a former energy trader the electricity market may have been rigged "for years" and "is worse" than what has allegedly been going on in the gas market.
Centrica, which operates British Gas, said in a statement that they have found no "cause for concern" in gas trades they have reviewed:
Centrica participates actively in the UK wholesale gas market in order to meet our commitments to our customers.

We trade in the wholesale gas market every day. In this respect, 28 September 2012 was no different.

We have reviewed all our trades executed around the close of the market on that day and have found nothing unusual about them or any cause for concern.
– Centrica statement
Following the claims of price-fixing in the gas market, a trader told ITV News that electricity prices may have been manipulated in the same way.
Today the Energy Secretary said companies caught breaking the rules would face the full force of the law - to protect consumers.
Watch Business Editor Laura Kuenssberg's report:
Read Laura Kuenssberg's blog for more.
Advertisement
Caroline Flint MP, Labour's Shadow Energy and Climate Change Secretary, commenting on allegations of price fixing in the electricity market reported by ITV Business Editor Laura Kuenssberg, said:
These fresh allegations suggest that price fixing could be happening in the electricity market, as well as the gas market, which is deeply worrying and must be investigated as fully and rapidly as possible.

Whatever the outcome of these investigations, it is increasingly clear that there are deep structural problems with the way our energy market works and is regulated.
For too long, these energy companies have been allowed to get away with running their businesses in such a complicated way that it is almost impossible for anyone to know what the true cost of energy is.

These allegations show why it is more important than ever to create a tough new regulator the public can trust and to force the gas and electricity companies to sell the energy they generate into a pool, to open up the market and ensure fairer consumer prices.
RWE npower insists it was not involved in energy trades implicated in fixing accusations.
It said in a statement:
We were not involved in any of the trades which we understand are under investigation.

We confirm that we have robust compliance procedures in place – it is an explicit commitment within RWE's Code of Conduct that we will comply with all laws and regulations.

Every trade that we make and every transactional conversation is recorded. We comply with all European transparency regulations.
It added that it would be in favour of a regulatory investigation:
Customers need to trust suppliers and be able to trust the energy markets. RWE is engaged in action to support transparency and liquididity in the markets.

We need transparent markets to encourage the investment the UK needs.We would be happy to support any regulatory investigation.
by Dan Hewitt - ITV News Producer
David Cameron said suggestions that energy prices may have been fixed are "extremely serious," which is why the matter is being investigated.
He said it is important to make sure customers get a good deal.
SSE, formerly known as Scottish and Southern Energy, repeated this statement today:
We are entirely confident that our Energy Portfolio Management team operate in a fair and legitimate way.
Advertisement
Price-fixing claims like these highlight the urgent need to overhaul our energy system to make it clearer, fairer and cleaner.

Friends of the Earth raised concerns over our broken energy market a year ago and called for a public inquiry, which the Government turned down. We're reiterating that call today.
Britain's heavy reliance on imported gas for our electricity is driving up fuel bills - and the Chancellor's reckless dash for gas will make matters worse.

With the Energy Bill expected next week, ministers must seize the chance to end the nation's gas dependency and open up the market to a wider range of smaller firms generating affordable and clean British energy.
– Andrew Pendleton, Friends of the Earth's head of campaigns
Energy Secretary Ed Davey said "firm action" would be taken against anyone found to have been involved in gas market rigging.
Energy Secretary Ed Davey said the "full force of the law" would be used against anyone involved in attempts to rig the UK gas markets.
He asked energy watchdog Ofgem and City regulator the Financial Services Authority (FSA) if they needed extra powers to tackle these alleged abuses of the market and said if the claims are true he would take "firm action".
In a statement to MPs, Mr Davey said: "I see it as my job to protect consumers, not least the most vulnerable who can suffer the most when markets are abused."
The Energy Secretary said his department and the Treasury were made aware of the allegations by the FSA last Friday.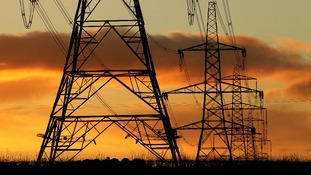 A former energy trader has told ITV News the electricity market has been rigged and it is "worse" than the gas market.
Read the full story
Load more updates
Back to top