Clegg parental leave shake-up
Parents will be able to share up to a year's leave to look after their newborn children under "radical" reforms announced by Deputy Prime Minister Nick Clegg today.
Parents will be able to share up to a year's leave to look after newborn children under new reforms announced by the Deputy Prime Minister.
Nick Clegg said that from 2015 the UK will move to a new system of flexible parental leave as part of a huge shake-up.
ITV News Political Correspondent Libby Weiner reports.
Deputy Prime Minister Nick Clegg has told Daybreak that the view "that dad's only want to take two weeks off and mum's do all the child caring and go on to part-time work and not work" is outdates.
Advertisement
Businesses owner and working mum Katie Hopkins has criticised Nick Clegg's plans to give new parents flexible working hours.
She told Daybreak: "I can't be coping with flexitime, people leaving and arriving whenever they like. I need my staff in one place."
The IoD supports the Deputy Prime Minister's efforts to release the full potential of women in the workplace. We agree that this is not just a question of equality, but also of economic necessity.

IoD members want to be accommodating to their staff, and to work with mothers and fathers in sharing leave after they have had a child. Being able to split leave flexibly will be attractive to parents, but will inevitably increase uncertainty for employers, who must be given suitable notice beforehand.
– Simon Walker, director general of the Institute of Directors
We welcome any proposals to allow genuine shared parenting, which is good for the baby, mother and father.

It is important that families are allowed to decide how to share parenting according to individual need and that fathers can play a full part in bringing up a family.

Our worry is that there will be a low take-up because the Government is not offering fathers the additional four weeks of paternity leave which was originally proposed."
– Rosalind Bragg, director of Maternity Action
The shared leave proposals are a welcome step towards greater equality at work and at home.

Families will benefit from more choice about which parent stays at home to care for a new baby.

While few low-income couples will be able to afford both parents taking time off at once, the ability to transfer leave to the father will be particularly welcomed by couples where the mother is the higher earner and it makes financial sense for her to return and the father to take over the care.
– Sarah Jackson, chief executive of Working Families
Flexible parental leave is a good way to support working families and businesses realise that this helps to retain talent.

We must ensure that the new system is simple to administer, and does not give rise to legal action from fathers seeking parental rights that mirror those available to mothers.

Companies support the right of all staff to request flexible working, but they must be able to decide each case on its merits, as it may not be practical for all firms.
– CBI chief policy director Katja Hall
Advertisement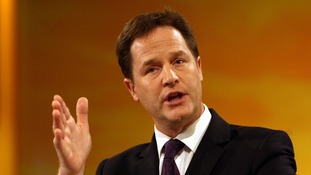 Parents will be able to share up to a year's leave to look after their newborn children under new reforms announced by Nick Clegg today.
Read the full story
Parental leave is when eligible employees can take unpaid parental leave to look after their child's welfare, eg to:
Spend more time with their children
Look at new schools
Settle children into new childcare arrangements
Spend more time with family - eg visiting grandparents
Their employment rights (like the right to pay, holidays and returning to a job) are protected during parental leave.
We welcome the extension of the right to request flexible working to all employees.

A shift in attitudes to flexible working is a natural reflection of the changing nature of work and the workforce.

More flexibility extends the ability of employers to attract, retain and motivate a more diverse workforce, better reflective of the customer base they serve.
– Peter Cheese, chief executive of the Chartered Institute of Personnel and Development
We support the concept of flexible working, but the proposals to extend the right to request to all workers could make it more difficult for employers to offer flexibility to employees who are parents or have caring duties.

Unfortunately, the Government's current proposals risk causing unnecessary friction between parents and employers, and raise unrealistic expectations about the level of flexibility most businesses will be able to accommodate.
– Adam Marshall, director of policy at the British Chambers of Commerce (BCC)
Load more updates
Back to top