Clegg parental leave shake-up
Parents will be able to share up to a year's leave to look after their newborn children under "radical" reforms announced by Deputy Prime Minister Nick Clegg today.
Flexible working is a key enabler towards women's participation in the labour market and extending the right to request will be a groundbreaking step on the path towards equality in the workplace in the UK.
– Helen Wells, director of campaign group Opportunity Now,
Manufacturers already offer flexible working arrangements to their employees, often going above and beyond what was covered in today's announcement.

In today's workplace, flexible working is a two-way street. It helps employees balance out their lives inside and outside of work and helps employers secure commitment and flexibility from their workforce.

We continue to believe today's legislation is unnecessary but welcome the Government's attempt to make the process simple.
– Tim Thomas, head of employment policy at EEF
Advertisement
The reforms will make it easier for parents to choose how they want to share their leave to look after newborn children.

Allowing all staff to ask to work flexibly is common sense to good employers. But we know that too many businesses are still reluctant to modernise working practices so the Government is right to give them a nudge with this new universal right to request flexible working.

These reforms will make life easier for millions of working parents. Businesses will also benefit from a more engaged workforce and a larger pool of people to recruit from.
– TUC General Secretary Brendan Barber
Currently, parents of children under 17, or under 18 if their child is disabled, can ask for more flexible working patterns,
But the law is likely to change extending the right to all employees, irrespective of whether they have a child.
Under the change, grandparents could apply for flexible working to help look after grandchildren.
Nick Clegg is expected to say that a new legal right will be given to men to take unpaid leave to attend two antenatal appointments.
Added to tax changes, Mr Clegg will say the reforms have the potential to transform opportunities for young parents considering starting a family.
You won't get to 30 and suddenly have to choose - motherhood or work - because we're making the changes that will give you a route back.

That means women up and down the country realising their potential, keeping their independence, fulfilling their dreams. It means children up and down the country benefiting from having their fathers in their lives.

It means an economy running on all cylinders, and it means a nation reaping the rewards. Greater equality; a fairer society; a stronger economy too.
Clegg has said that he had considered extending paternity leave from the current two weeks, but concern had been voiced within Government and from business groups about the cost.
Flexible leave will be reviewed by 2018, when extending paternity leave will be looked at, Mr Clegg is expected to announce.
These are major reforms and, at a time of continuing economic difficulty, it's sensible to do them in a number of steps, rather than one giant leap. More and more men are taking on childcare duties, or want to, and flexible leave builds on that.
– Deputy Prime Minister Nick Clegg
Advertisement
Under other changes, the right to request flexible working will be extended to all employees to encourage different work patterns for parents.
Clegg is expected to say that "clapped out" rules need to be changed to give women a "real choice" after taking a break from work to have children.
The biggest change covers parental leave, so a mother will be able to trigger leave at any point so that whatever time is left to run on her original year off can be taken by her partner instead.
Parents will be able to "chop up" time together or take time off together, as long as no more than 12 months is taken in total, with no more than nine at guaranteed pay.
Parents will be able to share up to a year's leave to look after their newborn children under "radical" reforms announced today.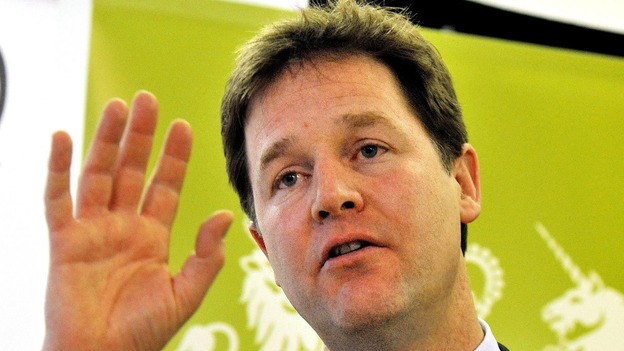 Deputy Prime Minister Nick Clegg said that from 2015 the UK will move to a new system of flexible parental leave as part of a huge shake-up of current arrangements.
Load more updates
Back to top