Israel-Hamas ceasefire deal
Egypt has announced a ceasefire agreement between Israel and Hamas that is set to begin at 7pm UK time. The announcement was made by the Egyptian foreign minister in Cairo alongside US Secretary if State Hillary Clinton.
The United States condemns today's terrorist attack on a bus in Tel Aviv.

Our thoughts and prayers are with the families of those injured, and with the people of Israel.

These attacks against innocent Israeli civilians are outrageous.

The United States will stand with our Israeli allies, and provide whatever assistance is necessary to identify and bring to justice the perpetrators of this attack.

The United States reaffirms our unshakeable commitment to Israel's security and our deep friendship and solidarity with the Israeli people.
– White House Press Secreatry
Police blamed terrorists for the attack in Tel Aviv, which happened as the bus drove along a street near the Israeli Defence Ministry. The explosion could jeopardise international efforts to agree a ceasefire between Israel and Gaza, as Nina Nannar explains.
Advertisement
Israeli police have apprehended the man they believe to be the bomber. We came across the scene and watched as he was handcuffed, stripped of his clothing and taken away.
The bus bomb in Tel Aviv was not a suicide attack. The bomber apparently placed a device on the bus and fled. Damage to the bus appears to be limited to broken windows, which may explain why the reports of casualties do not include fatalities at this stage.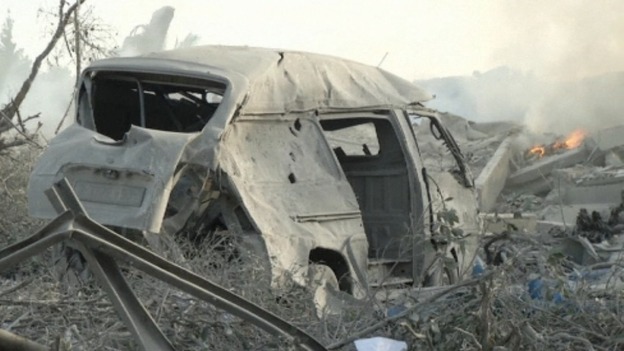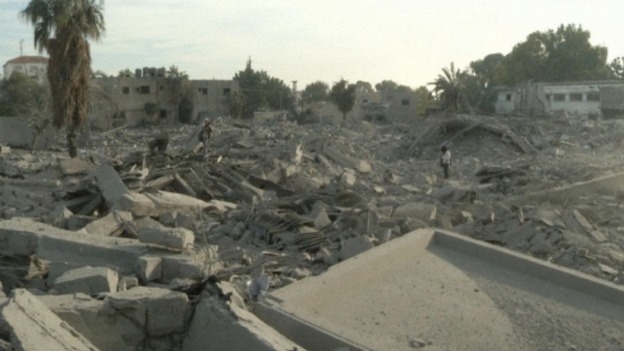 The Labour leader Ed Miliband has pressed the Prime Minister to explain how pressure can be put on Israel and Hamas to join meaningful negotiations to bring about a ceasefire.
David Cameron said that he has spoken to both sides in the conflict but that peace can only come about with "Israelis and Palestinians sitting down and negotiating".
He said this was a higher priority than taking action through the United Nations.
Medical teams say 21 people were taken to hospital after the Tel Aviv attack. One is in a serious condition.
Advertisement
The shell of the bus is reportedly being moved from the site of the explosion in Tel Aviv. Irish Times Correspondent Ruadhán Mac Cormaic is watching it being taken away, and tweeted this picture.
Reports of several loud explosions in central Gaza following the Tel Aviv attack.
The Foreign Secretary William Hague has said "the UK is deeply concerned at emerging reports of a bomb attack on a bus in Tel Aviv":
At this time our thoughts are with the individuals and families affected.

Details of what happened are still unclear but if this was a terrorist attack we condemn it unreservedly.

We are clear that terrorists must not be allowed to set the agenda.

This shocking violence further underlines the urgent need for an immediate de-escalation of violence and a full ceasefire.

We urge all those involved to do everything they can to give maximum support to Egyptian-led efforts to allow them to succeed.
Load more updates
Back to top