ITV: Schofield will stay on TV
ITV has said Phillip Schofield will stay on their programmes despite an investigation by the broadcasting regulator Ofcom into ITV1's This Morning and BBC's Newsnight over complaints that the shows breached "generally accepted standards."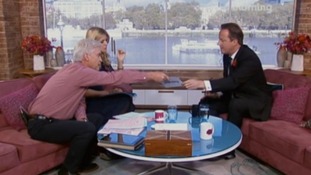 ITV boss Peter Fincham said Phillip Schofield would "stay on air" and confirmed that ITV has received a letter from Lord McAlpine.
Read the full story
Peter Fincham, ITV's Director of Television, said today that the Phillip Schofield incident was "something we shouldn't have done."
Speaking to ITV News UK Editor Lucy Manning, Mr Fincham said that Mr Schofield "realises his mistake, he apologised for it fully and extremely quickly."
"I think he's under no illusions that this was a lapse in ITV journalism," he said.
"In live television, all sorts of things can happen. That doesn't mean they should happen," he said, adding that he had received a letter from Lord McAlpine today to which ITV would respond "very quickly."
Advertisement
I pressed Peter Fincham on what disciplinary action had been taken by ITV.
He wouldn't go into to detail but said Phillip Schofield would stay on the air.
ITV's Director of Television Peter Fincham says he has spoken to Phillip Schofield who realises his mistake and "I think that he is under no illusion that this was a lapse in ITV journalism."
Conservative John Whittingdale, chairman of the Commons Culture, Media and Sport Committee, has written to Peter Fincham, director of television at ITV, calling for information about who was involved in the decision to hand the list of names to the Prime Minister.
He wrote:
As you are aware, during the interview, Mr Schofield presented the Prime Minister with a list of names of individuals alleged to have been involved in paedophilia which it had taken him "about three minutes" to obtain from the internet.

I understand that Mr Schofield has apologised for the fact that some of the names might have been visible and that Ofcom is also considering a complaint about this matter.
However, there has been widespread concern expressed about the decision itself to confront the Prime Minister with such a list.

I would therefore be grateful if you could say whether or not it is the view of ITV that this represented responsible journalism in the public interest.

I would also like to know at what level the decision was taken, what legal advice was sought, and what subsequent consideration has been given to the appropriateness of this broadcast.
Chair of Culture Committee John Whittingdale MP will call ITV bosses if ITV fails to answer questions in his letter appropriately.
Advertisement
Richard Pallot looks at why This Morning was disciplined by ITV - and Ofcom's investigation.
The Independent's Assistant Editor Ian Burrell reports that there have been over 400 official complaints.
I'm told there have been 415 complaints over Schofield stunt and under 5 on the original Newsnight McAlpine film. Ofcom investigating both.
Ofcom will investigate standards at ITV and BBC and if there was unfair treatment of an individual/infringement of privacy. Could take 90 days.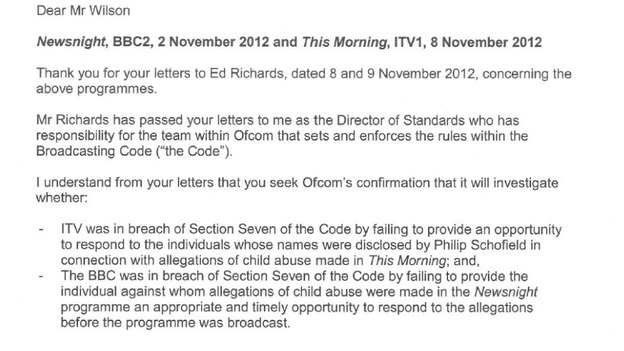 You can read Ofcom's reponse in full here.
Load more updates
Back to top