Williams: 'Church lost credibility'
The Archbishop of Canterbury has told the Church of England General Synod that "we have lost a level of credibility in the wider society" after they voted against introducing women bishops.
MPs tweet reaction to women bishops rejection
Labour MP for Durham City Roberta Blackman Woods, Conservative MP for Torridge and West Devon Geoffrey Cox and Liberal Democrat MP for St Austell and Newquay Stephen Gilbert have tweeted:
V disappointed by Church of Eng vote on women bishops Hope Justin Welby can make progress & correct this wrong unrepresentative vote #Synod
From
@robertabwMP
on Twitter:
Synod decision is the democratic and legitimate expression of the government of the church and should be respected even if we disagree.
From
@Geoffrey_Cox
on Twitter:
Church of England seems to be taking Wilde's advice the wrong way around - doesn't want those who want to be members #LostThePlot
From
@stephen_gilbert
on Twitter:
Newspapers reaction to CofE rejecting women bishops
"One speaker said, as if it mattered: "I don't believe that this is legislation that will allow the world to look at the church tonight and see Jesus Christ"; and no one pointed out that back on planet earth, the world will look at the church today and say: 'Jesus Christ!'"
"The decision is remarkable but understandable given the Anglican Church's paralysis. On the one hand, it has become the Labour Party at prayer – fixated on equality. On the other, its obsession with showing respect to conservatives means that it cannot commit to its own egalitarian principles."
"Yesterday was a sad and shameful day for the Church of England and therefore for the country of which it is the established religion. It took 12 years of deliberation and prayer for the Church to arrive at its decision on appointing women as bishops, and yet it got that decision dreadfully wrong."
Advertisement
Dr Giles Fraser: CofE has become 'national disgrace'
The Revd Canon Dr Giles Fraser, former Canon Chancellor of St Paul's Cathedral, said of today's result:
The Church of England has become a national disgrace.
From
@giles_fraser
on Twitter: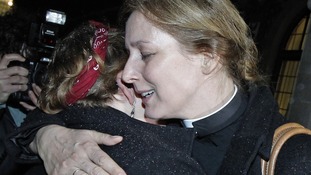 The Church of England General Synod voted against allowing women bishops in what the Archbishop of Canterbury called "a missed opportunity".
Read the full story
Archbishop: 'I understand women may feel rejection'
Archbishop of Canterbury Dr Rowan Williams said he "can well understand that feeling of rejection and unhappiness" that women may be feeling towards the institutional Church after today's result.
Plymouth vicar: No vote 'very good news' for CofE
Rev Prebendary Rod Thomas, the chairman of the conservative evangelical grouping Reform - which recommended a no vote - concluded the General Synod's decision on women bishops is "very good news for the Church of England".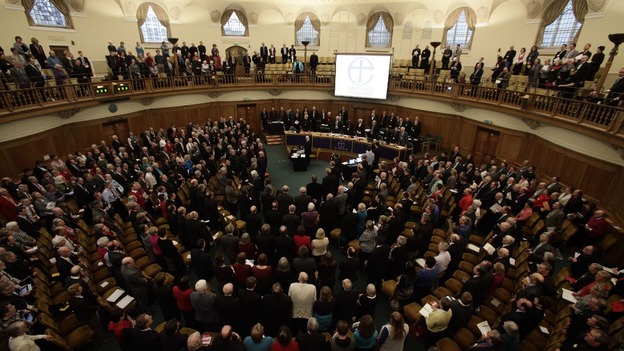 The Plymouth vicar said, "We have avoided what could have been a disastrous mistake for our unity and witness".
The defeat came in spite of a series of appeals from senior Bishops in the Church for the Synod to back final approval for the legislation.
Advertisement
Culture Secretary source: Church decision 'behind the times'
Sources close to Culture Secretary Maria Miller said tonight:
Whilst this is a matter for the church, its very disappointing.

As we seek to help women fulfil their potential throughout society this ruling would suggest the church is at the very least behind the times.
Female clergy members commiserate after vote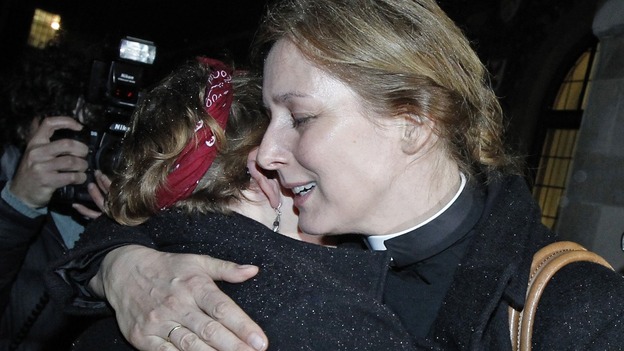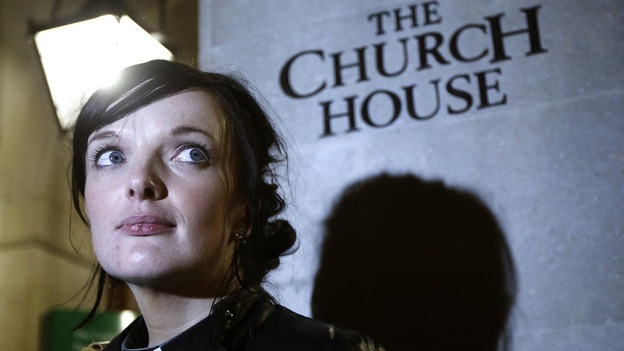 'No' campaign group pleased with Synod's decision
Campaign group Together4ward, which was set up by the Church Society to encourage a no vote, said its members are "reflecting on and praying about" the outcome of the General Synod vote.
"We are, however, pleased that Synod has chosen not to pass the Women Bishops Measure in its current form, which we believe would not have allowed the Church to go forward together", it added.
The group said it will make a fuller statement "in due course".
Poll: 67% of Brits in favour of women bishops
The majority of British people are in favour of the Church of England allowing women to become bishops, according to the latest ITV News Index Poll carried out by ComRes.
Of those people asked:
67% voted in favour
13% voted against
20% said they did not know
ComRes interviewed 2,055 adults online from 16-18 November.
Load more updates
Back to top