Govt recognises Syria rebel group
The Government has formally recognised the National Coalition of the Syrian Revolutionary and Opposition Forces as the "sole legitimate representative" of the Syrian people, Foreign Secretary William Hague has announced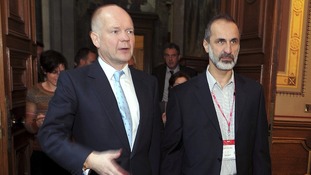 The UK is taking a gamble in recognising the new Syrian opposition coalition as the sole representatives of the Syrian people.
Read the full story
Syrian opposition welcomes UK recognition
The Syrian National Coalition opposition group welcomed Britain's official recognition of it as the sole legitimate representative of the Syrian people, a coalition spokesman said.
This step is very important and I think it will encourage more Syrians to join the coalition and trust it and it will also encourage other European states to recognise it.
Advertisement
Hague: 'Significant increase in support' for opposition
Foreign Secretary William Hague announced that the British Government would provide "a significant increase in practical support" for the Syrian opposition.
Government officially recognises Syrian opposition group
The British Government has decided to recognise the National Coalition of the Syrian Revolutionary and Opposition Forces as the "sole legitimate representative" of the Syrian people, Foreign Secretary William Hague announced in the House of Commons.
UK to increase humanitarian aid to Syria
The Foreign Secretary William Hague condemned "the barbaric violence by the Assad regime" in the House of Commons and said that the UK will increase humanitarian assistance as the crisis grows and winter approaches.
Back to top