Wet weekend for rain-soaked UK
Britain is bracing itself for more flooding this weekend as forecasters predict further heavy downpours. The Environment Agency says nearly 300 properties have already flooded across the UK since Tuesday.
90-year-old man missing near River Thames in Berkshire
Thames Valley Police have confirmed that they are looking for a 90-year-old man in Berkshire after his car was discovered near the River Thames at Sonning.
A spokesperson was keen to stress that the search is "not flooding related" but that specialist teams were combing the river bank.
It's understood that the pensioner from Woodley was reported missing at 9am this morning.
The river is quite swollen at the moment following recent heavy rainfall.
Rain brings floods and landslides to the South West
For more information on the damaged caused by the wet weather in the South West visit ITV Westcountry and ITV West.
Advertisement
Drivers use flooded roads despite police warnings
Drivers are driving through a ford in Somerset in which a man died last night, despite warnings from police. Avon and Somerset Constabulary says that motorists should avoid making unnecessary journeys until the waters recede.
ITV West has further information about road closures in the region.
300 properties flooded in 24 hours, says Downing Street
by Libby Wiener - Political Correspondent
Three hundred properties have been flooded over the last 24 hours, according to Downing Street.
In total, there have been 88 flood warnings and 188 flood alerts.
"The Environment Agency is monitoring the situation closely," the Prime Minister's spokesman said.
She warned that more rain and high winds could make the situation over the weekend.
Fire fighters tried to resuscitate trapped man
Avon Fire and Rescue Service's specialist swift water rescue team were called to the trapped driver in Chew Stoke in Somerset at 9pm last night. Unfortunately the driver was declared dead after he was freed from his vehicle.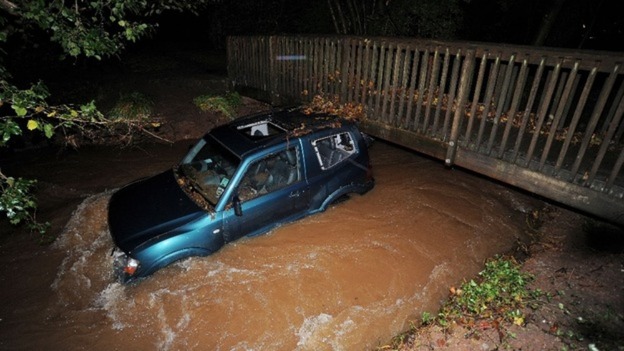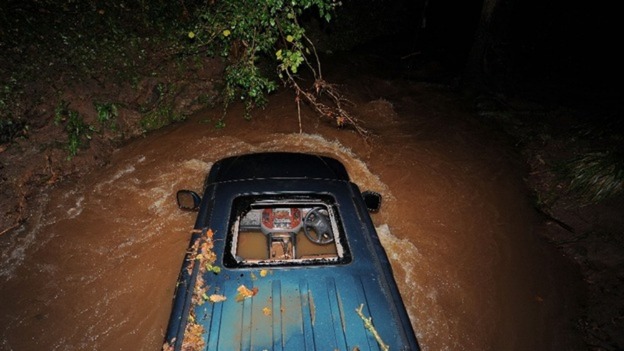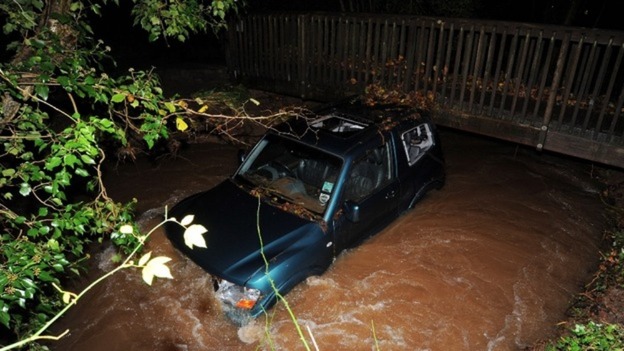 Emergency dams for the Great Western Canal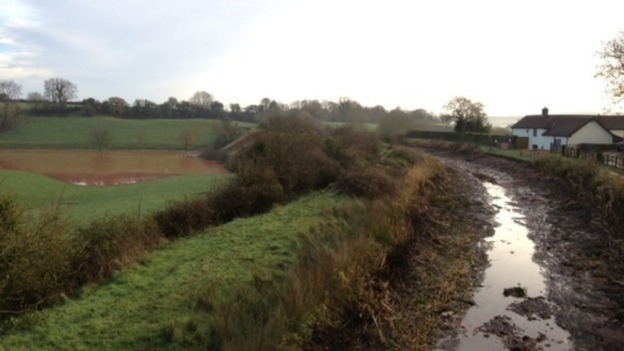 Workers are installing emergency dams along the Great Western Canal after thousands of tonnes of water leaked into neighbouring fields. ITV West Country has a full report on why the embankment of the canal collapsed near Tiverton.
Advertisement
Pensioners evacuated from Oxfordshire care home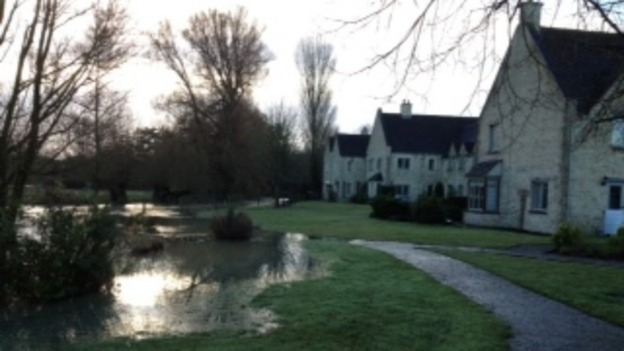 50 residents of a care home in North Oxfordshire are staying in temporary accommodation because of fears that the River Evenlode may burst its banks.
ITV Meridian has further information about flooding in the Thames Valley.
Police urge caution while flood waters recede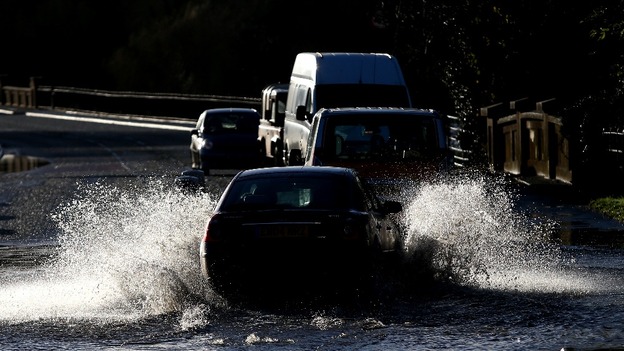 West Mercia Police are asking drivers to take extra care while flood waters recede across Worcestershire.
Inspector Ian Massey said "I cannot stress enough how important it is that drivers do not drive through flooded roads or fords as it is impossible to judge how the deep the water is."
ITV Central has the latest information on road closures in the county.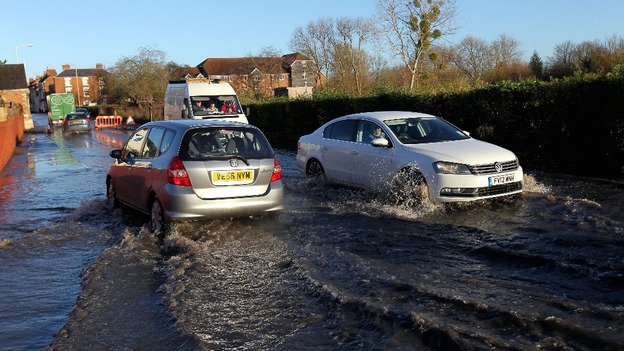 Police preserve the scene after man dies in Somerset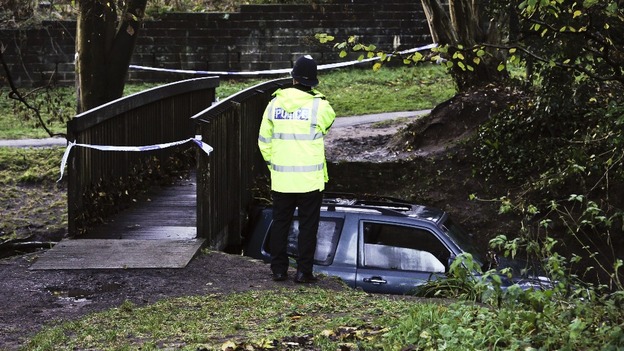 Police officers are trying to gather forensic evidence from the flooded village of Chew Stoke in Somerset after a man died.
It's understood the man was trying to cross a flooded ford when his car became trapped.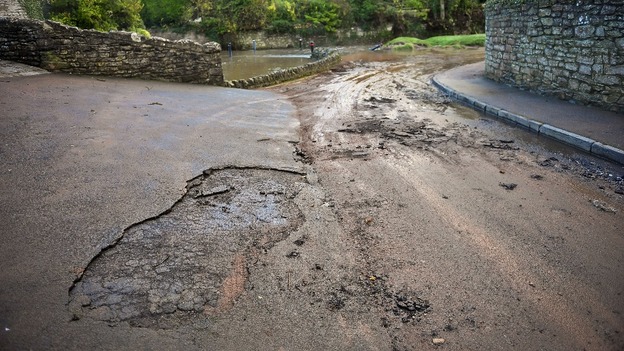 Environment Agency reduces flood warnings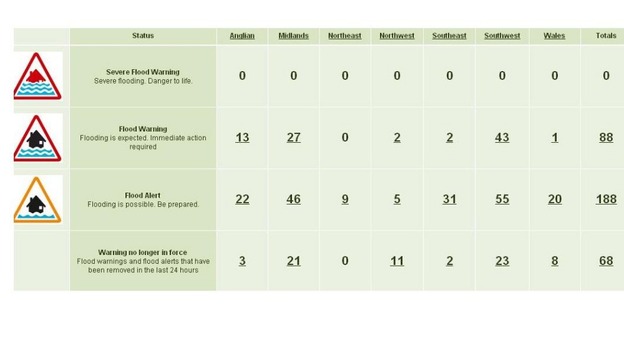 The Environment Agency has downgraded its warnings across the UK as the wet weather passes.
There are now 88 flood warnings in place predominantly across the Midlands and the South West. But 188 flood alerts remain across the country.
Load more updates
Back to top