Steel giant Tata cuts 900 jobs
Steel company Tata is cutting 900 jobs and closing twelve sites under plans to improve competitiveness, the firm announced now.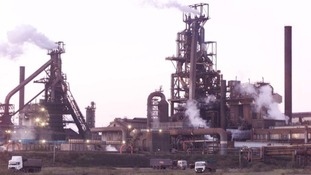 Port Talbot is a town built on steel. At its height, 21,000 people worked here.
Read the full story
Union: Workers face uncertain Christmas due to 'job carnage'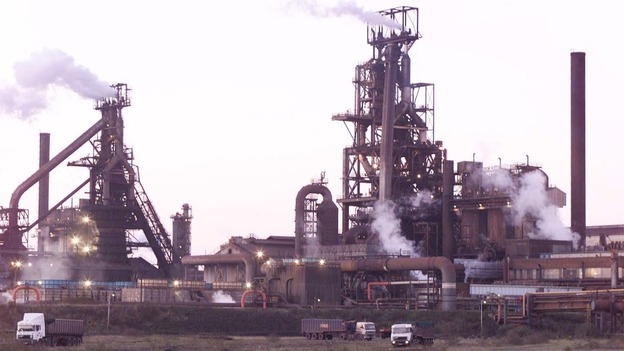 Unions have called the news that Tata is cutting 900 jobs "devastating" and said it capped off a "dark" week for the UK economy.
The news follows announcements of further potential and real job losses at Vion, Premier Foods, Standard Life, Comet and Newcastle City Council.
Unite general secretary Len McCluskey said: "Today's news at Tata rounds off a dark seven days for the UK economy."
Michael Leahy, general secretary of the Community trade union, said he was seeking an "urgent meeting with the company to ensure our principle of no compulsory redundancies is upheld".
Advertisement
Tata boss in April: Govt polices put firm at a disadvantage
by Laura Kuenssberg - Business Editor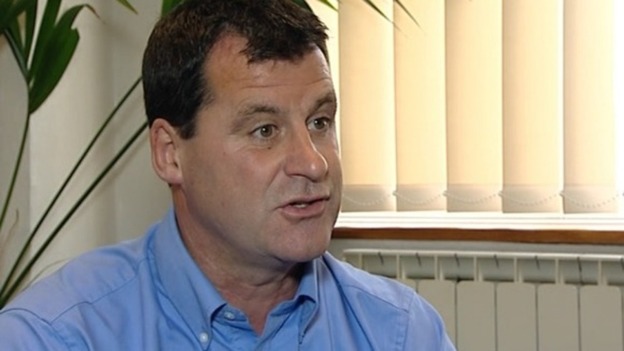 In April I spoke to the boss of Tata Steel in Wales.
Jon Ferriman, the director at the plant made clear what was making life harder for them.
He said UK policies, particularly on energy, put them at a "competitive disadvantage" to France or Germany, saying the way taxes on energy work mean Tata UK pays 25 to an incredible 50 percent more than Tata in France or Germany.
He said: "We are not making it attractive to invest in the UK...this is a difficult place to do manufacturing...I don't think manufacturing is seen as a critical industry in the UK."
Tata: EU demand for steel down 25% in five years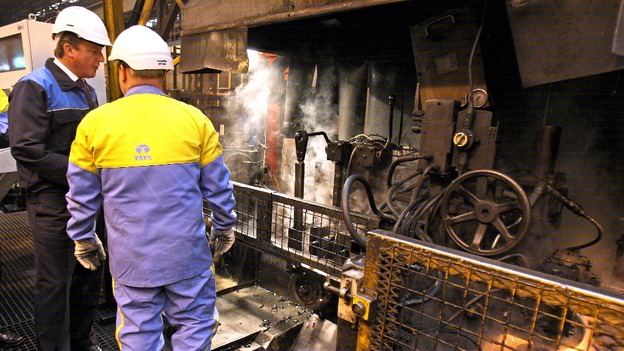 Announcing 900 job losses and 12 site closures as part of its "transformation strategy" for growth, steel giant Tata said the ongoing European debt crisis had seriously impacted demand.
It said demand for steel within the Euro bloc had fallen by 25% since 2007, and was forecast to slump by another 10% this year.
The company, which employs 19,000 in its steel business in the UK, said it remained committed to investing in the business to help create long-term stability.
Welsh Government: Tata announcement a 'massive blow'
A Welsh Government spokesman said today's announcement was "very disappointing news" and "a massive blow" that shows the very real challenges faced by the manufacturing sector.
This is very disappointing news, and a massive blow to those who will be losing their jobs.

Tata's decision reflects the serious and ongoing challenges faced by manufacturing industries during these very difficult economic times. In addition to these challenges, it is clear that high energy costs and uncertainty over UK Government energy policy are having a significant impact on business investment decisions.
The UK Government must now deliver quickly on its commitment on a fit for purpose support package to compensate energy intensive industries for the impacts of energy and climate change policies and help ensure they are able to compete internationally.
Tata Chief: Job losses part of 'transformation strategy'
Tata's European Chief said he today's job losses are part of a "transformation strategy" to make the company capable of succeeding in "difficult economic conditions." Karl Kohler said:
Today's proposals are part of a strategy to transform ourselves into an all-weather steel producer, capable of succeeding in difficult economic conditions.

These restructuring proposals will help make our business more successful and sustainable, but the job losses are regrettable and I know this will be a difficult and unsettling time for the employees and their families affected.

We will be working with our trade unions and government at a national and local level to ensure we provide them with as much assistance and support as possible.
Advertisement
Tata boss said Government needed 'clearer growth plan'
by Laura Kuenssberg - Business Editor
Sad news about the 900 jobs going at Tata Steel. The boss told me earlier in the year that the Government had to give a clearer sense of plan for growth.
Tata to cut 580 jobs across Wales
Most of the job losses from steel giant Tata will be in South Wales. More than 500 jobs will be cut from the Port Talbot plant, under a restructuring of management and administrative posts, according the company.
580 jobs will be cut across Wales
155 jobs will be lost in Yorkshire
120 jobs will be cut in the West Midlands
30 jobs will be lost on Teesside
Sites to close include Tafarnaubach and Cross Keys in South Wales, while shift levels at the company's Rotherham and Hartlepool plants will be reduced to match production to lower demand for bar products and pipelines.
Steel giant Tata to cut 900 jobs
Steel company Tata is cutting 900 jobs and closing twelve sites under plans to improve competitiveness, the firm announced now.
Back to top