West Ham ban fan over gesture
West Ham has banned a season ticket holder after he received a caution for making ana nti-Semitic gesture during yesterday's match against Spurs. The FA has begun an investigation after some Hammers fans sang chants about Adolf Hitler.
Israeli footballer Yossi Benayoun, who plays for West Ham on loan from Chelsea, said he was disappointed and embarrassed by chants from his team's supporters yesterday:
I have a great relationship with the West Ham United supporters, from my first spell at the club and again now I am back on loan here
this why I was very disappointed to hear some of the songs yesterday and it was embarrassing ..
. But we need to remember that it was made by a minority group of fans and I'm sure the fa together with west ham
Police confirmed that two West Ham supporters were formally cautioned by officers after making "racially-aggravated gestures" during yesterday's match.
The pair of fans were arrested during the game and accepted the police cautions, Scotland Yard said.
One of those was a Hammers season ticket holder who has since been banned.
Tottenham Hotspur have confirmed that five supporters were arrested during Sunday's match at White Hart Lane outside of the stadium for unrelated incidents and two more were cautioned for racially aggravated gesturing inside the ground.
One of those fans has since been identified as a season ticket holder and has, this afternoon, been sent a letter containing a banning order from the club.

Any other individuals identified can expect a similar swift and robust response.
Advertisement
The FA can confirm it has begun investigating reports of abusive chanting at the Tottenham Hotspur FC versus West Ham United FC fixture on 25 November 2011.

The FA Governance Department has this morning contacted both clubs and will continue to make enquiries into the matter in the coming days.

We note the statement issued by West Ham United FC and encourage Clubs to identify and ban for life any individuals involved in incidents of abusive chanting.

There is no place for anti-Semitism or any form of discrimination in football.
– The FA
The Board of Deputies of British Jews said it was "dismayed" by reports of anti-Semitic chanting by West Ham fans.
It said in a statement:
The Board of Deputies of British Jews utterly condemns and is dismayed by reports of antisemitic chanting by West Ham United fans at yesterday's match against Tottenham Hotspur.
Antisemitism has no place in football or society in general. For football fans to use Holocaust imagery and chants glorifying Adolf Hitler is grossly offensive to the Jewish community and is a stain upon the character of British football.

This in the same week that Tottenham fans were attacked in Rome in an apparently antisemitic attack.

Events at White Hart Lane yesterday and comments on Saturday by the Scunthorpe United manager describing his team's defending as being "as bad as the Holocaust" confirm that this phenomenon is not confined to the Continent.
The board said they would be making a complaint to the FA:
We will be writing to the Football Association to urge them to punish those responsible for these chants and to take further steps to rid our national game of these slurs.
West Ham United said the club will take the "strongest possible action" against any supporters found guilty of inappropriate chanting during the Barclays Premier League match away to Tottenham yesterday, including the enforcement of life bans.
A statement said:
West Ham United are in contact with Tottenham Hotspur to assist them with their investigation into the conduct of a small number of supporters and alleged inappropriate chanting during yesterday's match at White Hart Lane.

West Ham United will take the strongest possible action against any of their supporters, including enforcing life bans from the club, that are found guilty of behaviour which is categorically not condoned by West Ham United.
During the 46 games in the Championship last season, West Ham United had zero arrests for racism or violence, so while we are surprised to see such reports today, we will examine any available evidence of such conduct thoroughly and take the appropriate action.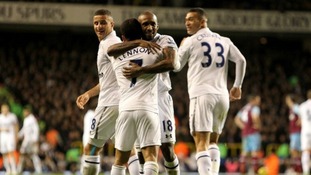 West Ham could face a FA investigation after Spurs fans were allegedly subjected to anti-Semitic abuse during their match on Sunday.
Read the full story
Advertisement
Back to top