E.ON customer switch payout
Energy supplier E.ON is to pay back around £1.4 million to some 94,000 customers who were incorrectly charged exit fees or overcharged following price rises, regulator Ofgem has said.
Ann Robinson, Director of Consumer Policy at uSwitch.com, said:
This announcement is very welcome. Ofgem and E.ON are taking a good and sensible approach which will ensure that customers are not left out of pocket.

It's also good that more vulnerable households will benefit from the goodwill gesture being made to the consumer fund that E.ON runs in partnership with Age UK. Today's announcement also sends a very timely reminder to consumers that if they are unhappy about their supplier increasing its prices they are free to switch to a better deal.
Suppliers now have to give you 30 days' notice and you will not incur exit fees or the higher charges as long as you let your supplier know that you are leaving during this timeframe.

With some announced price rises yet to come into effect, consumers can still enjoy this window of opportunity.
E.ON's customer service director, David Bird, said:
We are very sorry to have let down some of our former customers and have made clear that we will refund the money plus interest. Our systems are being updated to ensure this mistake can never happen again.

We've been open in our failure with the energy regulator, Ofgem, and are pleased to have agreed with them how we can put this right and have identified all customers who are due to receive payment from us in January.
Advertisement
Sarah Harrison, Ofgem's senior partner in charge of enforcement, said:
Ofgem has put in place protections for consumers so they can get a fair warning if their supplier puts up prices and time to shop around for a better deal.

E.On has accepted it failed to meet these protections. Today's announcement that E.On will compensate customers is a positive step by the company to put right their mistakes and is welcome.
Ofgem said it had been assured by E.ON that all of the consumers affected had been identified and would be contacted and sent a rebate of an average of £14.83.
The amount includes 8% interest on the amount they were incorrectly charged.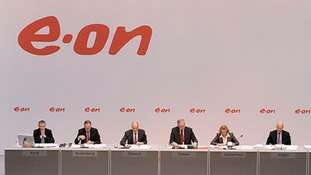 Some 94,000 E.ON customers trying to switch providers were charged new prices during the 30-day window after a price rise.
Read the full story
Back to top