Minimum alcohol pricing
Ministers have defended controversial plans to ban cheap deals on alcohol in England and Wales, insisting they would save hundreds of lives every year. The coalition is proposing a minimum alcohol price of 45p per unit and an end to multi-buy offers
Eric Appleby, chief executive of Alcohol Concern has told Daybreak that a minimum alcohol price is "targeted at young people and really heavy drinkers."
Miles Beale, chief executive of the Wine and Spirit Trade Association, has told Daybreak that raising the minimum alcohol price unit will not deter alcoholics.
He said: "[Raising the minimum alcohol price unit] will not work in practice. The people who are least responsive to high prices are alcoholics."
Advertisement
The government will today announce minimum alcohol pricing in a bid to curb "drunken mayhem" on the streets of England and Wales. Daybreak's Louisa James reports.
The Scottish Parliament has already approved plans for a 50p minimum alcohol price plan.
The scheme could come into effect as early as next April.
However implementation of the scheme has been held up by a court challenge from the drinks industry.
Scottish ministers want the 50p level to remain for at least two years to allow the market to react and settle before the price is reviewed.
The measure is predicted to save 500 lives a year, and will see the price of a standard bottle of wine at 12.5% volume set at a minimum of £4.69.
Senior figures in the drinks industry believe that the move will fall out of EU trade rules, reports the Times (£).
A Dutch plan to set a minimum price for spirits in 1978 was deemed illegal by the European Court of Justice.
[Minimum alcohol pricing] is illegal, will be ineffective in tackling alcohol misuse, penalise responsible drinkers and put more pressure on household budgets.
– Gavin Hewitt, chief executive of the Scotch Whisky Association
The drinks industry has warned that the 45p threshold would hit modest consumers hard, without addressing the underlying problems.
While the Government may be consulting on 45p consumers should be aware that the final minimum unit price could be much higher than that.

In the Spring we were told it would be 40p, it's already 45p, we know that health groups are calling for a price of at least 50p and the Scottish Government has already proposed a 50p minimum unit price.

The impact at 50p would see 65% of prices in supermarkets and off-licences rise with a bottle of vodka increasing in price from £9 to £13.13.
– Miles Beale, chief executive of the Wine & Spirit Trade Association chief executive
Advertisement
The Alcohol Health Alliance (AHA), made up of 32 medical and counselling organisations, welcomed the step.
But chairman Professor Sir Ian Gilmore said the minimum unit price should be 50p rather than 45p.
The evidence shows us that heavy drinkers and young drinkers are more affected by higher alcohol prices than moderate drinkers.

According to the University of Sheffield, a minimum unit price of 50p would reduce total alcohol consumption by 6.7%, saving around 20,000 hospital admissions in the first year.
– Professor Sir Ian Gilmore Chair of the UK Alcohol Health Alliance
The Government's alcohol strategy sets out proposals to crackdown on our 'binge drinking' culture and cut the alcohol fuelled violence and disorder.
The strategy includes commitments to:
Introduce a minimum unit price for alcohol.
Consult on a ban on the sale of multi-buy alcohol discounting.
Introduce stronger powers for local areas to control the density of licensed premises including making the impact on health a consideration for this.
Pilot innovative sobriety schemes to challenge alcohol-related offending.
When beer is cheaper than water, it's just too easy for people to get drunk on cheap alcohol at home before they even set foot in the pub. So we are going to introduce a new minimum unit price.

This isn't about stopping responsible drinking, adding burdens on business or some new kind of stealth tax - it's about fast, immediate action where universal change is needed.
– David Cameron
The Government will today unveil plans to tackle binge-drinking in Britain by introducing a higher-than-expected minimum alcohol price of 45p per unit.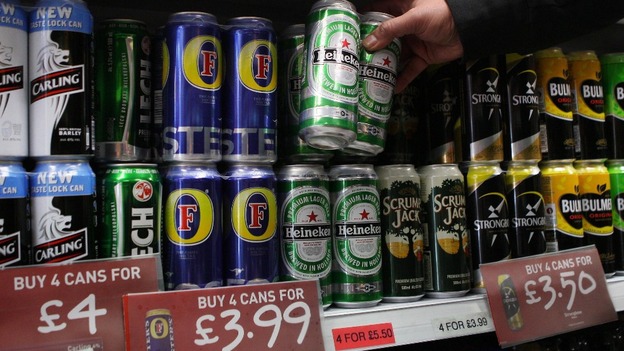 The Government say that minimum unit pricing will tackle the issue of excessive alcohol consumption and heavily discounted alcohol sold in supermarkets and off-licences.
This approach aims to reduce alcohol consumption and curb practices such as 'pre-loading' before a night out.
Home Office officials insist the consultation is targeted at "harmful drinkers, problems pubs and irresponsible shops".
"Those who enjoy a quiet drink or two have nothing to fear from our proposals."
Load more updates
Back to top