UKIP hails election surge
UKIP leader Nigel Farage has hailed an election surge that saw the party take second place in two by-elections. Labour secured a clean sweep of poll victories in Rotherham, Middlesbrough and Croydon North.
Ed Miliband has tweeted a picture of himself welcoming the three new Labour MPs to Westminster after the recent by-elections.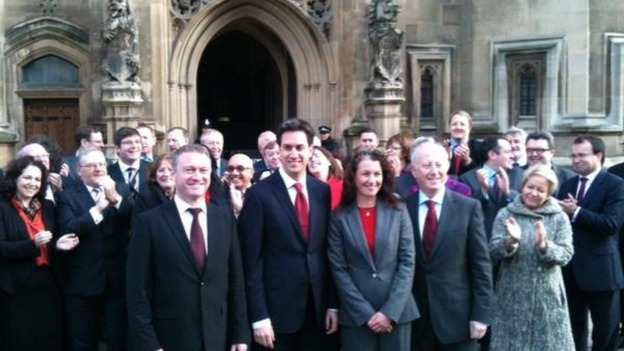 The Labour leader said he was, 'very pleased,' to welcome Sarah Champion MP for Rotherham, Andrew McDonald, MP for Middlesbrough and Steve Reed, MP for Croydon North.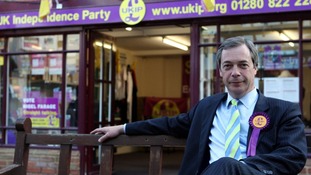 UKIP claimed that they have displaced the Lib Dems as the third force in British politics after finishing second in two by-elections.
Read the full story
Advertisement
After the controversy over a UKIP-supporting foster couple, the party was hoping for a breakthrough in Rotherham.
It failed to materialise with Labour romping home here, in Middlesborough and in Croydon North.
But UKIP did do well enough in Denis MacShane's former constituency to give the Tories - who came 5th - and the Lib Dems, who lost their deposit - a fright.
The party, which wants Britain to quit the EU and to reduce immigration, doubled its vote, giving it a 21 percent share in Rotherham.
UKIP's leader Nigel Farrage claims his party is taking over from the Tories in the North.
But by-elections rarely produce good news for Governments and it's hard to see UKIP getting such a high percentage of the vote when the whole country goes to the polls.
Nigel Farage has told Daybreak that if the Tories and Labour "do not offer absolute binding promises of a referendum on our future in Europe, the UKIP vote will continue to grow."
UKIP leader Nigel Farage has told Daybreak that "it would be difficult to see UKIP do a deal with the Conservatives all the while that man [David Cameron] is their leader."
Conservative MP Nadine Dorries, who was suspended from her party whip after taking part in I'm a Celebrity... Get Me Out of Here!, has warned her colleagues to take UKIP seriously following its strong overnight by-election results.
To diminish power and threat from UKIP is foolish. UKIP are the new Lib Dems and will lose us many Tory seats unless we pledge an in/out ref
Advertisement
Newly-elected Middlesbrough MP Andy McDonald has expressed his delight to ITV News at securing a majority of 8,211 despite a by-election turnout of only 16,866 from an electorate of 65,098.
UKIP leader Nigel Farage has told ITV News his party will continue to target larger political prizes following the strong performances of its candidates in Thursday's three by-elections.
Newly elected Rotherham MP Sarah Champion has told ITV News that the fifth placed finish of the Conservatives in the constituency's by-election should worry the party.
UKIP leader Nigel Farage hailed his party's success in the three by-elections as its "most impressive result in Westminster elections so far".
Jane Collins' 21% in Rotherham was our best ever score and this is backed up by 11% in Middlesbrough and coming third in Croydon North. This follows our stunning result in Corby a few weeks ago.

The political establishment is just going to have to wake up to the fact that UKIP is here and here to stay as a significant and rising mainstream part of British politics.
– Nigel Farage
Load more updates
Back to top