NI police car petrol-bombed
A police car with an officer inside was petrol-bombed outside the Belfast office of an Alliance MP in an attack by around 15 masked people. Northern Ireland Secretary Theresa Villiers will make an urgent statement to the Commons this afternoon.
PSNI Chief Constable Matt Baggott said that some of the violence was intense and there was t.
It was fortunate someone was not seriously injured, he claimed, adding that the situation in some areas was very tense.
There has to be a collective voice to bring this to an end.
The shadow Northern Ireland secretary Vernon Coaker has reacted to tonight's violence in Belfast:
Another night of violence. It would not be acceptable in London, Dublin, Edinburgh or Cardiff. It should not be acceptable in Belfast.
I have called on the Secretary of State to make an urgent statement to the House of Commons about ongoing violence in Northern Ireland.
Advertisement
Motorists advised to avoid the Mountpottinger Rd/Castlereagh Stt area of East Belfast due to disorder. Motorists avoid until further notice.
Alliance Leader David Ford has stated that police officers could have been killed in a petrol bomb attack on their vehicle outside the Alliance Party Office of Naomi Long MP.
The PSNI serve everybody in the community. There can never be any justification for any attack on our police officers.

This attack served no purpose and must be condemned by all. Tonight we could have been looking at the deaths of police officers. This was an attempt to kill police officers.

While I respect the right to peaceful protest, it is clear that there is a need for these protests to end due to the violence and the increased tensions on the streets.
The attack on the police car took place outside the office of the Alliance Party deputy leader Naomi Long in east Belfast.
She has said there "can be no justification for the vicious attacks."
My thoughts are with the police officers who were there to serve the community and have been viciously attacked while carrying out their duties.

There can be no justification for attacks on the police, elected representatives or anyone else.

If Northern Ireland is to move forward then we need a strict adherence to the rule of law and respect for the democratic process.

We need this urgently before lives are lost.
– Naomi Long MP
One bomb device exploded in Belfast close to a patrol car parked near the offices of the East Belfast MP Naomi Long, a member of the non-sectarian Alliance Party who has been warned her life is under threat.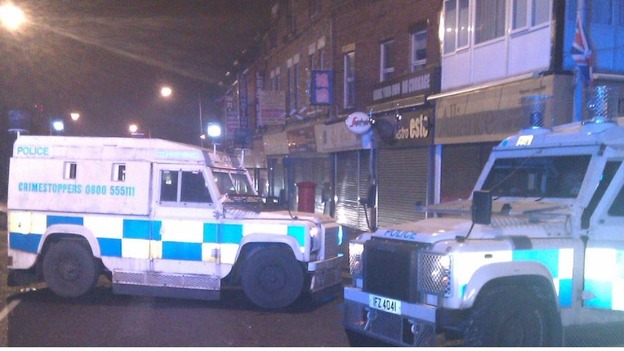 Last week Ms Long was told by police to stay away from her home and her office on the Newtownards Road because of fears for her safety. Constituency offices used by the party were also attacked in Carrickfergus, Co Antrim and Bangor, Co Down.
Today's violence follows a council decision to limit the flying of the Union flag to designated days only. Ms Long's Alliance Party has been blamed by the loyalists for supporting the nationalist SDLP and Sinn Fein in pushing through the vote to lower the flag.
Advertisement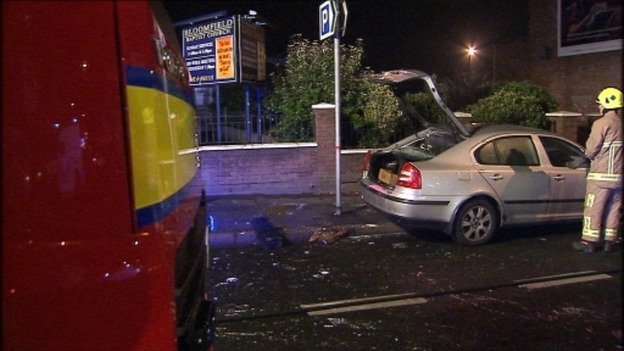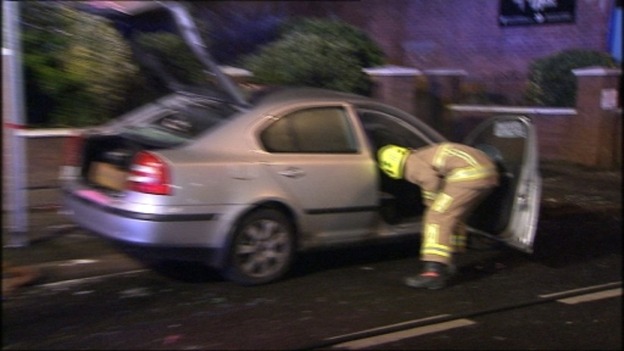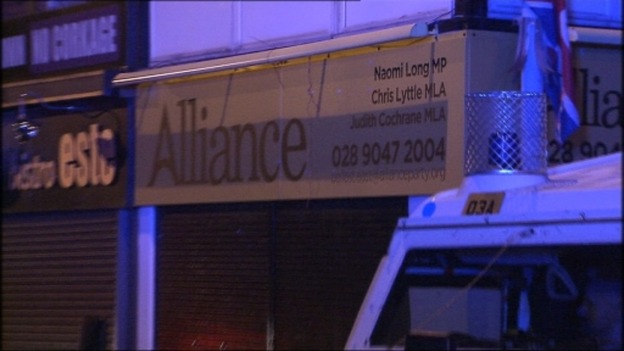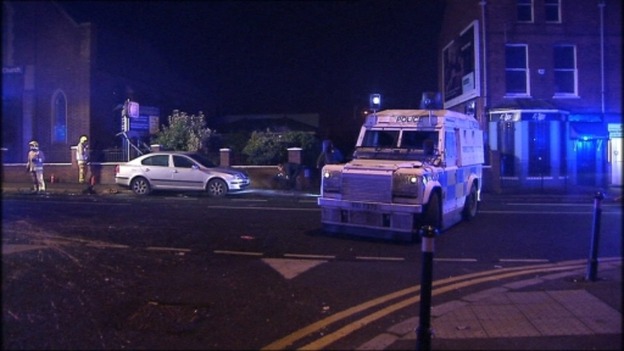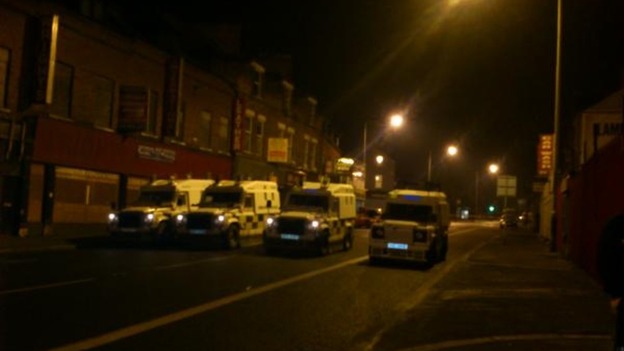 It is completely unacceptable that officers who were carrying out their professional duty on behalf of the community should be subjected to a potentially murderous attack.

This was a planned attempt to kill a Police Officer which also put the lives of the public in danger and it is fortunate there were no injuries as a result of this attack.

I am urgently appealing to those involved in ongoing protests to listen to their political leaders and step back from protest activity before someone is seriously injured or killed.
– PSNI ASSISTANT CHIEF CONSTABLE GEORGE HAMILTON
PSNI Assistant Chief Constable, George Hamilton has condemned the attack on a patrol car and said they are treating it as attempted murder:
This evening at approximately 7.35 pm whilst on patrol duty a police car was attacked by approximately 15 masked individuals, windows of the vehicle were smashed and a petrol bomb thrown into the car whilst an officer was still in the vehicle.

The officer was lucky to escape without injury.
– PSNI Assistant Chief Constable George Hamilton
The windows of the petrol-bombed police car were attacked while an officer was still inside the vehicle.
A police officer was also waiting outside the vehicle. Both officers escaped unhurt.
Load more updates
Back to top