NI police car petrol-bombed
A police car with an officer inside was petrol-bombed outside the Belfast office of an Alliance MP in an attack by around 15 masked people. Northern Ireland Secretary Theresa Villiers will make an urgent statement to the Commons this afternoon.
by Carl Dinnen: ITV News Political Correspondent
Lots of people with flags are heading down Newtownards Road towards Belfast City Centre. Many are masked.
Maybe 200 to 300 in the Newtownards Road parade. Police are with them and the marchers are singing and good natured but many faces are covered.
Police say on loudspeaker: "Persons in the crowd wearing masks must removed them or face arrest".
PSNI Assistant Chief Constable Will Kerr confirmed Loyalist paramilitaries have been orchestrating some of the violence seen in the past 24 hours.
We appeal to those who plan to come into the city centre to protest to stay away and let people get on with every day business such as Christmas shopping.

We are also warning anyone who does engage in criminal activity that they will face the full rigours of the law.

Violence has serious and unwanted consequences for us all and we will robustly investigate all incidents.

Today I am urging everyone to be calm, take a step back and think about how this violence is affecting not just their own communities but the whole of Northern Ireland.
– PSNI Assistant Chief Constable Will Kerr
Advertisement
Traders are worried that a march later today in Belfast could affect business on what should be one of the busiest shopping days of the year.
A children's walk, Christmas party and Santa planned by a charity for youngsters with heart disease have already been cancelled.
Ulster Unionist Party leader, Mike Nesbitt MLA, called on protesters to stop now.
Anyone who attacks a police officer, anyone who riots, anyone who engages in illegal street protest, is disrespecting the values of the Union flag.

Stop now. You are losing the argument.
Rioting broke out across Belfast after hundreds of loyalists took to the streets to protest over flags.
Eight police officers were injured after mobs of youths draped in Union flags clashed with the Police Service of Northern Ireland riot squad close to the city centre last night.
A further six officers were injured as they dealt with disorder near Crumlin Road and Ligoneill Road.A total of 12 people have been arrested, including a 13-year-old boy.
Trouble flared at Shaftesbury Square - a popular party spot near Queen's University - after a man tried to drive a black van through a loyalist road block of about 200 people.
Three people have been arrested tonight as police confirmed 21 officers have been injured in violent clashes in Belfast this week.
Twenty-one officers have been injured so far this week dealing with this disorder. That's 21 officers who have been pulled away from their roles of protecting the community. This is unacceptable.

This behaviour is simply not acceptable. These people are only wrecking their own communities and putting innocent people's lives at risk.

This mob violence and intimidation cannot be allowed to continue and I am urgently appealing to politicians and those with community influence in these areas to do what they can to put a stop to this behaviour now before someone is seriously injured or killed.
– PSNI assistant chief constable Will Kerr
Two police officers have been injured in violence during a loyalist flag protest in Belfast city centre.
A heavy police presence tackled around 200 people who gathered in the Shaftesbury Square area of the city.
A water cannon was used to disperse crowds of people when bottles and missiles were thrown at police officers.
Advertisement
Hillary Clinton called for a halt to violence in Northern Ireland, but the US Secretary of State's visit to Belfast could not prevent further rioting in the city on Friday, reports ITV News' Political Correspondent Carl Dinnen:
Hundreds of loyalists took to the streets in Belfast city centre tonight to protest over flags.
Eyewitnesses said police officers were pelted with stones, bottles and other missiles in Shaftesbury Square.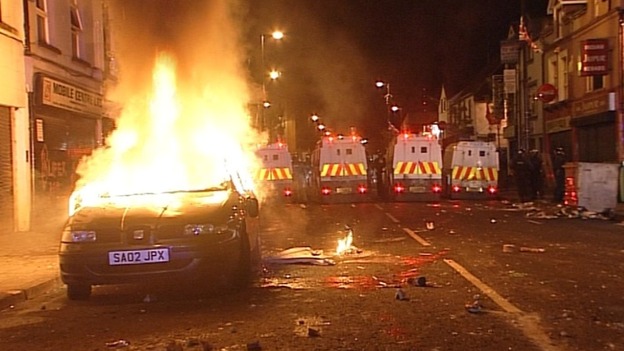 Loyalists opposed to a restriction on the number of days the Union flag can be flown over Belfast City Hall have held protests across Northern Ireland every night this week.
Demonstrations were also held on Friday in Bangor, Co Down, parts of south Belfast, throughout the north of the city and in Enniskillen, Co Fermanagh.
There are plans to hold a major demonstration in Belfast city centre on Saturday - in what should be one of the busiest shopping days of the year.
Police are dealing with minor disturbances in the Shaftesbury Square area. The road is currently closed to any through traffic and diversions are in place.
– Police Service of Northern Ireland spokeswoman
Trouble flared in central Belfast on Friday night as loyalist youths clashed with riot police around the city's Shaftesbury Square.
The latest unrest comes on the same day US Secretary of State Hillary Clinton visited Belfast, urging for a halt to recent violence.
Load more updates
Back to top