UK credit rating 'at risk'
The credit rating agency Fitch has warned that the Chancellor's confession during the Autumn Statement that he missed its debt target could threaten the UK's AAA rating. But George Osborne has downplayed the impact potential if that happened.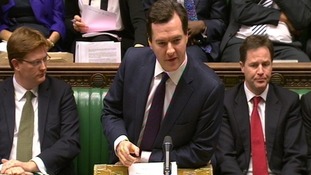 Britain may face further cuts and tax rises even after the next elections, the Institute for Fiscal Studies warned today.
Read the full story
The Bank left the scale of its quantitative easing (QE) programme to boost the money supply unchanged at £375 billion.
Advertisement
The Bank of England kept the interest rate at 0.5% today.
Britain not good on exports. The trade deficit was up to 3.6 billion in October from £2.5 billion in September. However the Office for National Statistics says UK companies are investing more abroad. The figures indicate extra spending in China and India.
Chancellor George Osborne has told Daybreak that the he needs time to sort out the country's economic problems.
He said: "I'm not going to pretend that these problems will be solved overnight. They were many years in the making. We're making progress but it's going to take longer."
The Chancellor has told Daybreak that the welfare system must be "fairer to working people and to those who want to get a job but find that it pays to stay on benefits."
Advertisement
With Britain set to miss its debt target, the international ratings agency Fitch warned our top credit rating of AAA could be at risk. But, despite the warning, George Osborne said it wasn't the only measure of a country's financial health.
It wouldn't be a good thing but the credit rating is one of a number of ways in which people look at countries.
– Chancellor George Osborne SPEAKING TO BBC BREAKFAST
Chancellor George Osborne has told Daybreak that the prospect of six more years of austerity was a price the country had to pay.
Speaking to ITV1's Daybreak, the Chancellor George Osborne said the prospect of six more years of austerity was a price the country had to pay.
We find ourselves in a very difficult situation.

We borrowed all that money in the good years, then we had the banking crash and now we're having to pay the price.

But there's no alternative other than to make sure Britain can pay its way in the world and that means difficult decisions to control our welfare bill, to make sure the rich make a contribution and to do everything we can to support those who want to work hard and get on in our society.
– Chancellor George Osborne speaking to DAYBREAK
Shadow Chancellor Ed Balls has told Daybreak that Labour would "repeat the the bank bonus tax and guarantee a job for every young person out of work for a year."
Load more updates
Back to top