Pope sends first tweet
Pope Benedict XVI has sent his first tweet, telling his followers he was "pleased to get in touch with you through Twitter"
The Pope already has more than a billion worldwide followers, as head of the Roman Catholic Church. But tonight his total of virtual followers on Twitter reached a million - and counting - after he made his first tweet this morning.
ITV News Correspondent Paul Davies reports: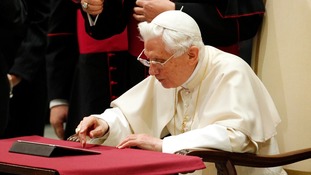 Pope Benedict XVI's Twitter adventure got off to a shaky start today as TV images appeared to show him fail his first attempt at tweeting.
Read the full story
Advertisement
Video of the moment Pope Benedict XVI sent the first ever Papal tweet shows his team of advisers congratulating him immediately after.
An audience of hundreds watched and cheered as the Pope tentatively pressed send on an iPad perched on a table.
The Pope's new Twitter account sent its first ever tweet at 10.30am this morning:
Dear friends, I am pleased to get in touch with you through Twitter. Thank you for your generous response. I bless all of you from my heart.
The message was retweeted over 6,000 times within ten minutes.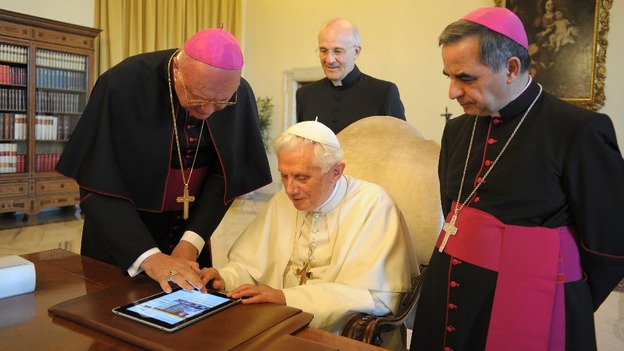 The Pope is expected to send his first tweet at 11am this morning.
The @Pontifex account was last week launched along with a series of sister accounts in other languages.
The Papal missive is expected to be despatched when the clock strikes 12 (Vatican City time) on 12/12/12.
His Holiness Pope Benedict XVI (@Pontifex) has attracted 56,597 in the few hours he has joined Twitter.
He is due to send his first tweet on December 12. The Pontiff was shown how to use Twitter on an iPad last year in the Vatican City.
Advertisement
The Pope will send his first tweet next Wednesday, December 12, the Vatican said. The first papal tweets will be answers to questions on faith sent to @Pontifex.
The tweets will be going out in Spanish, English, Italian, Portuguese, German, Polish, Arabic and French. Other languages will be added in the future. Greg Burke, senior media adviser to the Vatican said the tweets will be from the Pope himself:
The handle is a good one. It means 'pope' and it also means 'bridge builder' The pope wants to reach out to everyone. We are going to get a spiritual message. The pope is not going to be walking around with a Blackberry or an iPad and no one is going to be putting words into the pope's mouth. He will tweet what he wants to tweet
Mons. Tighe: every tweet will been approved by the Pope personally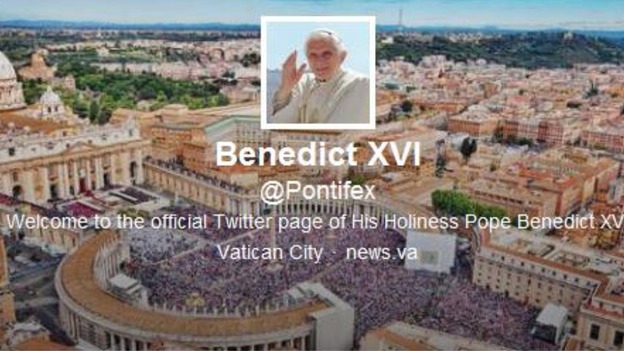 Pope Benedict XVI has officially joined twitter, the Vatican announced. The Pope will tweet using the handle @Pontifex and will personally approve every tweet sent from the account.
The Pope, who as the leader of the Catholic Church, already has 1.2 billion followers around the world, has so far garnered more than 8,000 since joining.
He has not tweeted yet, and only follows other twitter handles of himself in other languages.
Back to top