Airport delays due to snow
Snow across the UK is affecting. There is also disruption and possible flight cancellations at Luton. Stansted, Aberdeen and Manchester Airports.
On the railways there were a number of routes that were affected by the snow, causing misery for commuters.
No trains were able to run between Watford Junction in Hertfordshire and Harrow and Wealdstone in north west London, while snow caused disruption between London and Reading in Berkshire.
Trains were unable to run between Barnes and Hounslow via Brentford in west London, while there were delays between London and Ashford International in Kent and also between Sevenoaks in Kent and Hither Green in south east London.
A statement on Ryanair's website said the airline's flights from Stansted and Luton were affected by the wintry conditions.
All Ryanair flights from Stansted and Luton this morning will be affected. Passengers should check the status of their flight on the 'flight info' section of Ryanair.com.
Advertisement
Morning! A snowy night and we have our snow teams out this morning...delays so far so do check with your airline before you fly.
The wintry conditions caused delays at Aberdeen Airport, while a number of main line rail services and Tube trains were also effected by the weather.
Flights were suspended from taking off and landing at Stansted Airport from 6am to 8.20am as the runway was closed due to heavy snow, a spokesman said.
It's one of our busiest times of the day, the first wave of flights. Obviously there will be a knock-on effect but at the moment we are just concentrating on getting things back to normal.
Passengers are advised to check with their airline before they travel and are urged to take extra time to get to the airport as the roads surrounding the area are "treacherous".
#stansted runway has reopened. Delays to flights this morning as services resume. Passengers should check flight status with their airline.
Advertisement
We suspended runway operations for a short period earlier this morning to apply anti-icer. Now reopen. Expect a few minor delays as a result
The runway at Luton Airport was closed for about an hour this morning and there have been delays to some flights, a spokesman for the airport said.
The runway was de-iced and has now re-opened but passengers are warned that there could be further delays to flights as a "knock-on effect".
We had to close the runway for about an hour this morning as a precautionary measure. I think the snow took everyone by surprise this morning.

There have been a couple of delays this morning and we expect there to be a knock-on effect just as we get the service back up and running.
– David roach, spokesman for London Luton Aiport

Passengers are advised to check with their airline and the airport's website before they travel.
Twitter users are giving their own snow reports this morning, using the hashtag #uksnow. Their tweets are being plotted on a real-time map of Britain.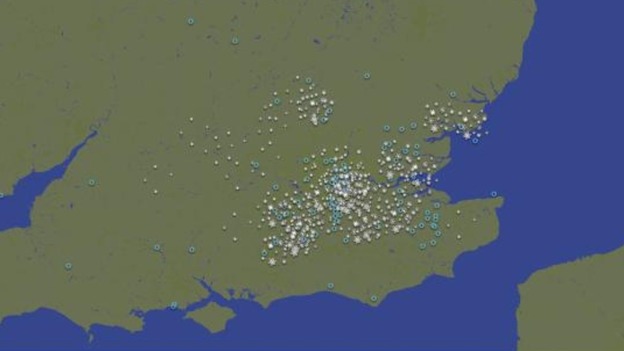 Snow causing delays at #stansted this morning. Passengers should check the status of their flight with their airline. Updates to follow.
Load more updates
Back to top