Clinton condemns NI violence
The US Secretary of State Hillary Clinton has condemned the violence sparked over the decision to restrict the flying of the Union flag at Belfast City Hall. She has said: "There can be no place for violence in the new Northern Ireland."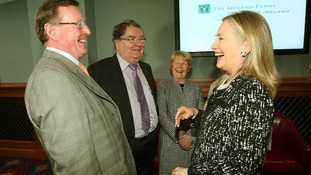 Hillary Clinton wanted to be President but she became America's top diplomat instead. Her job was to reset US relations around the world.
Read the full story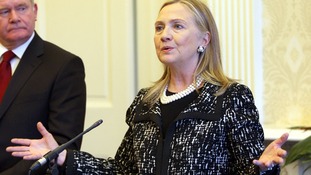 Hillary Clinton condemned a wave of street violence in Northern Ireland during a state visit to Belfast.
Read the full story
Advertisement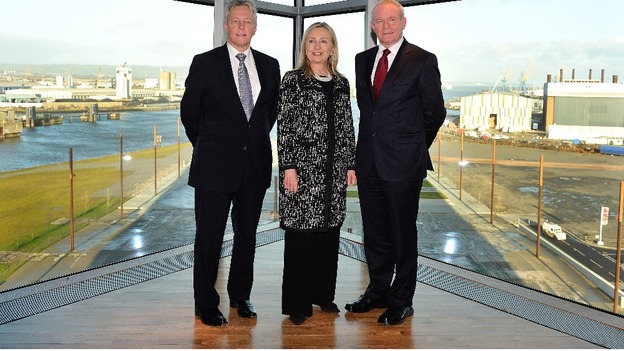 US Secretary of State Hillary Clinton condemned the recent violent protests by loyalists against the decision by councillors in Belfast to fly the Union Flag on selected days of the year, saying there could be "no place for violence in the new Northern Ireland."
"There will always be disagreements in any democratic society, people have strong feelings but you must not use violence as a means of expressing those strong feelings"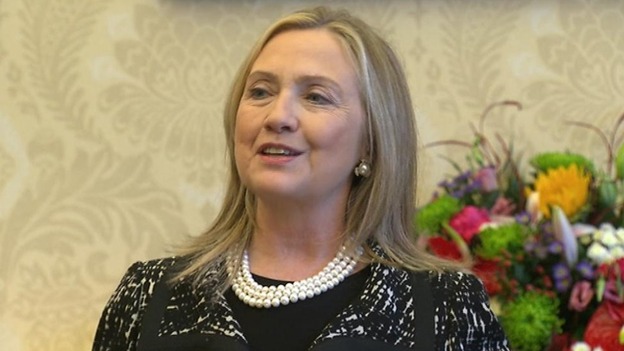 US Secretary of State Hillary Clinton said the United States will stand strongly on the side of those working for Northern Ireland's peaceful and democratic future. She said
"There will always be differences in a democratic society but violence is not the way to solve them. There can be no place for violence in the new Northern Ireland. The only path forward is a peaceful, democratic one."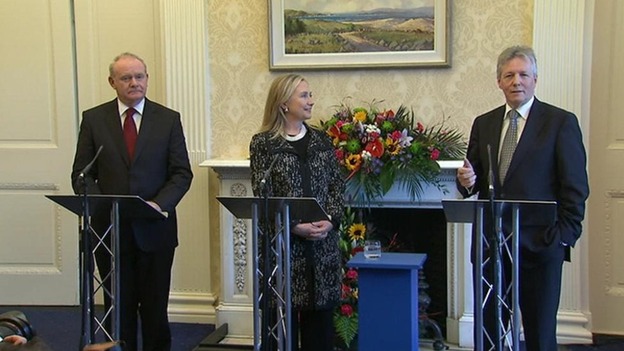 The First Minister of Northern Ireland Peter Robinson praised US Secretary of State Hillary Clinton for her "instrumental" role in the peace process.
He said: "Very often, we will sit down, and somebody will mention someone who has claimed to be instrumental in the peace process, and Martin and I look at each other, and say 'Do you know them?'
"But you are one person who has consistently helped us. You have been a great friend to Northern Ireland."
Advertisement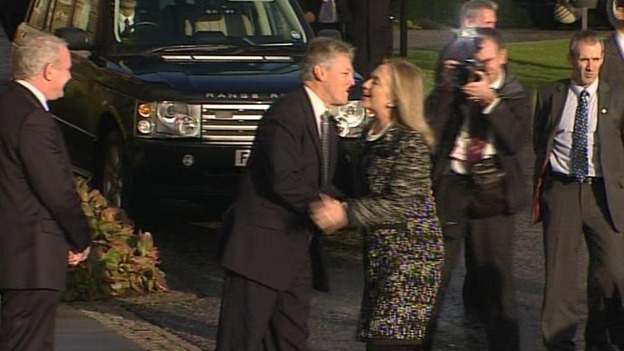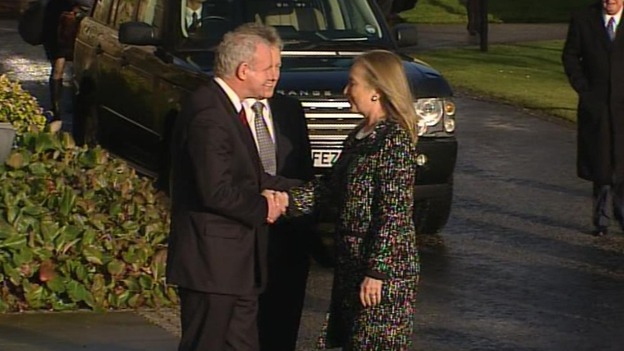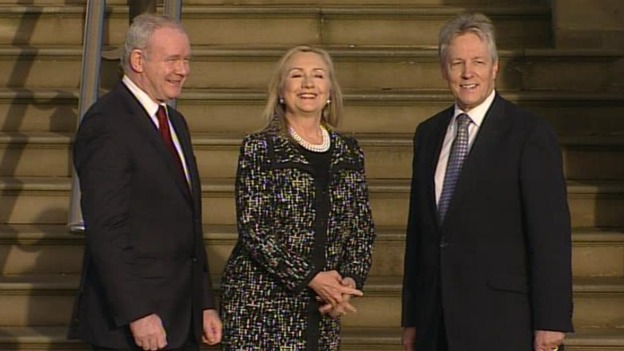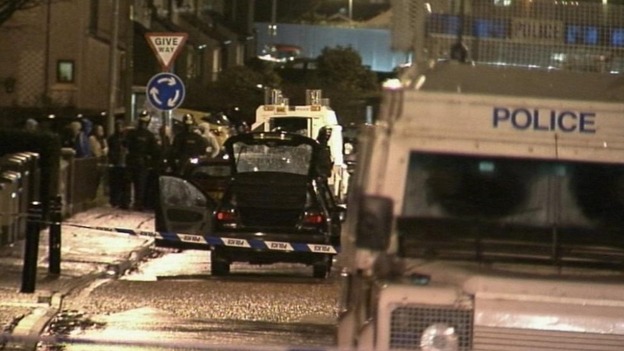 Detectives in Derry are questioning four men about the discovery of a bomb in Derry's Creggan estate last night. The four were arrests when a car was stopped.
Security chiefs believe dissident republicans opposed to the peace process were planning an attack in the centre of the city, next year's UK City of Culture.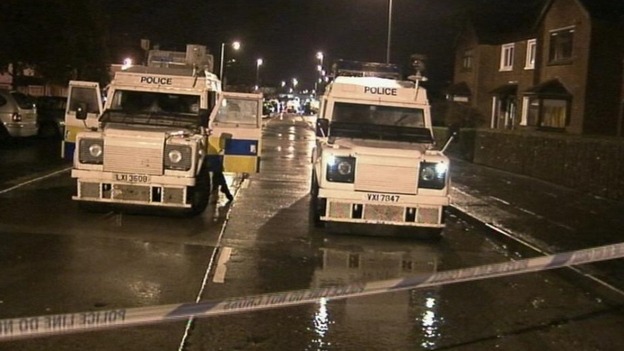 Four men have been arrested after a bomb was found in Londonderry.
Police said the viable device was discovered after officers investigating dissident republican activity stopped a car in the Westway area of Creggan last night.
Two men aged 47 and 49 were arrested at the scene at about 8.40pm. Two others, also in their 40s, were arrested later.
A spokeswoman for the Police Service of Northern Ireland said:
All four have been taken to Antrim Serious Crime Suite and are assisting police with their inquiries.
A number of homes had to be evacuated as Army bomb disposal experts made the bomb, described as a viable improvised explosive device, safe.
The discovery comes ahead of a visit by US Secretary of State Hillary Clinton, who will speak at Stormont and visit the new Titanic Centre later today.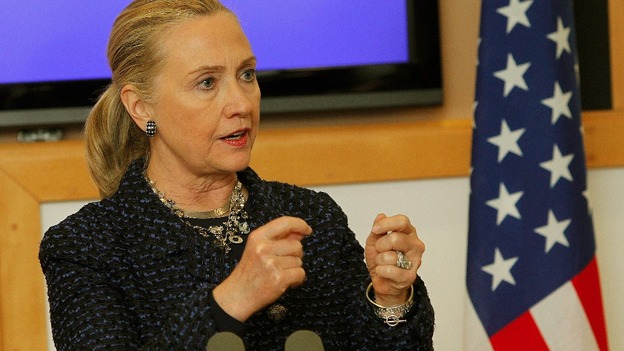 Hillary Clinton will travel to Northern Ireland today for one of her last foreign trips as U.S. Secretary of State, lending support to the country's fragile peace.
Clinton will visit the area, which has been transformed by the 1998 peace agreement, but has recently suffered unionist rioting over the removal of the British flag from Belfast City Hall.
Speaking in Dublin on Thursday, she said: "The lessons learned here in Ireland about how to build peace could be of great use to other peoples and nations.
"There are so many more ties that bind us than divide us, and that is what has motivated me over many years now," she said.
Clinton will also hold talks on the Northern Ireland economy, which is in trouble after house prices fell by over 50 percent since 2007.
Load more updates
Back to top