£100m project to map DNA
Up to 100,000 patients with cancer and rare diseases are to have their DNA fully mapped as part of a drive to revolutionise NHS treatment.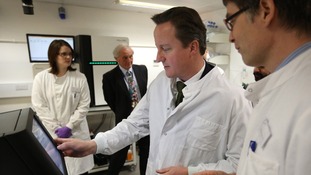 Up to 100,000 patients with cancer and rare diseases are to have their DNA fully mapped as part of a drive to revolutionise NHS treatment.
Read the full story
Prime Minister David Cameron has said a £100 million investment in a DNA database will help to crack cancer and put Britain at the forefront of biotechnology.
He said: "We want to crack cancer and the DNA database can help us to do that. But we also want to keep Britain at the absolute forefront of biotechnology and the pharmaceutical industry. We can be a real world leader in this."
Advertisement
Health Secretary Jeremy Hunt said the DNA mapping project was designed for medical research.
He told Sky News: "That will enable us to make groundbreaking discoveries about how cancer works; about who is susceptible to cancer; how we can head it off; what treatments might work."
"It's something that I hope will mean we can avoid heartache for thousands of people every year who lose a loved-one prematurely because they get a cancer that we simply don't know how to deal with."
Sir John Bell, government adviser on genetics and professor of medical sciences at Oxford University, said genetics can deliver medicines to patients and help understand cancer.
He said: "There are some people who have a genetic predisposition to cancer, they tend to be relatively rare.
"There are a number of cancers – quite rare – where there is a predictability issue. At the moment we are not very good at identifying those."
Once you have a cancer, its major drivers of behaviour are genetic. An understanding of the genetics of the cancer itself turn out to be crucial for understanding what is going to happen to you with that cancer, and choosing the therapies you can most effectively use.
– Sir John Bell, Professor of Medical Sciences at Oxford University

"It's not the main point, it's about being able to manage people's cancers better and more precisely," he said in an interview with the BBC's Today programme.
Gene mapping is graphic representation of the arrangement of a gene or a DNA sequence on a chromosome.
A genetic map is used to locate and identify the gene or group of genes that determines a particular inherited trait.
Locating and identifying genes in a genetic map is called genetic mapping.
Life sciences is one of the most truly international sectors - so if we are to continue to be a world player and compete in the global race we must do everything we can to support it.

In the past year, our initiatives have attracted more than £1 billion of private sector investment to the UK.

We can see clear evidence the UK is succeeding in creating the right environment to attract global investment to our shores and continue to be world leader in life sciences.
– Science minister David Willetts
Advertisement
The £100 million will go on training genetic scientists, mapping patients' DNA, and creating systems for handling the information.
The project that first sequenced a human genome in 2000 cost around £500m, but technical advances mean the bill has dropped dramatically to under £1,000 per person.
Officials believe allocating NHS funds to mapping 100,000 people's codes will drive down costs even further by "priming the pump".
Patients will be asked for permission before their DNA is sequenced, and data will be anonymised before it is stored.
The Government also announced that £100 million of new science funding allocated in the Autumn Statement would go to life sciences.
The money will help build research capabilities for synthetic biology, facilities for manufacturing cell and biologic medicines such as antibodies and vaccines.
It is crucial that we continue to push the boundaries and this new plan will mean we are the first country in the world to use DNA codes in the mainstream of the health service.

By unlocking the power of DNA data, the NHS will lead the global race for better tests, better drugs and above all better care.
We are turning an important scientific breakthrough into a potentially life-saving reality for NHS patients across the country.

If we get this right, we could transform how we diagnose and treat our most complex diseases not only here but across the world, while enabling our best scientists to discover the next wonder drug or breakthrough technology.
– David Cameron
This funding opens up the possibility of being able to look at the three billion DNA pieces in each of us so we can get a greater understanding of the complex relationship between our genes and lifestyle.
– The Government's Chief Medical Officer, Professor Dame Sally Davies
Up to 100,000 patients with cancer and rare diseases are to have their DNA fully mapped as part of a drive to revolutionise NHS treatment.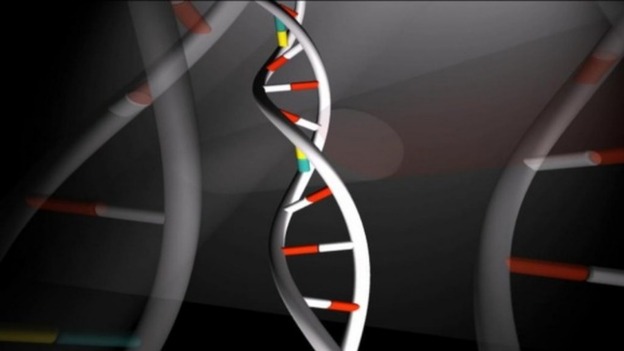 The Government has earmarked £100 million for the project in England over the next three to five years in a bid to develop new tests and better care that could save thousands of lives.
Back to top