North Koreans celebrate launch
Thousands of people have rallied in the North Korean capital Pyong Yang to celebrate a long range rocket launch by the country earlier this week. The United Nations Security Council has condemned North Korea for the launch.
This video shows North Korean state TV footage of the rocket launch in the early hours of this morning.
There was dancing and a military band in the North Korean capital Pyongyang in response to the successful launch of a satellite into space.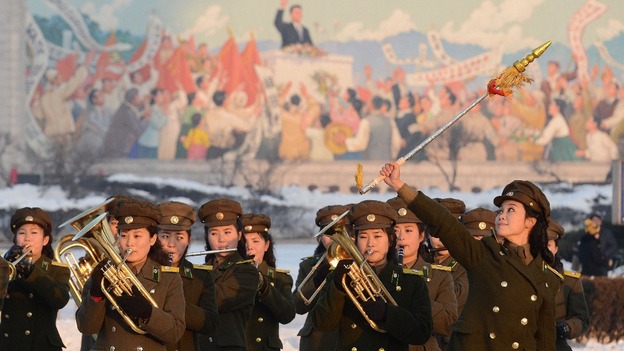 Meanwhile, protesters in the the South Korean capital Seoul pointed mock pistols at, and set alight to, an effigy of North Korea's leader leaning on a model rocket.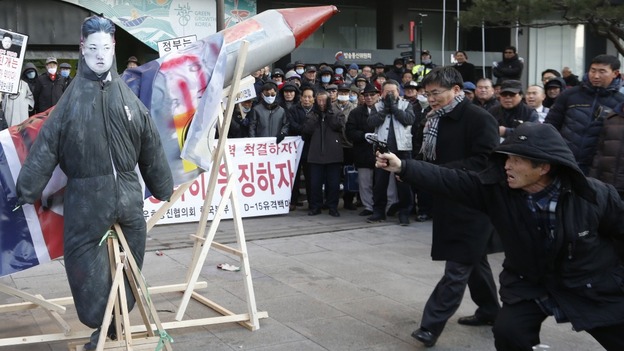 In South Korea, and much of the world, today's launch is seen as part of a programme to develop a long-distance missile capability.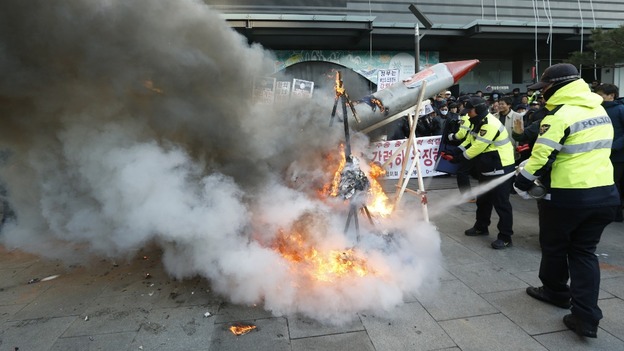 Advertisement
Foreign Secretary William Hague has said that he has spoken "in solidarity" with his South Korean counterpart following the launch of a long-distance rocket by North Korea.
Just spoke to Foreign Minister of South Korea in solidarity after DPRK satellite launch and to consult on international response
Today's launch is the fifth time North Korea has tested a long-range rocket. North Korea has used a range of terms for the tests and insists their purpose is to launch a satellite.
12 December - Rocket launched. North Korea says it has launched a satellite; US confirms there is an object in orbit.
April - A "rocket-mounted satellite" explodes and crashes into the sea soon after take-off.
April 2009 - North Korea says a rocket was launched successfully. US says it crashed soon after take-off.
July 2006 - North Korea test-fires long-range Taepdong-2 missile.
1998 - North Korea fires suspected missile over Japan and into the Pacific Ocean, calling it a satellite.
South Korea's Yonhap news agency reports that the rocket was launched at 9:49am local time (12:49am GMT) from the Dongchang-ri site in north-west North Korea.
Its first stage fell in the Yellow Sea off South Korea's west coast, and the second stage landed in waters near the Philippines, it said citing South Korean officials.
The news agency said that the rocket was detected and tracked by South Korean radar.
Dancers have been performing outside the Pyongyang Grand Theatre to celebrate the successful launch of a satellite by North Korea.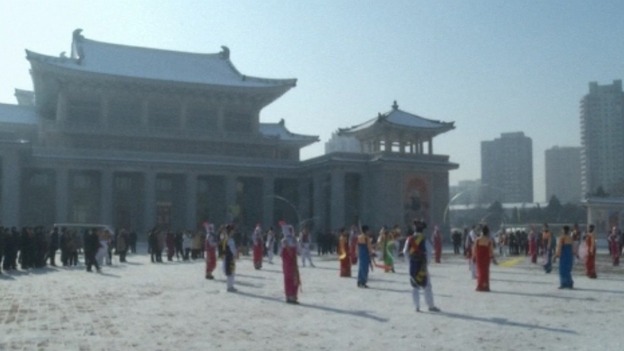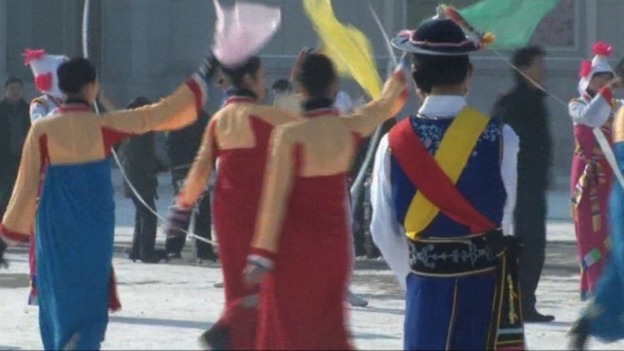 Advertisement
North Korea's state-run TV station KRT announced the successful launch of a satellite into orbit earlier today.
The announcement was greeted with cheers in parts of the capital Pyongyang.
The newsreader says: "The second version of the satellite Kwangmyongsong-3 successfully lifted off from the Sohae Space Center in Cholsan County, by carrier rocket Unha-3 on Wednesday. The satellite successfully entered its preset orbit."
The Russian foreign ministry has tweeted that North Korea's rocket launch is in violation of a UN resolution, and will have a "negative impact" on the region.
The PDRK's latest rocket launch violates UNSC Resolution 1874 which prohibits it from using ballistic technology to launch rockets
The PDRK's rocket launch will have a negative impact on Northeast Asia
We urge Pyongyang to avoid actions that violate UN Security Council resolutions
Russia has voiced "deep regret" over the North Korea rocket launch and said it violates the UN Security Council Resolution, the Foreign Ministry said.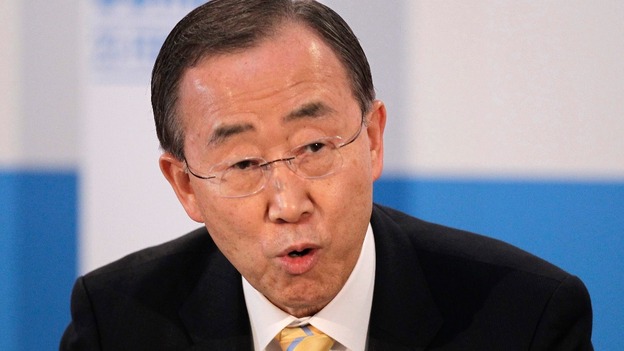 UN Secretary-General Ban Ki-moon strongly condemned North Korea's missile launch and expressed concern that it could negatively impact prospects for peace and security in the region.
His spokesman said: "The Secretary-General deplores the rocket launch announced by the Democratic People's Republic of Korea (North Korea).
"It is a clear violation of Security Council resolution 1874, in which the Council demanded that the DPRK not conduct any launch using ballistic missile technology."
Load more updates
Back to top