Miliband UK diversity praise
Ed Miliband has praised Team GB and Paralympics GB for showing the world Britain's diversity during the Olympics in a speech on integration.
Ed Miliband's failure to apologise proves that Labour can never be trusted on immigration. They allowed the situation to get out of control, and have opposed every single step this Government is taking to control it.

This Government has put a stop to Labour's mass immigration. We have already significantly reduced the flow of people coming into the country. The total number of visas issued is at its lowest since 2005 and we have cut net migration by a quarter this year.
Our policies are starting to bite, and we are making progress towards bringing net migration down to the tens of thousands by the end of this Parliament.
– Immigration minister Mark Harper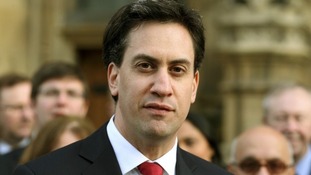 The UK should "work at" becoming more integrated, Ed Miliband has said, as he talked about a "strategy" for a multi-ethnic society.
Read the full story
Advertisement
If you had asked people this morning which party leader would come to this community hall in London today and say that people who come to this country should integrate, should learn English and that the Labour government got immigration wrong?
Many of them wouldn't have thought that it would be Ed Miliband the current leader of the Labour party. He's clearly trying to form a different approach under this One Nation banner.
But the Prime Minister and many of his critics will be saying well hang on a minute what about border controls?
What about keeping the number of people coming into this country down ? That's clearly something he's less focused on.
His main message is about integration. Other people should be allowed to keep their culture when they come here but they also have to become part of this One Nation Britain.
Prime Minister David Cameron has said that Labour presided over a failed immigration system for ten years.
Speaking at a press conference in Brussels Mr Cameron admitted that he hadn't seen the exact details of Ed Miliband's speech on intergration.
I hope it includes an explanation of how over the last 10 years a government of which he was a prominent member allowed a net migration per year of over 200,000 people to come to the UK.

They presided over a completely broken immigration system that over 10 years saw over two million people net come to the UK. That is two cities the size of Birmingham.

What we inherited was a situation that was in a complete and utter meltdown and mess.
– Prime Minister David Cameron
The Labour Leader Ed Miliband said that watching Mo Farah win his medals at the Olympic Games was one of his highlights of 2012, closely followed by dancing with David Cameron to the Spice Girls.
Ed Miliband has said that his party wants to talk about immigration because far right groups are wrong about the issue and currently dominate the debate.
He said that it was "wrong to shy away from discussing people's anxieties" about immigration and that some area's of the UK cope better with the integration of migrants than others.
Advertisement
Ed Miliband has praised Team GB and Paralympics GB for showing the world Britain's diversity.
The Labour leader said that the games had an important lesson for the country on integration.
We took pride in Mo Farah's achievements. We took pride in the achievements of Zara Phillips the grand daughter of the Queen. We took pride in Jessica Ennis another fantastic representative of Britain. And an amazing fact is that one third of Team GB medal winners had parents or grandparents born outside Britain. So that is the brilliance of the diversity of our country.
– Ed Miliband MP, Labour leader
Nigel Farage, the leader of the UK Independence Party has praised Ed Miliband for proposing that all migrants to Britain should learn English. The party said that Mr Miliband's new stance shows that it was "right all along" on immigration issues.
It is a mainstream position, including the belief that immigrants should demonstrate good English language skills before settling in the country, which is something he too now advocates.

He even recognises widespread concern about what high levels of immigration may mean for British culture. It sounds like he has been studying our manifesto. For years we have been persecuted for talking candidly about immigration. It would be a great positive if finally we can have an open debate instead of treating the matter as taboo.
However, would Mr Miliband agree that the open-door policy from January 1 2014 onwards to Romania and Bulgaria is likely to result in a significant influx of migrants who would put immense pressure on British public services, jobs and housing?

Unless he is prepared to face the issues, and not just talk around them, this speech is merely spin
– Nigel Farage, Leader of UKIP
The Labour Shadow Justice Secretary Sadiq Khan has told the BBC's Today Programme that the party "got it wrong" on immigration.
Mr Khan said that the Labour had been nervous to discuss the issue in the past but was doing so now because "Britain has separate communities living parallel lives".
Ed Miliband will set out how his party would tackle immigration and its impact on British culture in a major speech in London later.
The Labour Leader is expected to say that the party would require all migrants to learn English.
Recruitment agencies would also be banned from seeking workers only from particular countries or certain ethnic groups.
The party would bring in legislation to stop "landlords who pack newcomers to the UK into overcrowded houses".
Load more updates
Back to top