Clegg: Govt split over benefits
The Deputy Prime Minister has used the of removing benefits for better-off OAPs as one of the differences between his party and David Cameron's Conservatives. But Nick Clegg said he will stick to the Coalition Agreement until the 2015 election.
Despite pointing out the differences between the two coalition parties in a speech today, Deputy Prime Minister Nick Clegg has told ITV News' Chris Ship that the coalition will remain in place until 2015:
Commenting on Nick Clegg's speech today, Labour's Deputy Leader Harriet Harman said:
Nick Clegg will try every trick in the book to distance himself from the record of his government.But as ever, with the Lib Dems, they say one thing whilst doing another -resulting in a record of economic failure, trebled tuition fees, nurses cut, police axed and millions paying more while millionaires get a tax cut.

Bearing this in mind, what we really should be hearing from Nick Clegg today is a proper apology and a declaration that from now on he will actually stick by the promises he makes.
Advertisement
Nick Clegg says he doesn't think it's "justifiable or sustainable" that multi-millionaire pensioners receive universal benefits but he will stick to the Coalition Agreement.
This speech isn't going to change the political weather, says Clegg (9% in polls behind UKIP) but he says his party will be judged on what they do day in, day out.
I asked Nick Clegg why the new emphasis on the differences in coalition? He says it's "evolving" and now "more relaxed" about being open on decision making.
Nick Clegg: We are not setting out to antagonise for the sake of it, but to show that a coalition is exactly what it says on the tin - compromise in national interest.
Advertisement
Nick Clegg: Tories wanted £10bn welfare cuts - we agreed £3.8bn. Tories wanted limit to two children - we rejected extreme reforms
Nick Clegg confirms that OAPs must pay their share. He says money should not be paid to those who don't need it. He adds that we need to "look again" at universal OAP benefits.
Nick Clegg: "We wanted welfare reform too. It wasn't just a Tory plan." Also, he says two-thirds of the public think the system is "too generous."
In a speech at the Commonwealth Club this morning, Liberal Democrat leader Nick Clegg has said Britain should be governed from the centre ground.
He said: "What I want to set out is a case for why Britain should be governed from the centre ground. A case for both a stronger economy and a fairer society, because we can have both – they are not mutually exclusive.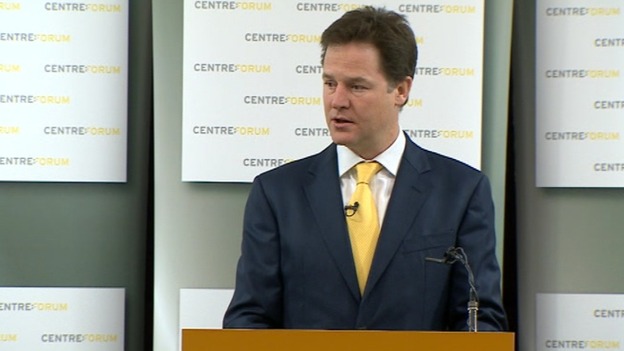 "Serious parties know that that the centre ground is the only place from which Britain can be governed...
"But in times of economic distress, when people and parties are under pressure, when there are no easy answers, no silver bullets, only tough choices – at times like these, politics quickly becomes polarised as the homing instincts of ideologues to the right and the left kick in."
Load more updates
Back to top