Inflation rate unchanged at 2.7%
The rate of consumer price index inflation remained unchanged at 2.7% in November, official figures showed.
The majority of Brits feel the Government should concentrate on promoting economic growth rather than keeping inflation low, according to an ITV News Index poll carried out by ComRes.
Of those questioned:
65% believe promoting economic growth should be the Government's priority
25% feel the Government should focus on keeping inflation low
10% said they didn't know
Women are slightly more likely than men to be in favour of focusing on keeping inflation low. The poll suggests 27% of women feel inflation should be the Government's priority, compared with 22% of men.
It also found that younger people are more likely than older age groups to believe low inflation should be prioritised. Of those questioned, 34% of 18-24 year olds agreed compared to 15% aged 65 and over.
ComRes interviewed 2,053 adults online from 14-16 December.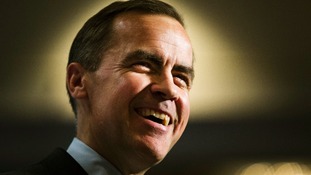 Should the Bank ignore inflation for a while and instead unleash even more radical measures? The answer may rest with Canadian economics...
Read the full story
Advertisement
TUC general secretary Brendan Barber has said the stubbornness of inflation, combined with poor wage growth, was putting real pressure on people's finances in the run up to Christmas.
Unison general secretary Dave Prentis added that the latest figures were the "lull before the storm", saying:
Big increases in energy prices are set to hit in the new year and the cost of feeding a family just keeps on going up. More than a million public sector workers have not had a pay rise for three years and the value of their take home pay just keeps on going down.
Samuel Tombs, an analyst at Capital Economics, said inflation looked set to hover between 2.5% and 3% for the best part of the next year, as further increases in utility and food prices kick in.
With annual growth in average earnings at 1.3% in October, it means the squeeze on households' spending power will persist throughout 2013. But Mr Tombs added:
We have not lost faith in our view that the large amount of spare capacity in the economy will mean that inflation will eventually fall to a very low rate.
The steadying of the rate of inflation will be a relief for policymakers after a shock jump in October, when the rate increased to 2.7% from a three-year low of 2.2% in September.
Any increase in inflation would fuel speculation that the Bank of England will hold off from taking further action under its economy-boosting quantitative easing (QE) programme.
Inflation is nearly half of the 5.2% peak it reached last year. At the Autumn Statement, the Government took more action to help households with the cost of living including a further increase in the tax-free personal allowance and cancelling the fuel duty increase that was planned for January.
– Treasury spokeswoman
Advertisement
Higher food costs and the first energy price hike by supplier SSE were offset by a fall in fuel prices during November, the figures from the Office for National Statistics have shown.
The largest upward pressures to annual inflation came from food & non-alcoholic beverages (mainly bread, cereals and vegetables) and housing & household services (particularly domestic gas and electricity), the ONS said.
The largest downward pressures came from motor fuels and furniture, household equipment & maintenance.
Petrol prices fell by 3p to £1.35 per litre, while diesel dropped 1.5p to £1.42 per litre in November, the ONS said.
Staying put is better than going up! A little bit of better news before Christmas.
But prices are still rising faster than average wages - that's the key problem for many families.
The underlying rate of retail price index inflation fell to 2.9% in November from 3.1% in October, the ONS said.
Load more updates
Back to top