Entwistle 'warned about Savile'
A review has said the decision to drop the Newsnight investigation into the Jimmy Savile sexual abuse allegations was flawed. It also revealed George Entwistle ignored warnings when he was BBC Director of Vision of "a darker side" to Savile.
Speaking to BBC2's Newsnight, the BBC's acting Director General Tim Davie said it had been a "bad and sorry saga", but defended the lack of sackings.
My job is not to just dismiss people, my job is to make a fair and balanced assessment of the facts. We have lost a Director General in this process.

We all need to accept change and the only way to change is to change the culture, and that's not going to be done however many people we call to be dismissed.

It's going to be done by people like me leading the organisation and changing the culture. I want a change of culture, that is what I am all about.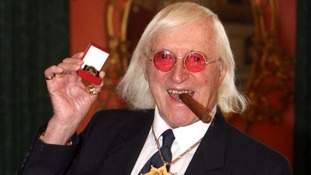 The decision to drop the BBC Newsnight investigation into the Jimmy Savile sexual abuse claim was "flawed", according to a review.
Read the full story
Advertisement
BBC lawyers investigated whether money could be reclaimed from the departing director-general George Entwistle, BBC Trust chairman Lord Patten has said.
Mr Entwistle received £450,000 despite resigning in the wake of a Newsnight report that led to former Tory treasurer Lord McAlpine being wrongly accused of child abuse.
But Lord Patten said lawyers advised that it was not possible to reclaim the money.
Interviewed after the Pollard Report revealed worrying failures in communication at the top of the BBC chain of command, Lord Patten also defended the disciplinary action taken against staff.
ITV News' UK Editor Lucy Manning began by asking him why no one had been sacked:
Following the publication of the Pollard Report, which said Newsnight editor Peter Rippon's decision to drop the programme's Jimmy Savile investigation was flawed, he said:
Of course, like everyone at the BBC connected with this case, I will learn lessons from what has happened, as I move on with my career.

The BBC itself has an overriding responsibility to foster and support good journalism, and to respond proportionately when that journalism is challenged.

Nick Pollard has raised questions about whether the BBC has been able to do this, and I agree with him that change is necessary.
Two of the reporters who worked on the original investigation in to Jimmy Savile for Newsnight have spoken outside of the BBC.
Both Liz Mackean and Meirion Jones issued very strong statements criticising the BBC. Ms Mackean said the BBC breached duty to women who said Savile a paedophile.
Mr Jones said that last Christmas the BBC knew that Savile was a paedophile yet decided to run tribute programmes.
He added: "I hope the BBC takes measures to make sure nothing like that will ever happen again".
BBC Trust chairman Lord Patten also said in an interview that it was not true to say there haven't been sackings...(Except it's been a resignation, retirement, other jobs shuffled).
Advertisement
Lord Patten tells me the BBC Trust looked at whether they could get money back from George Entwistle's payoff but lawyers said it wasn't possible.
Former BBC Director-General George Entwistle has suggested the Pollard Report has exonerated him of involvement in the decision to shelve Newsnight's Jimmy Savile investigation.
[The Pollard Report makes it] clear that I played no part in determining the fate of the Newsnight exposé on Jimmy Savile.

I had no involvement whatsoever in the decision not to broadcast the piece and at no time did I seek to influence the decision or have any impact on it.
– Former BBC Director-General George Entwistle
I am pleased that the Pollard Report makes it clear I played no part whatever in Newsnight's decision not to broadcast the original Savile investigation – just as I was not personally to blame in any way for the journalistic failures on Newsnight when it broadcast its erroneous report about the North Wales care home.

With Nick Pollard's work now concluded, I look forward to taking time to consider my future plans.
– Former BBC Director-General George Entwistle
Following the publication of the Pollard Report, Stephen Mitchell, Deputy Head of News at the BBC, has released the following statement announcing that he retiring, despite earlier reports from the BBC that he was resigning:
It is with great sadness that I have decided to retire from the BBC after more than 38 years' service of which I am very proud and which I have found greatly enjoyable.

Given the strain over the past month since being told to stand aside from the job I loved, having endured the Pollard review process and now having read its criticisms, I have decided that it is in my interests and those of the BBC that I bring my career to a dignified end.
Whilst I feel vindicated that the review has found that I put no undue pressure on Peter Rippon, I disagree with the remainder of Mr Pollard's criticisms in relation to me.

I am grateful for all the support I have received from friends and colleagues around the BBC.
Load more updates
Back to top