Disappointing retail sales
There have been disappointing retail sales figures for November, which are unchanged on the previous month in the build-up to Christmas.
British Retail Consortium (BRC) Director General, Helen Dickinson, said that the retail figures released by the ONS confirms their own findings of a poor beginning to Christmas sales, but added that there was still hope.
This confirms our own findings that Christmas shopping was slow out of the starting blocks in November, as pressures on budgets and fears about the future left many of us reluctant to commit to spending early.

But it's the finish which matters, and the signs are that sales and shopper numbers have been building at a respectable pace throughout December, especially in recent weeks.

With Christmas falling on a Tuesday this year this weekend will be the critical one – I'm expecting a last-minute rush but overall in sales terms it will be neither a bumper Christmas nor a disaster.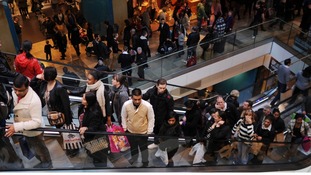 If, like me, you have not yet done your Christmas shopping, then together we may represent the last great hope of 2012 for shopkeepers.
Read the full story
Advertisement
Online shopping accounts for 10.8% of all retail sales which is the highest since record began in 2006, according to the Office for National Statistics.
Fears that consumers are reining in their spending ahead of Christmas were fuelled after it emerged that sales volumes from November failed to increase from October.
The quantity of goods bought in November 2012 has increased by 0.9% when compared to November 2011.
Back to top