NRA armed police schools call
The CEO of US gun lobby the NRA has defended his comments after the Sandy Hook shootings. In his first TV interview since the tragedy, Wayne LaPierre repeated: "The only way to stop a bad guy with a gun is a good guy with a gun".
The executive Vice President for US gun lobby the NRA has spoken on American television, repeating the NRA's belief that armed police should be posted in US schools following the Sandy Hook school shootings.
Speaking on NBC's Meet the Press, Wayne LaPierre said parents across America would feel better if armed police were stationed at their children's schools.
On Friday protesters interrupted the NRA's news conference, where the gun lobby outlined its plans to combat gun attacks in schools.
by Lewis Vaughan Jones - ITV News Correspondent
The CEO of gun lobby the National Rifle Association is today defending his comments after the Sandy Hook shootings. Wayne LaPierre says again gun control "won't work".
Speaking to NBC he says again "the only way to stop a bad guy with a gun is a good guy with a gun".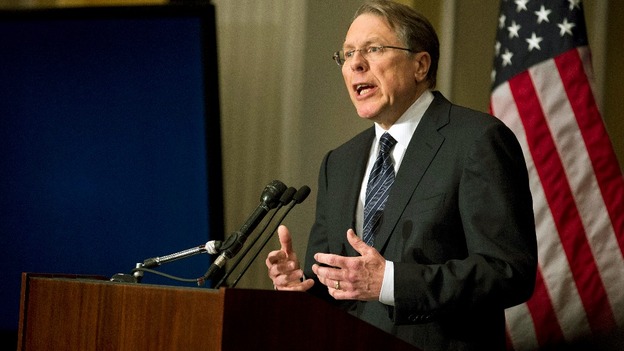 He says banning assault weapons and large magazines would NOT work in reducing mass shootings. The NRA head refuses to say he would support gun control.
So the NRA position is completely unchanged. No support for gun control, no banning assault weapons and no stronger background checks.
Supporters of more gun control says the position of the gun lobby the NRA is extreme and out of touch.
Advertisement
US celebrities have called for an end to gun violence following the Sandy Hook school shooting in Connecticut.
Jennifer Aniston, Beyonce Knowles, Ellen De Generes and Will Ferrell are among the well-known faces to join the Demand a Plan campaign.
In the black and white video, they ask: "How many more? How many more colleges? How many more classrooms? How many more movie theaters? How many more houses of faith?"
A senator said in a statement that he was stunned by the NRA's comments, according to NBC.
It is beyond belief that following the Newtown tragedy, the National Rifle Association's leaders want to fill our communities with guns and arm more Americans.The NRA points the finger of blame everywhere and anywhere it can, but they cannot escape the devastating effects of their reckless comments and irresponsible lobbying tactics. The NRA leadership is wildly out of touch with its own members, responsible gun owners, and the American public who want to close dangerous loopholes and enact common-sense gun safety reform.
– Senator Frank R. Lautenberg
The NRA's Washington leadership has long been out of step with its members, and never has that been so apparent as this morning.

Instead of offering solutions to a problem they have helped create, they offered a paranoid, dystopian vision of a more dangerous and violent America where everyone is armed and no place is safe.

While they promote armed guards, they continue to oppose the most basic and common sense steps we can take to save lives - not only in schools, but in our movie theatres, malls, and streets. Enough.
– New York City Mayor Michael Bloomberg
Advertisement
New York Mayor Michael Bloomberg says the National Rifle Association's call for armed guards in schools represents a paranoid vision of America, reports Associated Press.
He said Friday's press conference by the nation's largest gun lobby group was "a shameful evasion of the crisis facing our country."
He added that the NRA lobbyists blame "everyone but themselves" for the crisis of gun violence. He says America must rise above and demand Congress and President Barack Obama work on reasonable gun restrictions.
Afterremaining silent for an entire week following the Newtown massacre, the NRA'sfirst comments were to call for more guns in our schools and our society. Thisis both irresponsible and dangerous. No matter how much money the NRA spends orpropaganda it tries to spread, one thing is clear-the NRA is not serious aboutconfronting the epidemic of gun violence in our nation.
Schools must be safe sanctuaries, not armed fortresses. Anyone who would suggest otherwise doesn't understand that our public schools must first and foremost be places where teachers can safely educate and nurture our students.
– American Federation of Teachers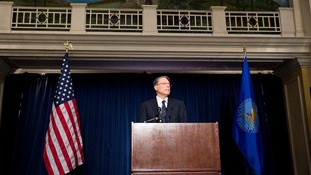 As the NRA calls for armed police in schools following the Newtown shootings, it seems the battle over the right to bear arms has begun.
Read the full story
Load more updates
Back to top