NY firefighter gunman 'left note'
A man who allegedly shot dead two firefighters as they tackled a fire in Webster in New York state left a chilling note declaring his plan to "kill people", police said.
State Office of Fire Prevention and Control has 6 personnel on site to assist with arson investigation #Webster
The New York Governor Andrew Cuomo has paid tribute to the two firefighters killed and two wounded by a gunman who apparently lured them into a trap:
Gov: NY's first responders are true heroes as they time and again selflessly rush toward danger to keep our families safe #Webster
Gov: First responders were injured and 2 were taken from us as they once again answered the call of duty. #Webster
Advertisement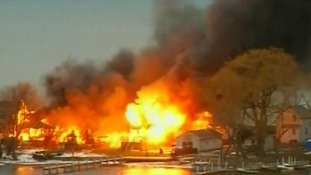 A gunman set a trap for four firefighters reacting to a house fire in New York state, killing two and injuring two before being found dead.
Read the full story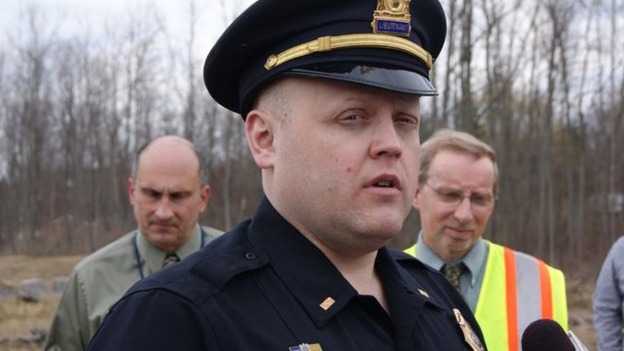 One of the two men killed by a gunman in an apparent ambush was Mike Chiapperini a volunteer firefighter with 20 years in the local police force.
Theodore Scardino, one of the firefighters "significantly wounded" in the shooting in Webster, New York, has spoken since treatment, say Strong Memorial Hospital staff.
Scardino is able to breathe on his own, but staff said both he and Joseph Hofsetter were "at risk" and being monitored for bleeding.
Staff at Strong Memorial Hospital have said that both firefighters who have been hospitalised after the shooting in Webster have "significant injuries."
Advertisement
The four firefighters involved in the Webster shooting have been named.
Lt. Mike Chiapperini and Tomasz Kaczowka were named as those shot dead.
According to police, Theodore Scardino is currently in surgery and Joseph Hofsetter was injured in the shooting.
Webster Police Chief Gerald L. Pickering from New York State commenting on a gunman who killed two firefighters as they tackled a fire, said that it appeared that the gunman had "set a trap" for them.
He added that the gunman had died from a gunshot wound.
An off duty police officer who happened to be near the scene of the shooting in Webster, New York, has received shrapnel injuries.
A police spokesman said: "Off duty police officer John Ritter who happened to be driving by the scene received injuries from shrapnel striking the side of his body.
"33 residents were removed by the armed personal carrier from the location. Four homes were fully engulfed and destroyed by the fire, and four additional houses sustained damage."
Police in Webster, New York State have confirmed that all four firefighters involved in the shooting earlier this morning were shot at the scene.
A police spokesman said: "All four firefighters were shot at the scene. One firefighter was able to flee the scene on his own. The other three were pinned down at the location."
"Two received serious injuries from the shots and are being treated at local hospitals."
Load more updates
Back to top