'Record' online Boxing Day sales
There was a new record for online shopping set yesterday, analysts claimed. High streets retailers said they enjoyed record figures as the average footfall across the UK rose by 21.6% compared to last year.
by Sejal Karia: ITV News Correspondent
Many shoppers have been carrying four or five bags after the Boxing Day sales. It seems to be borne out of what retailers are saying. One retailer analyst is telling us that spending is up by 21.6 percent today compared to Boxing Day last year.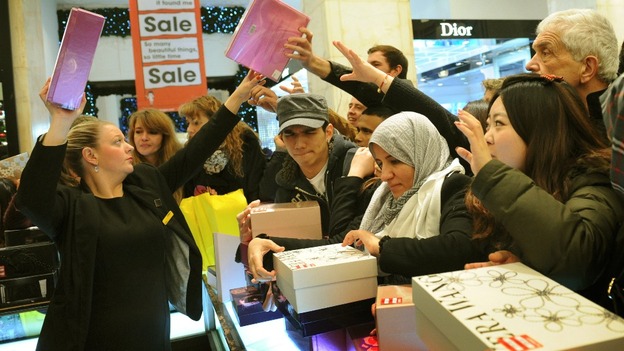 Debenhams is saying perfumes are the biggest sellers. Selfridges have told us that handbags and menswear are flying off the shelves.
And in Cardiff, St David's Shopping Centre is saying that in the past week, it has broken all previous records, both in terms of visitor numbers and retail sales. They are expecting around 150,000 shoppers at the centre today.
Manchester's Trafford Centre has enjoyed what is thought to be the biggest Boxing Day sale in its history with police drafted in to help manage the crowds.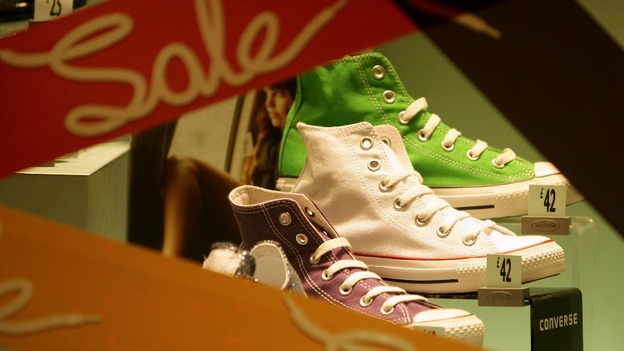 Twenty-thousand shoppers had arrived by 8am, said Gordon McKinnon, director of operations. He said: "Many of our shoppers received a Trafford Centre gift card - we saw record sales on gift cards this year - and they are always keen to spend those in the sales after Christmas."
"Many bargains were snapped up within minutes of opening, with great trade particularly on party fashions and accessories."
Advertisement
A shopping centre director in Bristol said he expected more visitors tomorrow rather than today.
Kevin Duffy said around 180,000 people are expected to visit Cabot Circus over the next two days, with an estimated 100,000 of those waiting an extra day to pick up deals.
I think some people are still coming back from holidays or time spent visiting family today, so we are expecting slightly more people through the doors tomorrow.

That seems to be the way things happen now, people are happy to wait until December 27.
– Kevin Duffy, Cabot Circus director
Today we expect over 200,000 customers to flock to Bullring all eager to pick up some bargains. Three of the centre's biggest retailers, Selfridges, Debenhams and Next have all launched their iconic sales today.

Many of the centre's retailers are now offering huge discounts including up to 50% off at A|X Armani Exchange and Reiss.
– Tim Walley, general manager of the Bullring shopping centre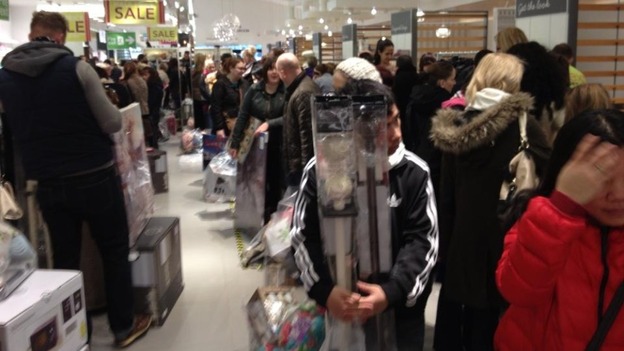 Advertisement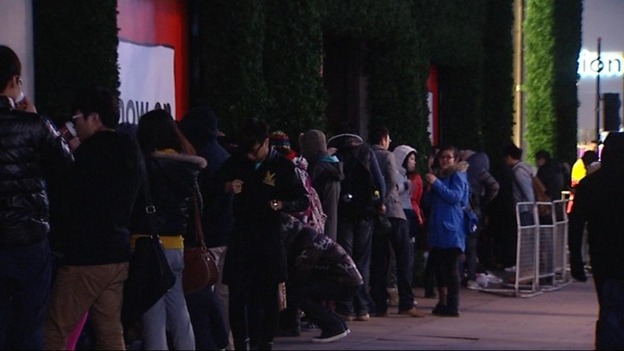 Shoppers queued from the early hours to be at the front of the queue for the Debenhams sale in London's Oxford Street.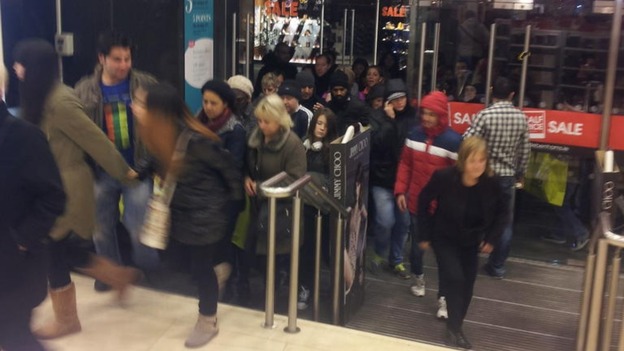 Boxing Day shoppers have already started snapping up bargains at the UK's Next stores, which opened their doors at 6am.
Just been to next sale, queued from 5.20 and back home in bed now, me little girls all sorted for next year now #decent
Next sale complete! It's not big. It's not clever. We have spent £796! Shopping kills (your wallet) kids! Stay safe.
Just drove past a Next...car park full and a queue outside at least a mile long. No sale is worth that surely
Load more updates
Back to top