Call to end big rail fare hikes
Campaigners today urged an end to above-inflation rail fare rises amid widespread anger at continuing increases.
How many passengers will pay far more than the headline fare increases?
In terms of costs, thousands of trains are moving in the same direction today... they are getting far more expensive. The headline figure you will read will tell you the rise is 4.2 % for "Regulated fares".
However, Train companies can put some season tickets up by more than that:
A Leeds to Wakefield season ticket is rising 6.16%
Ludlow to Hereford season ticket is increasing 5.28%
London from Ramsgate, Folkestone, Canterbury, Deal and Dover all going up by around 4.8%
Transport Minister Norman Baker told BBC Radio 4's Today programme that the current fare structure was "not ideal", adding that the Government wanted to end above-inflation fare rises as soon as possible:
Forty per cent of fares, roughly, are regulated by the Government and that's a longstanding policy successive governments have had. The other 60% are unregulated and decided by the train companies themselves.

The balance of regulation and which fares are regulated is part of the fares and ticketing review we are now engaged upon.
It's not ideal - there are over 100,000 rail tickets and different prices each year to deal with. It's a hugely complicated issue.So it's important we try to get the best value for the passenger, the best value for the taxpayer and the simplest, (most) transparent system we can, given the need to ensure rail companies can price appropriately to attract people on to off-peak trains which might otherwise be running empty.
Advertisement
First Great Western spokesman Dan Panes has blamed the Government's above-inflation formula for the hike in rail fare prices.
He told Daybreak: "While rail fare payers are paying more, taxpayers are paying less towards the cost of travel."
The 10th above-inflation increase in a row led a campaign group to claim that the increases come at a time of "no perceptible improvement in services."
Last week Railfuture spokesman Bruce Williamson said: "Yet again, rail fares go up with no perceptible improvement in service.
"Over the last 10 years, fares have increased by more than 50% - much more than people's incomes."
TUC chief Frances O'Grady has told Daybreak that "if we bring the railways back under public control, there would be more money to invest for the future."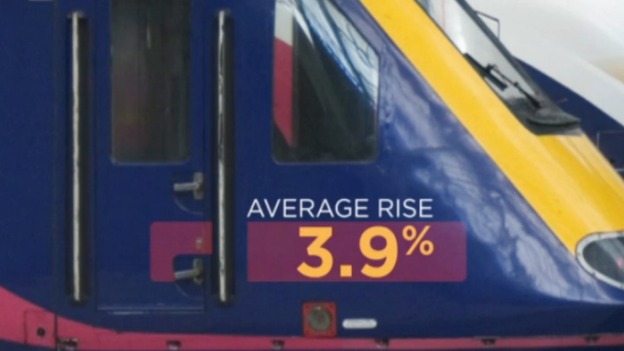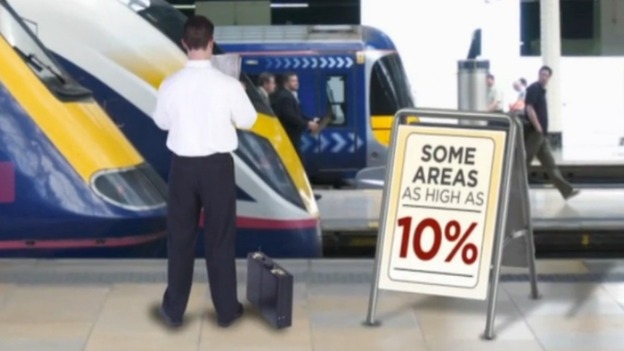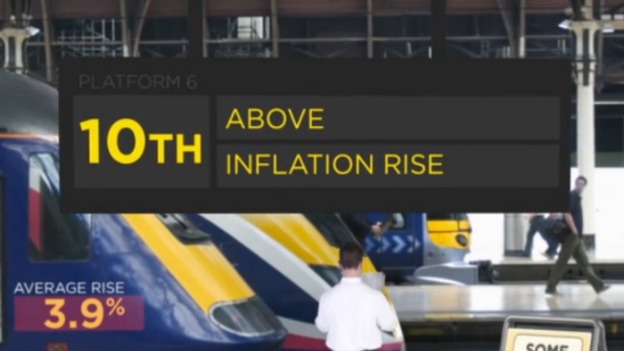 Advertisement
David Cameron misled commuters when he promised to cap fare rises at 1% above inflation.

Many commuters have faced a nasty New Year shock as they discover fares have gone up by as much as 9.2%.

The Government should come clean with commuters that this is a direct result of their decision to cave in to pressure from the private train companies to let them hike ticket prices beyond the so-called cap.
– Shadow transport secretary Maria Eagle
Family budgets are being squeezed, so that is why this coalition Government has taken proactive steps to cut the planned fare rises from 3% to 1% above inflation until 2014.

We are engaged in the biggest rail investment programme since the 19th century and it is only right that the passenger, as well as the taxpayer, contributes towards that.

In the longer term we are determined to reduce the cost of running the railways so that we can end the era of above-inflation fare rises.
– Transport Minister Norman Baker
We understand commuters don't like to pay more to travel to work but it is the Government, not train companies, that decides how much season tickets should rise on average each year.

Successive governments have required train companies to increase the average price of season tickets every January since 2004 by more than inflation.

Ministers want passengers to pay a larger share of railway running costs to reduce the contribution from taxpayers while sustaining investment in better stations, new trains and faster services.
– Michael Roberts, chief executive of the Association of Train Operating Companies
I understand the frustration felt by many commuters going back to work today.

At a time when real wages are falling and household budgets are being squeezed, rail travellers are being forced to endure yet another year of inflation-busting fare increases.

As well as having to shell out record amounts of money for their tickets, passengers also face the prospect of travelling on trains with fewer staff and having less access to ticket offices. They are being asked to pay much more for less.
– TUC general secretary Frances O'Grady
Load more updates
Back to top