Malala released from hospital
Pakistani schoolgirl Malala Yousufzai, who was shot by the Taliban over her campaign for girls' education, has been discharged from the Queen Elizabeth Hospital in Birmingham.
The Pakistani schoolgirl who was shot by the Taleban for campaigning for the education of girls has been allowed to leave hospital.
Malala Yousafzai received life-saving treatment in Birmingham but her doctors now say she will benefit from being around her family.
The 15-year-old activist was targetted by Taliban gunmen who shot her at point blank range on her journey home from school on 9 October 2012.
ITV News correspondent Rupert Evelyn reports from Birmingham's Queen Elizabeth Hospital:
The Foreign Secretary William Hague has tweeted his delight at Malala being allowed to leave hospital to live with her family.
Delighted #Malala is well enough to leave hospital. The future Pakistan she dreams of is one we must support
Advertisement
The Pakistani High Commissioner to the UK, Mr Wajid Shamsul Hasan, has said the decision to allow Malala to live with her family was made to aid her psychological recovery.
He also confirmed the appointment of Malala's father, Ziauddin Yousufzai, as an education attache for the Paksitani government and suggested that the family would remain in the UK for the next three to five years.
Shaista Gohir, the Chair of the Muslim Women's Network UK, has told ITV News that although there are campaigners all around the world working for women's rights, Malala Yousufzai holds a unique position because of her young age:
Gordon and Sarah Brown have tweeted their support for Malala Yousufzai as she is released from hospital:
Good news that Malala is well enough to leave hospital. We wish her well as her recovery continues with her family.
Wishing Malala and her family well today as they are properly reunited under one roof. Much credit to NHS team whose care Malala receives.
The former Prime Minister visited Malala the Queen Elizabeth Hospital in Birmingham, see pictures and video of the visit here.
Malala is likely to secure permanent residence in the UK after her father was given a job with the Pakistani consulate in Birmingham yesterday.
Ziauddin Yousufzai has been appointed education attache for three years.
Both he and his daughter have had threats made against their lives by the Taliban, since the shooting.
A statement released by the Pakistani government said it was "pleased to appoint" Mr Yousufzai to head of education at the consulate.
The appointment is a direct result of Pakistan's President Asif Ali Zardari visiting Malala and her father in hospital.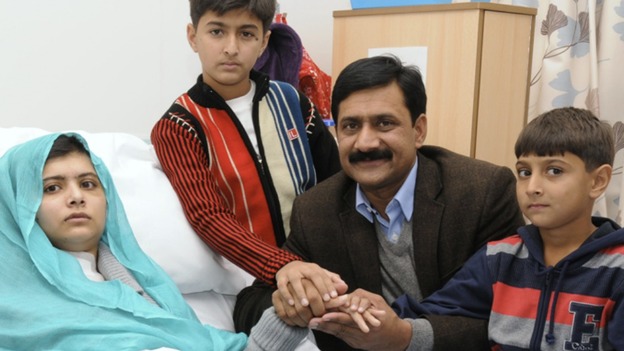 "The president had also directed high commissioner Mr Wajid Shamsul Hasan to look after all the needs of Malala, and discuss with Mr Yousufzai a mode for financial sustenance and accommodation of the family.
"In light of that, the present appointment has been made."
The Pakistani government has been paying for all the family's needs while they have been in the UK, while the United Arab Emirates funded the medical airlift which transported Malala to Britain for further treatment.
Advertisement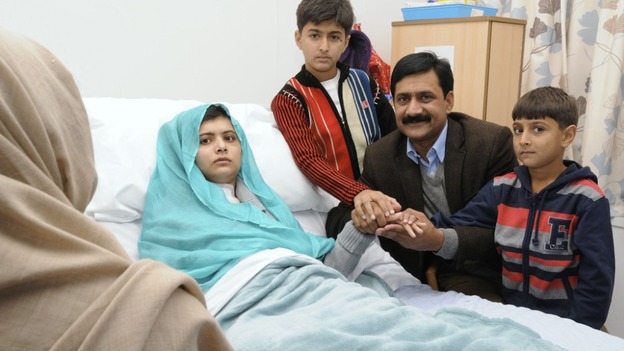 Malala Yousufzai has been released from hospital in Birmingham and will now be cared for by her family at their temporary home in the West Midlands.
Malala Yousufzai has been discharged from hospital in Birmingham, the hospital released this video of the moment Malala walked out of her ward: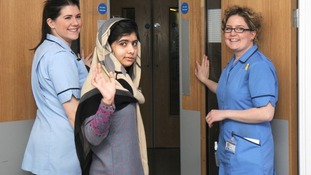 Malala has been released from the Queen Elizabeth Hospital in Birmingham. She was admitted in October after being shot by the Taliban.
Read the full story
Malala is a strong young woman and has worked hard with the people caring for her to make excellent progress in her recovery.

Following discussions with Malala and her medical team, we decided that she would benefit from being at home with her parents and two brothers.

She will return to the hospital as an outpatient and our therapies team will continue to work with her at home to supervise her onward care.
– Dr Dave Rosser, University Hospitals Birmingham NHS Foundation Trust
Load more updates
Back to top