Top Tory admits Govt 'broken'
David Cameron and Nick Clegg insisted the Coalition is "united" until 2015 as they mark the halfway point in their Government. But Tory peer Lord Strathclyde, who quit as Lords leader today, admitted he had complained the partnership was "broken."
The Coalition has confounded expectations in surviving the first two and a half years and negotiating many tricky minefields.

But, in its second half it must ensure it creates a lasting legacy of stronger and more balanced growth and drives home the reforms which will benefit manufacturing the most.
– Terry Scuoler, Chief Executive of the manufacturers' organisation EEF
David Cameron said: "We are married, not to each other. We are both happily married and this is a government not a relationship. It's a government about delivering for people because of the mess we were left in by the previous Government.
"And what we said to people two-and-a-half years ago is that we would come together for a five-year Parliament. We would tackle these problems. So, to me it's not a marriage it is a Ronseal deal - it does what it says on the tin.
"We said we would come together, form a government, we said we'd tackle these big problems, we said we'd get on with it in a mature and sensible way - and that is exactly what we've done."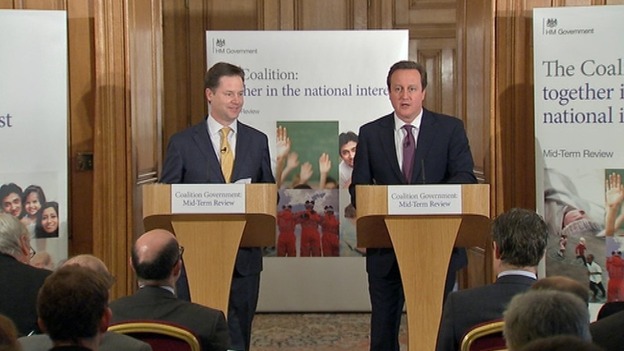 Advertisement
Some of the key statistics of David Cameron's mid-term speech:
In two-and-a-half years deficit cut by a quarter and "credible path" set out towards goal of a balanced budget
The economy is "rebalancing"
Over a million new private sector jobs
Exports of UK goods to both India and Brazil went up by over a third
Exports of good to China went up by almost a half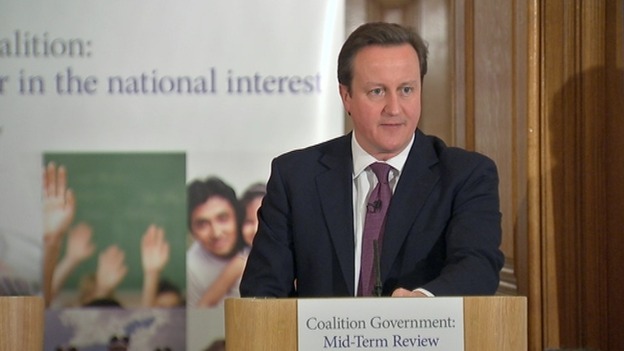 David Cameron says Britain needs to take the "tough decisions" that will enable us to compete and thrive. He said:
"We need to fix the nation's finances by dealing with our debts. We need to rebalance and rebuild our economy. And we need to back the aspirations of hard-working families and businesses who want to get on and do the right thing."
David Cameron: "Some people thought the coalition wouldn't make it through our first Christmas. But this Government is now well into its third year.
"This coalition was not, and is not, some short term arrangement. It is a serious five-year commitment to give our country the strong, stable and determined leadership that we need for the long term."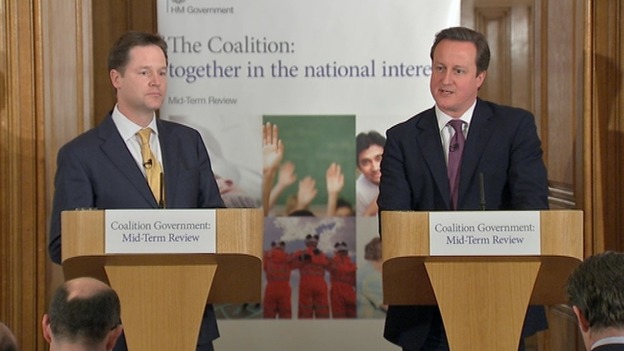 A former Liberal Democrat minister has warned she intends to defy the party leadership and vote against coalition plans to cap benefits.
Sarah Teather, who lost her job as children and families minister in the September reshuffle, said she would oppose proposals to limit rises for most working age benefits to 1% when they come to the Commons tomorrow.
As a constituency MP representing a very deprived area in London, I feel deeply anxious about the policy and I will be voting against the bill tomorrow, very reluctantly and with a very heavy heart.

I can't say I enjoy voting against the Government on these things.

We have a huge problem with in-work child poverty and we are only going to make this significantly worse by affecting those who are at the bottom end of the income spectrum.
One the the things I feel particularly uncomfortable about is the setting up of these two groups - the supposed strivers versus scroungers. It's playground politics. I don't think it is really worthy of us.
Her comments represent a further blow to Deputy Prime Minister Nick Clegg particularly as they reflect concerns among many Lib Dem activists.
Advertisement
Some of these proposals are still quite vague, for example on childcare I understand that the details are being hammered out at a meeting later this week - you would think that might have happened before the big announcement this afternoon.
Nevertheless David Laws earlier today insisted that in this mini-manifesto most of the proposals would be implemented before the next election.
David Laws on Daybreak: 'We knew it was going to be tough'
And when it comes to elderly care I think when they do actually cap the amount of costs people actually have to pay for their own care, it will be quite a milestone.
Watch: Social care cap 'is a start but is not going far enough'
Jeremy Hughes, Chief Executive of the Alzheimer's Society told ITV News that a cap on payments expected from elderly people for their care is "a start."
"This is the beginning of a change to make an unfair system less unfair, but it's not going that far yet."
Responding to reports on the Government's childcare plans, Labour shadow education secretary Stephen Twigg said:
It's no good David Cameron suddenly pretending he cares about helping families with childcare. Over the last two years he has forced up childcare costs for families.

One of Cameron's first acts in government was to cut Labour's support to help parents pay for childcare, leaving families facing higher costs and forcing tens of thousands of women out of work. Families have also seen 381 Sure Start centres close as the Tories slash the budget by a third.
Now it looks as if the Government are panicking and trying to backtrack on some of the cost hikes they've imposed on parents by reducing the quality of childcare.

Cameron and Clegg are presiding over a childcare crisis which their plans risk making worse. We should instead be looking to countries such as (those) in Scandinavia, who have improved childcare and made it more affordable by supporting the supply of quality childcare.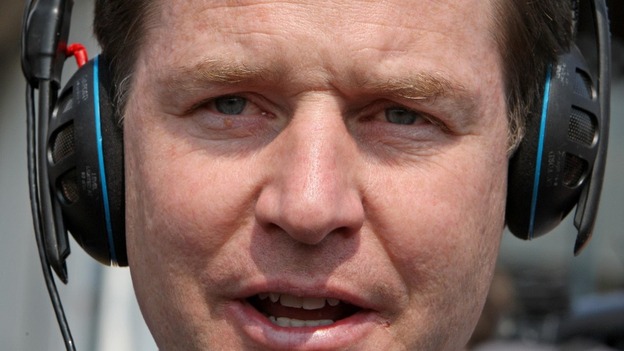 Deputy Prime Minister Nick Clegg will hold a weekly radio phone-in in a fresh attempt to reconnect with voters.
The Liberal Democrat leader will take half-an-hour's worth of calls from listeners to London's LBC 97.3 radio with presenter Nick Ferrari every Thursday morning.
"I'm doing this because I don't think politicians get to hear enough from people directly," Mr Clegg said. "You can't do the right thing in government unless you keep in touch with how people are thinking and feeling."
Load more updates
Back to top