Cameron wants seven more years
David Cameron has indicated he wants to serve in No 10 until 2020 as he prepares to unveil a review of how the Coalition has performed.
Just because David Cameron and Nick Clegg share a platform, it does not mean tomorrow's mid-term review is a relaunch, a Downing Street advisor told me.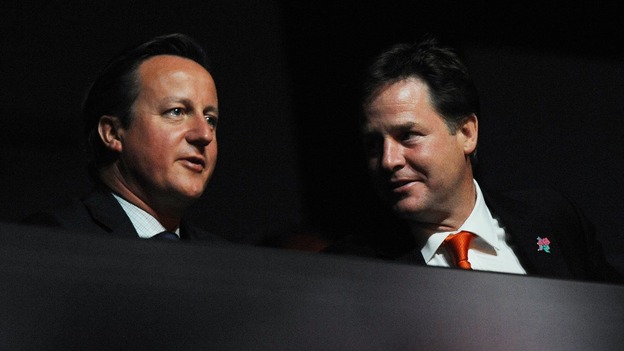 But, I think that was a deliberate attempt to downplay what is a fairly significant moment for the coalition.
For all the noises from their backbenchers, the two men at the top of the government do think that this is the moment they need to show they are determined to see it through to 2015.
A deficit reduction does remain their top priority, there is still a gaping black hole in the nation's finances but I think we are going to hear about reform of the pension system and how care for the elderly is funded.
If they can pull changes to that off, this will be fairly significant.
Business leaders and policy experts gave the coalition mixed feedback ahead of its mid-term review.
CBI director general John Cridland scored the Government eight out of 10 for its plan for the economy but just five out of 10 for delivery of the plan.
He told BBC Radio 4's World this Weekend:
Frankly, the Government's delivery has been disappointing if not sluggish. They are not getting on with house building, road building, rail building at the pace we would like.
Andrew Haldenby, director of think tank Reform, told the programme:
I would give the coalition no more than five out of 10 on public sector reform and the reason for that is the public sector is yet to be convinced that this Government really, really wants it to change.
Advertisement
David Cameron says that he is working with other governments to try and change the political landscape of Syria.
The President of Syria has given a rare public address calling for citizens to fight for his regime.
My message to Assad is that he should go. He has the most phenomenal amount of blood on his hands. We now see 60,000 people have been killed in Syria.

I've met some of the victims when I went to the refugee camp on the Jordanian border and some of the stories they told me were completely shocking about how they had been bombed and shot. In some cases even stabbed out of their homes and villages and towns.

This is a stain on the world's conscience.
– Prime Minister David Cameron speaking on the BBC's Andrew Marr Show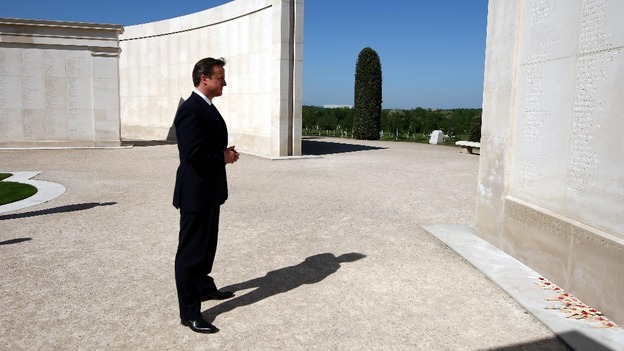 David Cameron has re-iterated Britain's position on the future of the Falkland Islands saying that "Britain will fight to keep them".
Mr Cameron said that the Government had made sure that there were strong defences on the Islands and was committed to protecting them.
David Cameron insists that despite concerns from other members of his party "now is not the right time to leave Britain".
When questioned on the BBC's Andrew Marr Show, the Prime Minister said that "fifty percent of Britain's trade currently happens with Europe" and so it was very important that "Britain retains it's seat at the table".
Mr Cameron said that despite Britain's trade agreements, as long as he stayed Prime Minister the country would not convert its currency to the Euro.
Speaking on the BBC1's The Andrew Marr Show, David Cameron said that Britain is not alone in facing difficult economic challenges and that the Government is doing all it can to help get Britain out of recession.
We have some serious programmes to address long-term employment and youth unemployment but you know what needs to happen if we stand back and look at the British economy we need a rebalancing.

We need a bigger private sector, growth more evenly around the country. Not so reliant on just finance but we need more manufacturing, export, production, high-tech industries.
– Prime Minister
Advertisement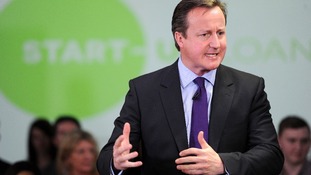 David Cameron has indicated he wants to serve in No 10 until 2020 as he prepares to unveil a review of how the Coalition has performed.
Read the full story
Labour's vice chairman Michael Dugher has said Prime Minister David Cameron's Coalition government has failed to install the change it promised.
Another year, another relaunch and still none of the change that David Cameron and Nick Clegg promised.They said they'd fix the economy. But living standards are still falling for the hard-working majority whilst a handful of millionaires get huge tax cuts.

They said they'd fix welfare, but the welfare bill had gone up, not down.

They said they would protect the NHS and then sacked nurses.

Families who put their trust in David Cameron and Nick Clegg's promises of change will be bitterly disappointed to see that another relaunch is all they are offering.
The review into how the Coalition government has performed is expected to include details of a cap on social care costs, which ministers have considered setting at £75,000, as well as pension and child care reforms.
In mid-term in government you are taking difficult decisions, there's always going to be a tendency for people to look at protest.

I don't think my job is to try to identify different segments of people who going his way or that. My job is to steer the ship in the right direction.
David Cameron was asked if he would stay on as Prime Minister until 2020, and he told the Sunday Telegraph:
Yes - look, I want to fight the next election, win the next election and serve - that is what I want to do.
Mr Cameron and Deputy Prime Minister Nick Clegg will publish a review on Monday of progress the Coalition government has made since 2010 and set out its top priorities for the rest of their term.
"This is an enormous reform agenda and that's enough to keep us all busy."
Load more updates
Back to top