MPs vote for 1% benefits cap
MPs have voted in favour of a proposed 1 per cent cap on raising benefits by a majority of 56. Ministers say the cap is needed because it is unfair that state handouts have been rising twice as fast as wages during recent years of austerity.
Matthew Reed, chief executive of the Children's Society, said:
This Bill will punish millions of children and families already struggling to make ends meet.

Two-thirds of families affected - over six million - have children.

As a result of today's move, life will be harder for families from all walks of life, including 300,000 nurses and midwives, 150,000 primary school teachers and 40,000 members of the armed forces.
Families already struggling to provide their children with food or a winter coat, or heat their homes are being pushed closer to the brink.

Child poverty blights lives and is a scar on our society.

Today's 'hardship penalty' punishes working families on low incomes as well as those looking for work, paving the way to a rise in child poverty.
Analysts at the Institute for Fiscal Studies say that households with no working adults will be hit harder by the benefits cap than those in which some adults work but also draw certain benefits.
ITV News' Social Affairs Editor Penny Marshall has been to speaking to some such families in the village of South Hetton in County Durham:
Advertisement
The former leader of the Liberal Democrat party Charles Kennedy has confirmed on Twitter that he abstained from today's vote on capping benefits.
I formally abstained frm voting for a 2nd reading and am looking now to work with like-minded Lib Dems to amend the bill in its later stages
The four Liberal Democrat MPs who voted against capping benefits are as follows:
MP for Bradford East David Ward
MP for Cambridge Julian Huppert
MP for Manchester Withington John Leech
MP for Brent Central Sarah Teather
The former Liberal Democrat leader Charles Kennedy and MP for St Ives Andrew George voted in both lobbies - the traditional way of registering an abstention.
ITV News viewers have been debating the Government cap on benefits rises on our Facebook page. Here is a small selection of the comments:
I get child tax credit [and] have worked all my life. [My] fiancée is severely disabled and cannot work - I can tell you I am not a scrounger. In fact I was a copper in the Met for 12 years.
– Martin Mossman
It is too easy for people to go on benefits nowadays. The Government has got to act now and favour ... the workers and the ones willing to work.
– Claude Gabrielle, London
Most people on benefits have not been languishing on them all their lives. They have worked and lost their jobs for varying reasons. Why do people think that everyone on benefits are lazy scroungers[?]
– Pat Chaplin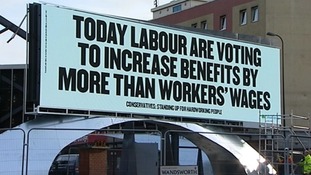 MPs have voted in favour of a Government measure to cap benefits rises. The Work Secretary says it will save £5bn from the welfare bill.
Read the full story
Advertisement
The Labour party is tweeting that the Government's benefits cap will affect the following numbers of public sector workers:
150,000 teachers
300,000 nurses
40,000 soldiers
The Children's Commissioner for England, Maggie Atkinson, has said she is concerned that the benefits cap will have the "greatest impact" on "children living in families on low incomes".
In a statement she said:
There is emerging evidence from schools that some children are going hungry and do not have appropriate clothing because parents and carers can simply no longer afford them ...

I oppose measures which are likely to drive more children into poverty, reduce their life chances and restrict access to an adequate standard of living.

It is unacceptable that children should have to pay the price for the economic malaise of our country.
– Maggie Atkinson, Children's Commissioner for England
MPs are reacting on Twitter to the Government's proposal to cap benefits passing its first hurdle in the Commons.
Conservative MP Gavin Barwell has called Labour's opposition a "big mistake" while Labour MP Chris Williamson said the Bill would "increase child poverty".
Labour just voted for benefits to increase by more than wages. Big mistake. Hard-working #Croydon families deserve better
MPs in the House of Commons have voted in favour of a Bill to cap benefits rises at 1% for three years by a majority of 56.
Those in favour of the bill - 324
Those against the bill - 268
Load more updates
Back to top