Obama assault weapon ban call
President Barack Obama has called for a ban on military-style assault weapons and a ten-round limit on magazines as he launched the most sweeping effort to curb American gun violence in nearly two decades.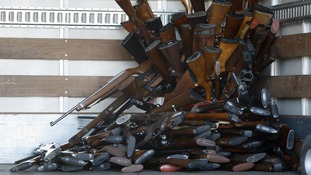 There were 26 victims in Newtown - as the US tries to get to grips with gun legislation since, 900 Americans died in gun-related violence.
Read the full story
The President's gun control measures were welcomed by the families of Sandy Hook victims today.
But Obama's attempts to ban assault weapons will trigger a long political fight and a race to stock up on the the type of arms he is trying to outlaw.
Video report by Washington correspondent Robert Moore.
Advertisement
Responding to President Obama's gun control proposals, the National Rifle Association of America said:
Throughout its history, the National Rifle Association has led efforts to promote safety and responsible gun ownership. Keeping our children and society safe remains our top priority.

The NRA will continue to focus on keeping our children safe and securing our schools, fixing our broken mental health system, and prosecuting violent criminals to the fullest extent of the law.
We look forward to working with Congress on a bi-partisan basis to find real solutions to protecting America's most valuable asset – our children.

Attacking firearms and ignoring children is not a solution to the crisis we face as a nation.

Only honest, law-abiding gun owners will be affected and our children will remain vulnerable to the inevitability of more tragedy.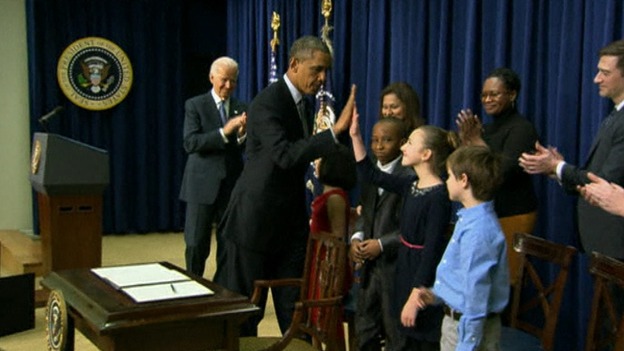 President Obama called on the American people to demand that their politicians support his gun control proposals:
"The only way we can change is if the American people demand it." —President Obama
"The most important changes we can make depend on congressional action. They need to bring these proposals up for a vote."
The third strand of Obama's gun control proposals involves encouraging Congress to help law enforcement "do its job."
President Obama: "Finally, Congress needs to help, rather than hinder, law enforcement as it does its job."
Advertisement
President Obama called for a ban on military-style assault weapons and a ten-round limit on magazines.
"Weapons designed for war have no place in a movie theatre," said Obama.
President Obama announced proposals to enforce universal background checks on gun ownership.
President Obama's proposals to reduce gun violence include the following strands:
Strengthening background checks on gun owners
Developing emergency procedures in schools
Advancing the knowledge of mental health issues that could lead to gun violence
President Obama is to call for a $500 million (£312 million) programme to curb gun violence following the Newtown shooting, according to the Associated Press.
Load more updates
Back to top