Savile 'groomed the nation'
Two separate reports have revealed how Jimmy Savile was "a prolific, predatory sex offender" who could have been prosecuted for offences against at least three victims while he was alive.
The number of victims who fell prey to Jimmy Savile could double, with current figures "a mere drop in the ocean", the child protection expert who helped expose the late entertainer as a paedophile has warned.
Mark Williams-Thomas, the criminologist who led the initial ITV Exposure documentary that revealed the Jimmy Savile abuse claims, said he could have targeted hundreds more victims.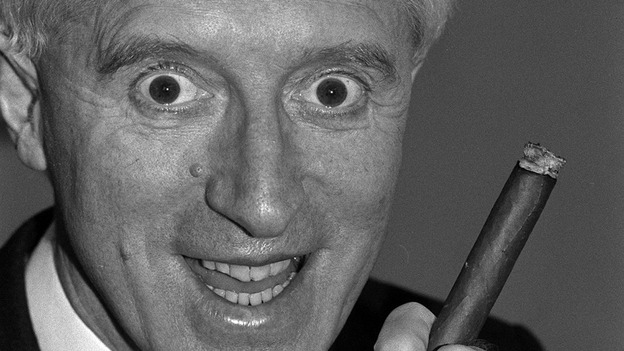 "For anybody who works in this area the sheer scale is quite shocking. When you deal with sex offenders they are quite specific in their targeting", Mr Williams-Thomas said.
"What is different with Savile is that there's no specific target in terms of ages or sexes. He ranged from male to female, children to adults. It's truly shocking", he added.
Police today labelled Jimmy Savile the UK's "most prolific, predatory, sex offender", who "spent every waking minute thinking about boys and girls." Commander Peter Spindler said:
"Jimmy Savile was a predatory sex offender, he was prolific in his abusing of the vulnerable and exploiting his power to get access to the vulnerable. [...] He took the nation in, in fact you could say, he groomed the nation."
Scotland Yard said 540 people came forward to report abuse, and 214 crimes against Savile were recorded as part of their investigation. UK Editor Lucy Manning reports:
Advertisement
The Crown Prosecution Service admitted it passed up at least three chances to bring Jimmy Savile to court.
The CPS admitted the opportunity to prosecute Savile was lost because the victims who did come forward during his lifetime were treated with "unjustified caution" and, crucially, were not told of each other's existence, which may have helped them press their case.
A senior police officer today said that Jimmy Savile used his celebrity to cover up reports of sex abuse, so that he was able to "hide" his crimes, "in plain sight".
Two reports released today expose how over six decades, Savile ruthlessly exploited teenaged and children, on a scale never seen before. UK Editor Lucy Manning reports.
Technically Savile's knighthood disappears when he dies but there have been calls for the Honours Forfeiture Committee to actually strip it from him.
The Honours Forfeiture Committee are looking at the issue of Jimmy Savile's knighthood. They will meet at some stage to discuss it.
Advertisement
Peter Watt, director of child protection advice and awareness at NSPCC said Savile is one of the most prolific sex offenders the organisation has dealt with in its 129-year history. He said:
It's clear Savile cunningly built his entire life into gaining access to vulnerable children. The sheer scale of Savile's abuse over six decades simply beggars belief.
One of Jimmy Savile's victims says the presenter laughed as a man hit a nine-year-old scout they had both abused. Speaking to BBC Radio Five Live, Kevin Cook said he was abused when he visited the BBC in West London for Jim'll Fix It.
I'm shocked by the amount and the time it's gone on and the amount that's gone on. I'm lost for words... The man walked into the room and carried on the abuse. He made me do stuff to him and he physically abused me as well, he hit me.
450 people have come forward alleging sexual abuse by Savile since October
328 of these people were children when they were preyed upon
214 criminal offences have been linked to Savile across 28 police forces
34 of these are allegations of rape
14 offences were committed at schools, in some cases after children wrote to Savile as part of Jim'll Fix It
57 allegations have been linked to hospital premises, including hospices
33 claims of abuse have been linked to television or radio studios
Peter Saunders from the National Association for People Abused in Childhood and Debbie Curtis, who Jimmy Savile tried to assault when she was just 22, told Nina Hossain how Savile's celebrity status allowed him to keep the "worst kind of open secret".
Load more updates
Back to top