Equity firm buys HMV's debt
A Canadian private equity firm has bought the debt of struggling music retailer HMV.
Chief Executive Trevor Moore tells me they hope to have more answers on what happens next for HMV in next 24 hours.
He says he hopes that the existing management team can stay in place and lead a new, if smaller HMV.
He and the Finance Director are very bullish about being able to save something from the business.
Trevor Moore said his responsibility as Chief Executive of HMV is to develop the business, evolve stores and develop a compelling web presence.
Advertisement
HMV Chief Executive Trevor Moore says he takes responsibility for the business and there is "bright future for HMV".
He added that the next 24 hours will give a clearer timetable of what happens next.
HMV Chief Executive Trevor Moore told Business Editor Laura Kuenssberg he is unable to answer how many jobs will survive but the company has a plan they will talk through with administrators.
He added that he is not giving up on the retail chain and he has "every bit of enthusiasm" he had in September when he joined the company.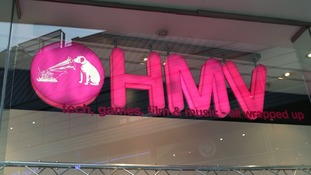 The boss of HMV said he is confident a solution can be found to keep the brand on the High Street. In what form, however, is less clear.
Read the full story
Sad to see HMV go into administration today. Can't say I didn't see it coming - see extract from my book 2 years ago... http://t.co/dvKa36lR
Advertisement
HMV says there is still a future for its business because physical music sales still make up 75% of the market and they still get 100 million visitors a year.
Trading was "disappointing" over Christmas at HMV and managers' hopes of turning things round faded away.
HMV are trying to work out how many people have gift vouchers who cannot use them at the moment but lots of them were already used up in last week.
Trevor Moore says he is "confident" that a solution to keep some form of HMV on the High Street can be found.
HMV have had "amazing support" from suppliers but yesterday realised they could not continue to trade.
Load more updates
Back to top