Lance Armstrong 'ashamed'
Lance Armstrong said he felt "ashamed and humbled" during the second round of his interview with Oprah. He said he would like to return to competitive sport, and became emotional whilst talking of the impact of the scandal on his family.
The Livestrong Foundation has released a statement after Lance Armstrong's interview with Oprah Winfrey in which he admits to taking performance enhancing drugs during his cycling career.
We at the LIVESTRONG Foundation are disappointed by the news that Lance Armstrong misled people during and after his cycling career, including us.

Even in the wake of our disappointment, we also express our gratitude to Lance as a survivor for the drive, devotion and spirit he brought to serving cancer patients and the entire cancer community.
The Livestrong cancer charity has previously told ITV News that they are separate from Lance Armstrong's sporting career and his fall from grace has not affected how the charity is viewed. Watch the video here.
One of the youngest members of the Team GB synchronised swimming team, Katie Clark, has Tweeted her response to Lance Armstrong's admission that he used performance enhancing drugs.
The 18-year-old said:
Advertisement
Former World Heavyweight Boxing Champion Lennox Lewis has labelled Lance Armstrong "shameful" after his admission he has used performance enhancing drugs: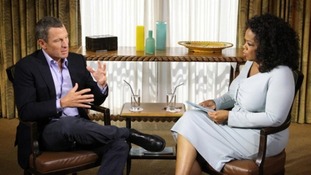 American cyclist Lance Armstrong has admitted taking banned substances, including blood-boosting agent EPO, to help win the Tour de France.
Read the full story
Lance Armstrong has said that he regretted making his 2008 come-up after retiring in 2005.
Asked if he was sorry he made a come back, the cyclist told Oprah Winfrey:
I do.

We wouldn't be sitting here if I didn't come back.
He said he would have had "much better chances" of 'getting away with it' if he had not returned to cycling.
Speaking about Emma O'Reilly who was sued by Lance Armstrong after she made claims over a back-dates prescription to cover up a positive test for cortisone the disgraced cyclist said:
She's one of these people that I have to apologise to. She's one of these people who got run over, got bullied.

We sued so many people, I'm not sure...I'm sure we did. But I have reached out to her and tried to make those amends on my own.
In a wider comment on others that he has sued in the past Armstrong told Oprah Winfrey:
I'm sorry, and I was wrong, and you were right.
Advertisement
Lance Armstrong has said that doping in the Tour de France did not feel wrong to him at the time and that he did not feel bad about doing it.
He told Oprah Winfrey that it was "scary" that he felt that way and also admitted that he did not feel like he was cheating. He said: "I didn't feel that way, I viewed it as a level playing field."
What a snivelling, lying, cheating little wretch @lancearmstrong revealed himself to be tonight. I hope he now just disappears. #LiveWrong
Lance Armstrong has said that he led by example in doping while team captain:
Even if I don't say it and I do it and I'm the leader of the team, you're leading by example so that's a problem.

I was a bully. I tried to control the narrative.
In an interview Lance Armstrong was asked by Oprah Winfrey if he used the following doping measures - he answered "yes" to all of the following questions:
"Did you ever use banned substances to enhance your cyclist performance."
"Was one of those banned substances EPO."
"Did you ever blood-dope or use use blood transfusions to enhance your cycling performance."
"Did you ever use any other banned substances like testosterone, cortisone or human growth hormone."
Load more updates
Back to top