Supermarkets horsemeat scare
Waitrose has become the latest supermarket to pull beef burgers from its selves in the horsemeat scare. The Food Standards Agency is investigating the discovery of horse DNA in beef burger products.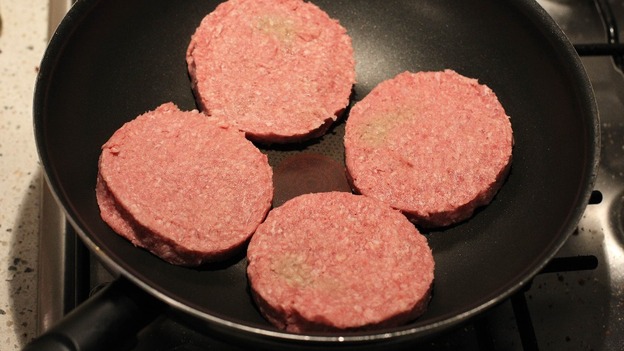 Environment Minister David Heath said the issue of horse DNA being found in beef burgers is "extremely serious".
"Consumers should have full confidence that food is exactly what it says on the label", Mr Heath said. "There are strict rules" requiring food to be labelled accurately, he added.
Mr Heath's came in response to an urgent question in the Commons asked by Shadow Environment Secretary Mary Creagh.
The Labour Party has been granted an urgent question in the Commons on horsemeat beef burgers at 10:30am.
See a full list of the all burgers from the supermarkets affected here.
Advertisement
Tesco have taken out full-page adverts in several national newspapers to apologise to customers after horsemeat was found in some beef burgers.
The advert reads:
"You have probably read or heard that we have has a serious problem with three frozen beef burger products that we sell in stores in the UK and Ireland.
"The Food Standards Agency of Ireland (FSAI) has told us that a number of products they have recently tested from one of our suppliers contained horsemeat.
"While the FSAI has said that the products pose no risk to public health, we appreciate that, like us, customers will find this absolutely unacceptable.
"We have immediately withdrawn from sale the products from the supplier in question, from all our stores and online.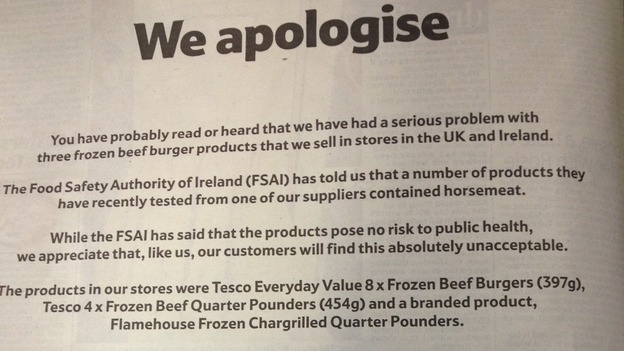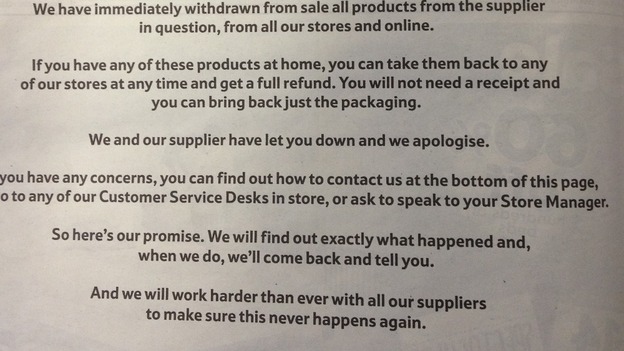 "If you have any of these products at home, you can take them back to any of our stores at any time and get a full refund. You will not need a receipt and you can bring just back the packaging.
"We and our supplier have let you down and we apologise.
"So here' our promise. We will find out exactly what happened and when we do, we'll come back and tell you."
See a full list of all the burgers from all the supermarkets affected here.
A food policy expert has criticised the Food Standards Agency, telling the The Telegraph that horsemeat could have been in burgers 'for years' after the agency admitted it had never tested food sold in Britain for horsemeat.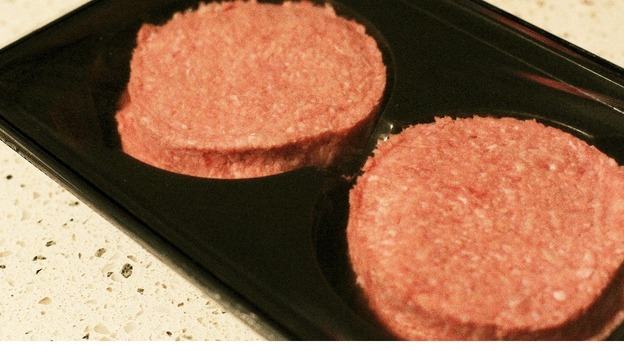 Tim Lang, a professor of food policy at City University, London, told the paper: "It could have been going on for years but we wouldn't know about it because we have never conducted tests.
"For too long we have had light touch regulation. The Food Standards Agency has to be institutionalised into taking a more critical approach. They have to work on the assumption that things could go wrong."
Ireland's Minister of Agriculture said that any companies involved in the production of beef burgers containing horsemeat would be named, The Irish Times reports.
Simon Coveney said "If there are inappropriate linkages here, we will highlight those" but stressed the government must wait until there was a "fuller picture" as there were multiple sources for some of the products.
The Minister was replying to a question from Sinn Féin spokesman Martin Ferris, who said it was very important that companies from the Netherlands and Spain be named.
A spokesman from the Department for Environment, Food and Rural Affairs (Defra) said they were working with the Food Standards Agency to investigate how traces of horse DNA made their way into beef burgers sold in supermarkets across the UK.
The spokesman said the investigation will find the source of the contamination, and "appropriate enforcement action" will be taken.
Consumers should have confidence that food is exactly what it says on the label and there are strict rules requiring products to be labelled accurately.

Defra is working with the Food Standards Agency to urgently investigate how a number of beef products on sale in the UK and Republic of Ireland were found to contain horse and pig meat.

The investigation will trace the meat back to its source to find the cause of the contamination and any appropriate enforcement action will be taken.
Advertisement
The UK's food watchdog is considering whether legal action should be taken against food companies involved in the horsemeat beef burger scandal.
The FSA said they would consult relevant authorities and the Food Safety Authority of Ireland over whether to take action against any of the companies involved.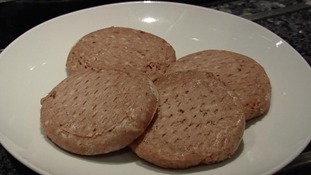 The horsemeat scandal demonstrates how long and complicated the food chain we all depend on is. Regulating our food supply is expensive.
Read the full story
A few MPs are intending to ask questions about whether food checks have been neglected in the public spending cuts.
However, the officials told me they "are about level" with tests in previous times - though it is clear that the DNA tests done in the Irish republic are expensive.
There is no regulatory requirement for food firms to conduct there own - indeed since 2000 there has been an ethos of self-regulation with firms told to keep their own internal audits.
Click here for the full details of how UK officials intend to check on burgers.
Tesco CEO Philip Clarke has blogged about his feelings on the horsemeat scandal.
He said the company was taking every step to regain the trust of customers, and understood why the public felt angry at the supermarket, but said the company felt angry as well.
Trust is essential. As a customer, you need to know that the food you buy and consume is what it says it is.
Trust is hard won and easily lost. Our customers trust us that, if something goes wrong, Tesco will go above and beyond what is merely necessary to look after customers and will do the right thing, immediately and wholeheartedly.
If some of our customers are angry, so are we. We expect our suppliers to deliver to a standard, and to meet basic food traceability rules. But our customers shop with Tesco, not our suppliers, so you won't find us hiding behind suppliers. It's our job to ensure they are meeting our high standards.
Load more updates
Back to top