Prince Harry on army base life
He may be third-in-line to the throne, an army captain and responsible for attack helicopters worth £45 million, but Prince Harry was not exempt from making the tea in Afghanistan.
Prince Harry and his comrades are always poised to sprint to the attack helicopter and can be given the command to scramble for a mission at any time.
During one interview the young royal was given the call for duty and had to rapidly remove his microphone and dash across the flight line to the waiting helicopter.
Read: "There should be a certain amount of privacy that one should expect" - Harry on the media's reporting of his Vegas trip
Prince Harry's job as a gunner in Apache attack helicopters required him to kill Taliban insurgents.
He said: "Take a life to save a life. That's what we revolve around, I suppose."
Royal Correspondent Tim Ewart reports on the young royal's role in Afghanistan:
Advertisement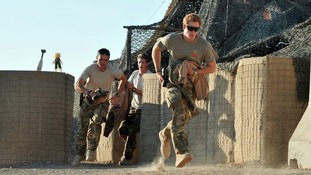 Prince Harry is heading home, but a hero's welcome from the media may be tempered by his scathing criticism of those who write about him.
Read the full story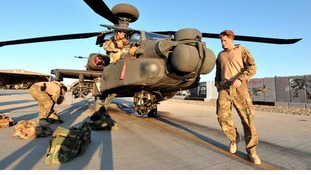 Prince Harry has concluded his four-month tour of Afghanistan, lifting the blackout on hundreds of pictures taken during his service.
Read the full story
Major Laurence Roche, a spokesman for Task Force Helmand in Afghanistan, has revealed that Harry is heading to Cyprus for his first alcoholic drink in five months: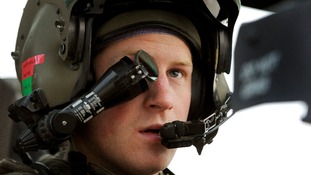 Prince Harry has returned from Afghanistan, lifting the embargo on a series of illuminating interviews about his life as a soldier.
Read the full story
Advertisement
Prince Harry's squadron commander Major Ali Mack likened his unit to a "family", and said the royal settled in quickly when he arrived in September last year.
"He is, as far as I'm concerned, given no special treatment," the 37-year-old from Glasgow said.
"I treat him very much as I do the rest of my officers within the squadron.
"He responds very well to that and I think he enjoys being part of the squadron fabric."
Maj Mack, the Officer Commanding 662 Sqn, 3 Reg AAC, added: "I think he enjoys the relative anonymity of being in theatre where he is allowed to get on with his daily business relatively unmolested and as a squadron we are very much one big family."
Being "stuck in Bastion" was a common complaint for Prince Harry during his second deployment to Afghanistan.
The 28-year-old royal, who spent 20-weeks flying Apache helicopters in support of troops in Helmand Province, made no secret of his love-hate relationship with the tour.
While he enjoyed flying high over the desert in state-of-the-art fighting aircraft, he was itching to be back on the ground like he was five years ago.
He served just 10 weeks in 2007-08 coordinating air attacks on the Taliban with his regiment - the Household Cavalry - before foreign websites broke a news blackout on his deployment.
"It is a weird reality, being stuck in Bastion," he said.
"For me, I hate it, being stuck here.
"I'd much rather be out with the lads in a PB (patrol base). The last job was, for me personally, better."
Prince Harry's job as an Apache helicopter gunner has required him to kill the enemy.
"Take a life to save a life. That's what we revolve around, I suppose," he told reporters.
The Apache's role is to protect ground troops using rockets, laser-guided missiles, and a 1200-round chain gun.
"If there's people trying to do bad stuff to our guys," Harry explained, "then we'll take them out of the game."
Load more updates
Back to top