5,300 Army jobs to be cut
The Ministry of Defence has announced 5,300 Army redundancies in the latest in a series of planned cuts. Those serving, about to be deployed or just returning from Afghanistan will be exempt from the latest cuts.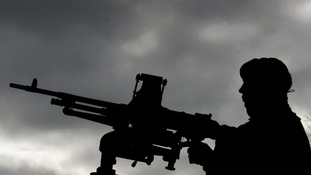 Up to 5,300 soldiers are to be made redundant from the Army in the summer as part of the latest round of cuts to the armed forces.
Read the full story
A leading general believes cuts to the defence budget may have helped the Army design "a better, adaptable force structure".
Major General James Everard, assistant chief of the general staff, told BBC Radio 4's World At One: "I look at the Army force structure and I think that, perhaps if we hadn't been pushed, we wouldn't have got to where we have got to, and I am very happy with where we are."
Advertisement
The Shadow Defence Secretary Jim Murphy accused the Government of a employing a "carry on regardless strategy" after more job cuts were announced today.
The Labour MP told the Commons: "The Army has been cut, but the threats have increased. There will be a sense that ministers are unprepared for growing threats in North Africa and beyond."
Jim Murphy, the Shadow Secretary of State for Defence, said the latest round of Army job cuts ignores "the emerging threat in North Africa".
The latest wave of Army job cuts are part of the terms of the Government's 2010 Strategic Defence and Security Review:
Cuts aim to plug £38 billion hole in the defence budget
The Army will be reduced from 102,000 to 82,000 by 2020
The Navy and the Air Force will each have their personnel cut by 5,000 by 2015
Up to 5,300 jobs will go in the third round of redundancies
2,860 service personnel were made redundant in first tranche; 3,760 lost jobs in second tranche in June
MoD says more than 90 percent can expect to find full-time work within six months via its resettlement programme
Government has said reservist numbers will double to 30,000 by 2018
The Army is actively managing recruitment to reach the target numbers, but unfortunately redundancies are unavoidable due to the size of the defence deficit that this Government inherited and the consequent scale of downsizing required in the Army.

We will have smaller Armed Forces but they will in future be properly equipped and well funded, unlike before. These redundancies will not affect current operations in Afghanistan, where our Armed Forces continue to fight so bravely on this country's behalf."
– Philip Hammond
Advertisement
Shadow Defence Secretary Jim Murphy has been granted an Urgent Question in Parliament on cuts to armed forces:
I've asked that Govt Ministers come to Parliament to justify the 5,000 Army cut. I'm pleased that Commons Speaker has granted my UQ at 12.30
The MoD has predicted a fourth "tranche" of redundancies, with medical personnel among those affected:
There is likely to be a need for a further tranche for Army personnel and medical and dental personnel from the RN and RAF in due course.
– MoD statement
The redundancy programme will not impact adversely on current operations in Afghanistan.

Throughout the redundancy process, we will ensure that we retain the capabilities that our Armed Forces require in order to meet the challenges of the future.
– MoD statement
The Ministry of Defence has announced that "up to 5,300" Army personnel will be made redundant in the third tranche of planned job cuts.
Those serving, about to be deployed or just returning from Afghanistan will be exempt from the latest cuts.
Load more updates
Back to top