Exam league tables released
New tables have been released showing how every school and college in England performed at both GCSE and A-level in 2012.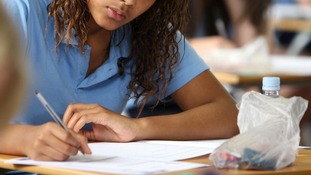 The Government's school league tables can be read either as vindication of Michael Gove's policies, or proof that standards are falling.
Read the full story
To find out how a school in England performed in the 2012 GCSE and A/AS Level exam results, you can enter a postcode or the school name or town here.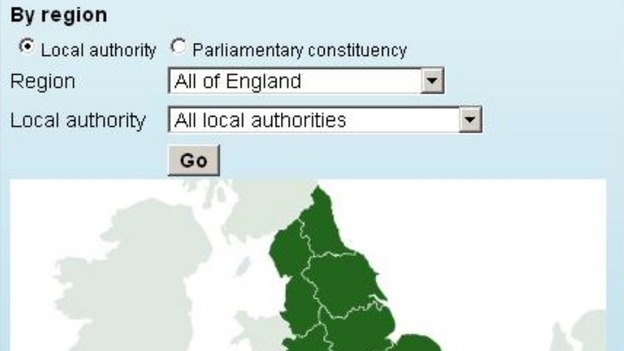 Advertisement
These are the bottom 10 state schools at GCSE ranked by the percentage of candidates getting at least five A* to C-grades, including English and maths. Lowest performing school is at the top.
Pate's Grammar School, Cheltenham
The Rushden Community College
Barnfield Business and Enterprise Studio Academy
The Mablethorpe Tennyson High School
Swaffham Hamond's High School
Endeavour High School Kingston-upon-Hull
Christ The King Catholic and Church of England Centre for Learning, Liverpool
Skerton Community High School, Lancaster
The Manor - A Foundation School, Cambridge
The Marlowe Academy, Ramsgate
These are the top 10 schools in England for A/As Level ranked by the average points score per student. For example, an A-level grade A* scores 300 points, an A scores 270 points, a B scores 240 points, a C scores 210.
Colchester Royal Grammar School, Essex
King's College School, Merton
Sevenoaks School, Kent
Adcote School for Girls, Shropshire
King Edward VI Grammar School, Essex
Pate's Grammar School, Cheltenham
Altrincham Grammar School for Girls, Trafford
The Lady Eleanor Holles School, Richmond-Upon-Thames
King Edward VI High School for Girls, Birmingham
King Edward VI Camp Hill School for Boys, Birmingham
100% of pupils at the following schools in England had pupils with five good GCSEs (five A*-C passes). The average GCSE point score per pupil ranges from 816.3 at Colyton Grammar School to 684.1 in the tenth ranked school in Headington.
Colyton Grammar School, Devon
The Rochester Grammar School, Medway
King Edward VI Camp Hill School for Girls, Birmingham
Lawrence Sheriff School, Warwickshire
King Edward VI Five Ways School, Birmingham
Skipton Girls' High School, North Yorkshire
Altrincham Grammar School for Boys, Trafford
Invicta Grammar School, Kent
King Edward VI Grammar School, Chelmsford
Headington School, Oxford
New tables have been released showing how every school and college in England performed at both GCSE and A-level in 2012. Among the main findings they show:
Thousands of teenagers in England are being let down because they are not leaving school with a decent set of GCSE results
Less than 40% of their pupils are gaining at least five GCSEs at grade C or higher, including English and maths
In addition one in four schools and colleges are not producing any students with top grades in subjects that will help them win a place at a leading university
In around 600 schools and colleges no A-level student scored AAB in "facilitating" or preferred subjects
Advertisement
Back to top