US lifts women combat ban
The Pentagon has officially scrapped the military's ban imposed in 1994 on woman serving in front-line combat roles. The outgoing US Defence Secretary Leon Panetta will make a formally announcement later this evening.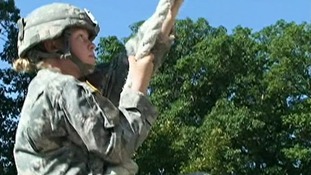 The US has ended the military's ban imposed in 1994 on woman serving in front-line combat roles.
Read the full story
The US Department of Defence has issued a video showing "a photo story of women currently serving," throughout the US military as a ban which prevented female soldiers serving on the front line is lifted:
Imagery provided by the U.S. Navy, Marine Corps, Air Force and Army via Flickr and DVIDS.
Advertisement
Today, by moving to open more military positions - including ground combat units - to women, our armed forces have taken another historic step toward harnessing the talents and skills of all our citizens. This milestone reflects the courageous and patriotic service of women through more than two centuries of American history and the indispensable role of women in today's military. Many have made the ultimate sacrifice, including more than 150 women who have given their lives in Iraq and Afghanistan - patriots whose sacrifices show that valour knows no gender.
Earlier today I called Secretary of Defence Panetta to express my strong support for this decision, which will strengthen our military, enhance our readiness, and be another step toward fulfilling our nation's founding ideals of fairness and equality. I congratulate our military, including the Joint Chiefs of Staff, for the rigour that they have brought to this process. As Commander in Chief, I am absolutely confident that - as with the repeal of 'Don't Ask, Don't Tell' - the professionalism of our armed forces will ensure a smooth transition and keep our military the very best in the world.
– President Barack Obama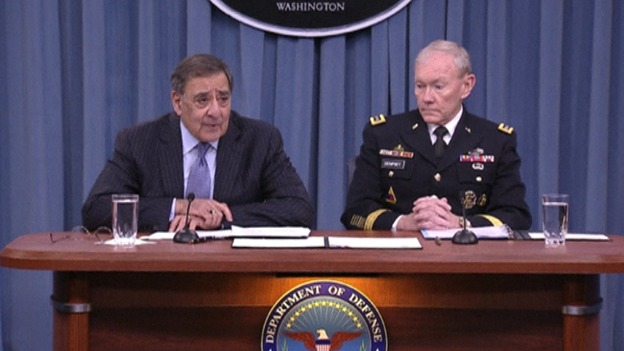 Speaking at a press conference United States Secretary of Defence Leon Panetta has said that women are "an integral part of our ability to perform" military mission, he added that, "not everyone can be a combat soldier, but everyone should have the chance."
The Pentagon's move to lift a ban on women in front-line combat roles has been hailed by supporters as an historic step toward gender equality in America's armed forces after 11 years of non-stop war.
In a statement Defence Secretary Leon Panetta said:
The Department's goal in rescinding the rule is to ensure that the mission is met with the best-qualified and most capable people, regardless of gender.
President Barack Obama fully supports the Pentagon's decision to lift a ban on women serving in frontline combat roles, White House spokesman Jay Carney said.
Ahead of the Pentagon's formal announcement later today, Mr Carney told reporters Obama is "very pleased" with the decision and "fully supports this effort to expand opportunities for women."
Carney said the recommendation emerged from military commanders, although Obama had discussed it with Defence Secretary Leon Panetta and others.
Advertisement
The Pentagon has said that the decision to end the ban on women in the military serving in combat roles is to ensure unit readiness, cohesion, morale and to promote the best and most qualified people.
The US military has scrapped the 1994 policy which banned women from combat roles according to a Pentagon statement.
The White House has said that President Obama strongly supports the decision.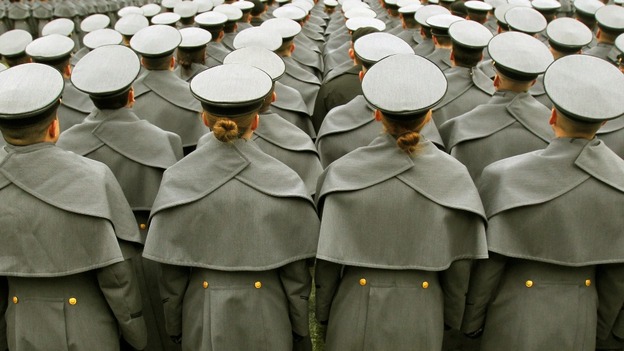 The US army is to lift a ban on woman engaging in front-line combat, the US Defence Secretary is expected to announce today.
In the UK, women are currently banned from close-combat roles.
They allowed to undertake posts in areas such as logistics, artillery and engineering, but they cannot join the infantry or serve in small tactical combat arms teams where they are required to be in close contact with and kill the enemy face-to-face.
A Ministry of Defence review in 2010, concluded:
There was no evidence to show that a change in current policy would be beneficial or risk-free, and so a decision was made to take a precautionary approach and maintain the current position.
Senior US defence officials have said that US Defence Secretary Leon Panetta is lifting the ban on women serving in combat roles.
Other countries that allow women to take part in front-line fighting include Israel, Italy and Norway and New Zealand.
The Israeli Defence Force says it has put great effort to ensure there is gender equality in the field.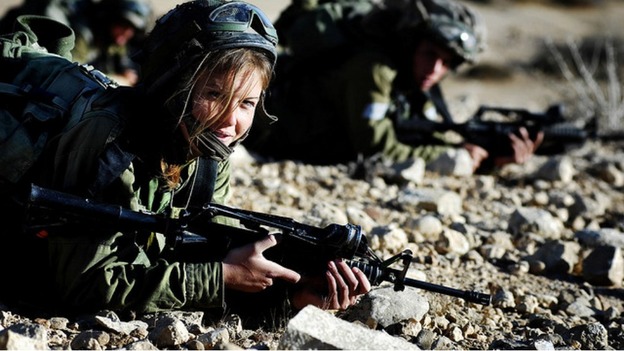 Load more updates
Back to top