UK triple-dip recession looms
Chancellor George Osborne has vowed not to "run away" from Britain's economic problems amid fresh signs the UK is heading for an unprecedented triple-dip recession.
Graphs show UK economy still flatlining
These graphs from the Office for National Statistics shows the British economy has been largely flat for the past two years.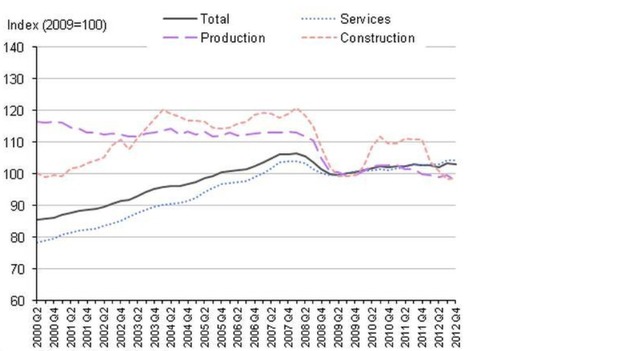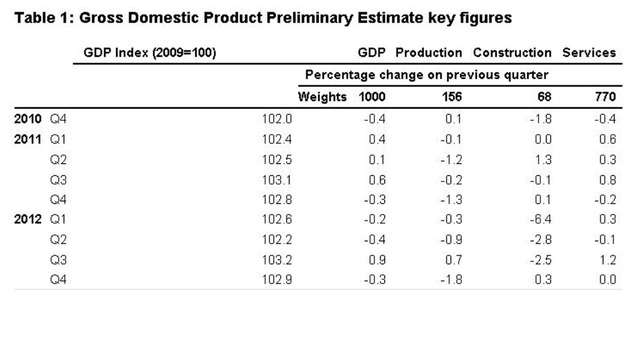 Read: Business Editor Laura Kuenssberg's blog on why GDP matters
EEF: No positive takeaways from GDP figures
Commenting on today's GDP data, the chief economist at EEF, the manufacturers' organisation, said:
There are no positive takeaways from today's first estimate of GDP in the final months of last year.

Even assuming some unwinding of activity from the Olympics boost in the previous quarter, this still leaves no real signs of underlying growth in the economy.

The news from industry was particularly weak, with November's sharp drop on output contributing to a rather grim fourth quarter and leaving the overall picture for manufacturing in 2012 the weakest since 2009.
Still there are some factors which might indicate that 2013 will not be as bad as 2012 – the big euro-exit risk has diminished, the employment picture is better than expected and manufacturers are continuing to look to new markets for growth.

That said, government must hit the accelerator on getting capital projects moving and be clearer about its economic priorities to give businesses more confidence to invest for the future.
– Lee Hopley, Chief Economist at EEF
Advertisement
End of Olympics and mining influenced GDP figures
The Office for National Statistics has warned that two events may have influenced the dip in GDP figures in the final three months of 2012:
The mining and quarrying sector was affected by "extended and unseasonably late maintenance to the largest of North Sea oil fields.
While the third quarter of 2012 had a boost from the sales of Olympics tickets, the fourth quarter did not.
RBS: Weakest four years of GDP since 1830s
The Royal Bank of Scotland's Group Economists have been sharing their analysis of the GDP figures on Twitter.
2008-12: the weakest four years of #GDP performance outside post-war demobilisations since at least the 1830s. Yes, the 1830s. #UK #economy
From
@RBS_Economics
on Twitter:
Post-WW1 & WW2 #GDP fell at double-digits rates. Those aside, 2008-12 fall was bigger than any since before Victoria ascended the throne.
From
@RBS_Economics
on Twitter:
Chuka Umunna: No ifs, no buts, economy is flatlining
The Shadow Business Secretary Chuka Umunna had this reaction to today's GDP figures:
Given the importance of the service sector to our economy, it is worrying output of the services industries is flat...
From
@ChukaUmunna
on Twitter:
The statisticians and the ONS could not be clearer today: no ifs, no buts....this is a flatlining economy.
From
@ChukaUmunna
on Twitter:
FSB: Dip in economy 'disappointing'
It is disappointing this latest set of figures shows a dip as the economy finds it hard to maintain momentum with the Olympic effect fading.

The pattern of recovery has been uneven and marked by ups and downs.

External factors have added to the uncertainty, meaning confidence remains fragile and rebalancing the economy is taking longer than expected.

FSB research showed that small firms are slightly more confident going into 2013 than they were going into 2012.
– Federation of Small Businesseses
Advertisement
Not a triple-dip, but could be the start of one
by Laura Kuenssberg - Business Editor
Remember, this is not a triple-dip, but it could be the start of one. There has to be two negative quarters in a row for it to technically be a recession.
Remember too, there are often significant revisions to GDP, but this is worse than consensus expectations.
Treasury: UK faces a 'very difficult economic situation'
A statement from the Treasury said that the contraction in the economy in the fourth quarter of 2012 was expected:
It confirms what we already knew - that Britain, like many European countries, still faces a very difficult economic situation.

It underlines what the Chancellor said at the Autumn Statement and the Governor of the Bank of England said this week: while the economy is healing, it is a difficult road.

While today's data confirms the scale of the challenge facing the British economy, this week has also seen the strongest yearly increase in jobs for over 20 years. A million new private sector jobs have been created and the deficit is down by a quarter.
– Treasury statement
ONS: British economy remained flat in 2012
The Office for National Statistics has said that economic output as a whole remained flat in 2012.
Production sector shrank by 1.8%
This is how different sectors performed in the final three months of 2012:
Overall - contraction by 0.3%
Production - fell by 1.8% (within that manufacturing fell by 1.5%)
Service - remained flat
Construction - rose by 0.3%
So no growth at all in 2012 if these figures aren't revised, which they may well be.
Load more updates
Back to top