Flood warnings after heavy rain
Flood warnings are in place across England after heavy rain, with downpours and gusts of up to 65mph to continue this afternoon,. A canoeist has died after being pulled from a swollen river in North Yorkshire.
Weather update: Wet and windy across the UK
Heavy rain is predicted across the UK today , and the Environment Agency currently has 45 flood warnings and 192 flood alerts in place.
ITV Weather presenter Lucy Verasamy has the latest forecast.
Wiltshire Police: 'unprecedented' black ice collisions
Wiltshire Police has reported that by 8am it had dealt with 53 road traffic collisions caused by black ice on roads across the county
Twenty eight were minor injury collisions and 25 were non injury ones.
Superintendent Nick Ashley urged motorists to take care or reconsider travelling this morning:
We have had a unprecedented number of road traffic accidents this morning.

Thankfully, although there have been some injuries, these have not been serious but it is only a matter of time if motorists do not take care on the roads.

After the heavy rain most of the grit that was placed on the roads during the snow has been washed away by the rain, this has then frozen and left black ice all over the roads.
Advertisement
More than 30 'black ice' crashes overnight in Sussex
In Sussex, there were more than 40 crashes on the county's roads between midnight and 7.45am today, Sussex Police has said.
More than 30 of the accidents involved single vehicles sliding off the road because of black ice, prompting advice for motorists to drive with extra care.
Most of the collisions happened in rural areas and no serious injuries were reported, police said.
Environment Agency: 64 flood warnings across the UK
The Environment Agency has issued 64 flood warnings across the UK, with no severe flood warnings in place.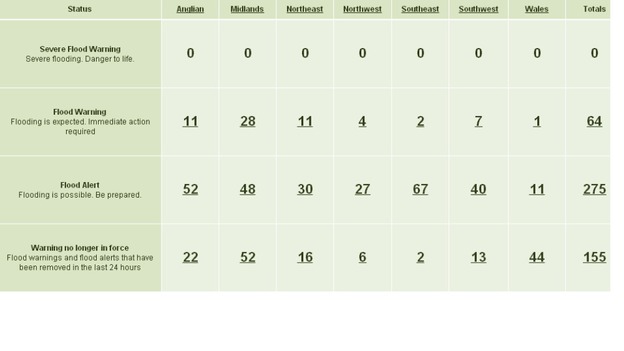 The Midlands could see the worst of the floods
The UK faces another week of disruptive weather, as more heavy rain continues throughout the week.
There are currently more than 300 flood alerts across the UK, with more than 80 flood warnings in place.
Speaking to ITV Daybreak, Chris Bainger from the Environment Agency, said that the Midlands could see the worst of the floods, along the river Severn.
Flood barriers in place with more heavy rain on the way
by Richard Gaisford - Daybreak Chief Correspondent
Temporary flood barriers are being put in place in Worcestershire.
There are currently 43 flood warnings in place across the Midlands, with more across other parts of the UK.
At least one person has been killed in rising floods waters after a weekend of rain, made worse by melting snow.
Further flood warnings are in place for the rest of the week, ITV Daybreak's Richard Gaisford reports.
Advertisement
Severe weather warnings as flooding continues
Severe weather warnings have been put in place across parts of the UK by the Met Office.
More flooding is expected to continue over the next two days, affected areas are:
Central, Tayside & Fife, Grampian, Highlands & Eilean Siar, Orkney & Shetland, SW Scotland, Lothian Borders, South West England, South West England, Strathclyde, Wales, West Midlands
To find out what to do when it floods, visit the Environment Agency website.
80 flood warnings in place across the UK
The Environment Agency has issued 80 flood warnings across the UK, with no severe flood warnings in place.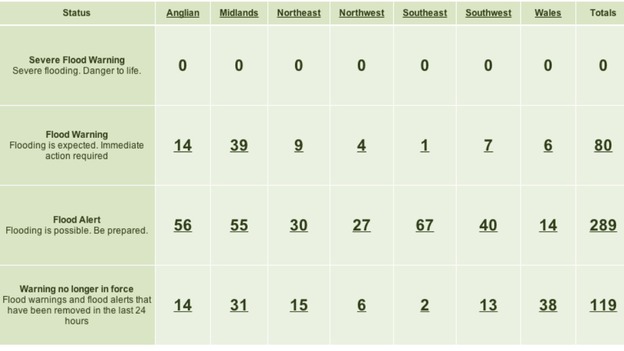 Water levels remain high, with more rain expected over the next two days.
Tuesday could see the worst of the floods, as rain falls on already saturated ground.
Britain on flood alert amid rain and rising temperatures
Many parts of Britain are on flood alert tonight after rain and rising temperatures triggered a sudden thaw. There are 79 flood warnings, and 289 flood alerts across the country - with the forecast of yet more heavy rain tomorrow.
ITV News reporter Lewis Vaughan Jones reports:
Weather unsettled but mild with rain tomorrow
by Lucy Verasamy - ITV Weather Presenter
Wherever you are tomorrow, take your umbrella with you - even if you wake up in sunshine - you won't regret it.
Load more updates
Back to top