Four dead in Australia floods
Torrential rain has flooded several towns in eastern Australia, killing four people.
Three dead in eastern Australia flooding
Torrential rain has flooded several towns in eastern Australia, killing three people, reports Associated Press.
Businesses in the Queensland state capital Brisbane were inundated while 1,200 properties were flooded by record-high waters in the city of Bundaberg, 240 miles to the north.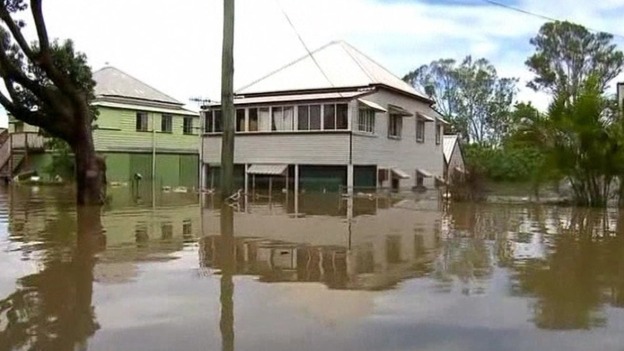 Helicopters were used to rescue 18 people from the roofs of their homes in Bundaberg, which has a population of 98,000.
Queensland police said that three people were confirmed dead in the floods.
There was also flooding in the Queensland towns of Gladstone, Gympie and Ipswich
Julia Gillard: 'Our emergency workers are our finest and bravest'
The Australian prime minister Julia Gillard has issued a statement regarding the flooding in Queensland.
The thoughts of the nation are today with the people of Queensland who are battling a new round of natural disasters.

For many Queenslanders, the memories of the floods of two summers ago are still fresh.

I pay tribute to our emergency service workers who are among our finest and bravest. Across the nation, they have been tested by bushfires that are still raging across several other states. Now in Queensland, they are being tested by the ferocity of the wind and rain.
– Julia Gillard
Advertisement
Brisbane City Council appeal to public for help with flood information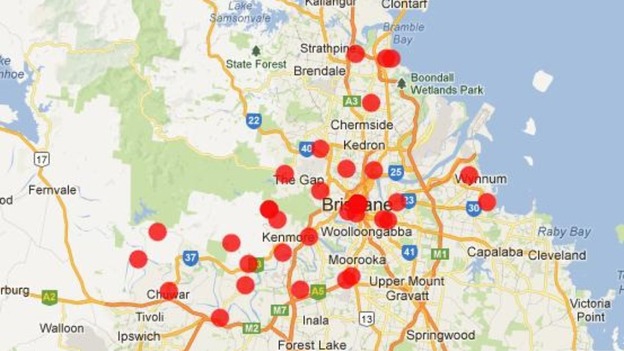 Brisbane City Council have set up a crowd map, to help report on the latest road closures and areas affected by flooding.
Members of the public can add their own information to build a view of the overall situation throughout Brisbane.
Regional disaster management advises to prepare sandbags
Moreton Bay disaster management has advised that Queensland residents in low-lying areas should prepare sandbags to protect themselves.
If you're in a low lying area or think your house might be at risk of flooding, now is the time to prepare sandbags #bigwet
From
@MBRCdisaster
on Twitter:
Moreton Bay Regional Council is advising residents in Dale Street and immediate surrounds in Burpengary to self-evacuate this afternoon.
From
@MBRCdisaster
on Twitter:
'More than 500' fallen powerlines reported
Energex has advised the public to keep away from the 500 fallen powerlines that have been reported so far.
'Do not go to the beaches' say Queensland police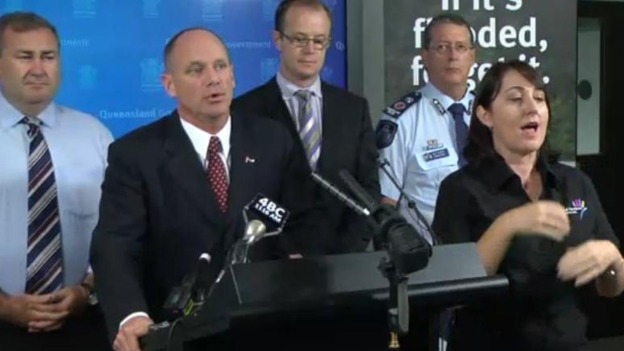 Queensland police have advised Queensland residents to stay away from the beach, citing it as "too dangerous."
In a press conference, a spokesman said that the Gold Coast can also expect heavy rainfall and damaging winds over the next 24 hours.
High rainfall is expected in Brisband for the next 24 hours, but the weather system should move by Monday afternoon.
Advertisement
Police: Man missing after being swept away in Queensland
Queensland Police have tweeted that a man is missing after being swept away at a creek in Gympie, a town in Queensland.
Queensland asks for army to provide assistance
The Queensland government has asked the Army to provide helicopters in order to help the state deal with torrential rainfall, flooding and tornadoes.
Australian electric company report power failures
Energex, which according to its Twitter biography serves 1.3 million homes and businesses in Queensland, Australia, has reported that 60,000 are without power in south east Queensland.
Currently 60,000 without power in SEQ. Crews will work to restore power as soon as it's safe - 3pm at earliest, but some will be tomorrow.
From
@Energex
on Twitter:
Australia hit by tornadoes and flooding
Mini tornadoes have torn through two coastal towns in Queensland, Australia, while torrential rain has caused flooding in other areas of the state, reports the New Zealand Herald.
Hundreds of homes in the region are at risk of flooding, and the weather system is forecast to pile up to 300mm of water before moving onto a different region.
Load more updates
Back to top