UK-Algeria security plans
Britain could share its intelligence with Algeria as the countries work more closely to fight terror groups, it has emerged. David Cameron is on a visit to Algeria in the wake of the hostage crisis that left six Britons and dozens of others dead.
Spoken to our Ambassador in Algiers @martynroper to thank him and his team, still dealing with the aftermath of the hostage crisis
In Algeria, which David Cameron visited yesterday, the authorities have allowed cameras into the BP gas plant where six British workers were killed a fortnight ago.
ITV News' Special Correspondent Rageh Omaar reports:
Advertisement
I visited the hostage site in Algeria and saw a lot of security presence in and around the gas plant. It is an incredibly remote area and you could see why this was such an opportunistic target for the militants because it is right in the middle of the desert and in a huge compound.
There are large numbers of security measures taking place to safeguard the few workers that are still there.
There are signs of some damage on the plant itself, we saw some blackened out gas pipes which luckily had not caught fire in the plant.
We also saw damage to the living quarters where the workers were but one of the key points is, when would British technicians be allowed to come back home? The head of the technical operations at the plant told me this:
The most important thing is to get Westerners back but it will take some time until full security and operations are restored to the plant.
David Cameron has been holding talks in Algeria to discuss the growing terror threat in north Africa. It is the first visit by a British prime minister to the country since it became independent over 50 years ago.
Speaking to ITV Daybreak, security expert Will Geddes said that by getting involved with the French in Mali, David Cameron is trying to deal with the problem as "close as he possibly can".
The Prime Minister offered Algeria Britain's support tonight in a new partnership against terrorism. It was there, two weeks ago, that six Britons lost their lives in an attack on a BP gas plant.
Mr Cameron said a tough and intelligent response was needed to what he said was the increasing threat of terrorism in North Africa. Our Political Editor, Tom Bradby, reports from Algiers.
Britain could share its intelligence with Algeria as the countries work more closely to tackle terror. David Cameron outlined the plan tonight after talks with Algerian counterpart Abdelmalek Sellal, they include:
Better co-operation on issues such as border and aviation security, and preventing the spread of extremist ideology
Algeria to take part in a joint contingency planning exercise to share experiences in crisis response
Both Britain and Algeria are countries that have suffered from terrorism and we understand each other's suffering. What we have agreed is a strengthened partnership that looks at how we combat terrorism and how we improve security of this region. This should be about sharing our perspectives, about the risks and dangers that there are, but also sharing expertise.
– David Cameron
Advertisement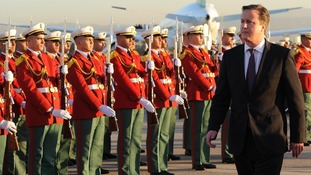 As the Prime Minister lands in Algiers I'm left wondering: Is it more about diplomatic logic than existential threat?
Read the full story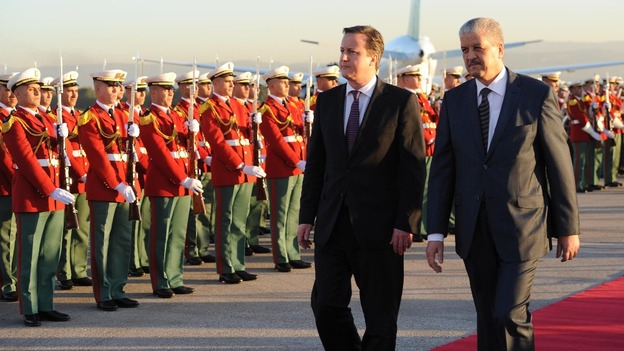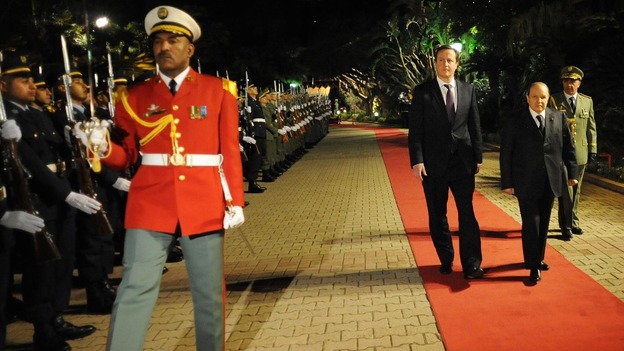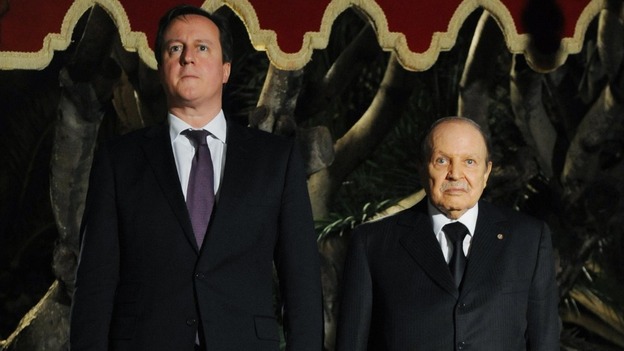 As David Cameron arrived in Algeria he pledged closer security co-operation with its government to counter the threat from Islamic terrorists in North and West Africa.
He is the first western leader to visit the country following the hostage crisis in which six Britons were murdered at the gas complex in the Saraha Desert. Rageh Omaar reports from the capital, Algiers.
David Cameron and his team do get a bit frustrated by the Americans' lack of desire to get involved in the world. That means if you want to do anything, and you're the British Prime Minister, you've got to look for allies - where is he looking? I think increasingly the French.
We went into Libya with them, and I think he's principally got involved in Mali probably because he thinks he needs help with that alliance. It has its advantages in building alliances in Europe too.
But I think it's principally a question that if you want to get something done in the world, you've got to have an ally. Well, France is the only country in the world with a decent military - and that's principally why we're here.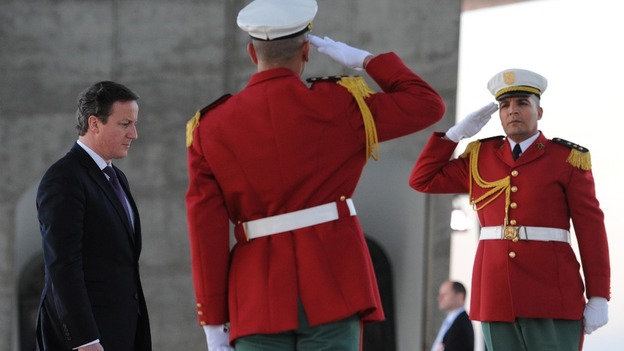 Load more updates
Back to top