Sunday Times cartoon apology
The editor of the Sunday Times has apologised after a cartoon showing Israeli Prime Minister Benjamin Netanyahu building a wall using blood was published on Holocaust Remembrance Day.
You will know that the Sunday Times abhors anti-Semitism and would never set out to cause offence to the Jewish people - or any other ethnic or religious group.

That was not the intention last Sunday. Everyone knows that Gerald Scarfe is consistently brutal and bloody in his depictions, but last weekend - by his own admission - he crossed a line.

The timing - on Holocaust Memorial Day - was inexcusable. The associations on this occasion were grotesque and on behalf of the paper I'd like to apologise unreservedly for the offence we clearly caused. This was a terrible mistake.
– Martin Ivens, The Sunday Times acting Editor
Sunday Times cartoonist Gerald Scarfe has issued a statement regarding the criticism he faced over a a cartoon published in the newspaper:
First of all I am not, and never have been, anti-Semitic.

The Sunday Times has given me the freedom of speech over the last 46 years to criticise world leaders for what I see as their wrong-doings.

This drawing was a criticism of Netanyahu, and not of the Jewish people: there was no slight whatsoever intended against them.

I was, however, stupidly completely unaware that it would be printed on Holocaust Day, and I apologise for the very unfortunate timing.
Yesterday News Corp chairman Rupert Murdoch was forced to apologise for the cartoon, which he described as "grotesque" and "offensive".
Advertisement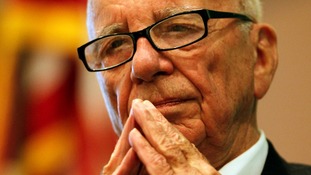 Rupert Murdoch took to Twitter to say sorry for an 'offensive' cartoon on the recent Israeli elections published in the Sunday Times.
Read the full story
Back to top