Blackberry 10 phone unveiled
Blackberry has unveiled its latest smartphone at a global launch event.
Blackberry Managing Director Stephen Bates has become a popular topic on Twitter after an interview on BBC Radio 5 Live this morning left him unable to answer the question, "what have you learned from the iPhone."
Mr Bates appears to have been unprepared from the question and seems unable to find any answer to Nicky Campbell's repeated question during the interview ahead of the new Blackberry 10 launch.
Awful interview with someone from Blackberry on @bbc5live Nicky Campbell doing best while interviewee evades questions and reads from script
So Blackberry 10 is launched today and is being promoted on Twitter.But what an epic fail of an interview on 5 Live http://t.co/rBCgBy1b
Stephen Fry is well known for his love of Twitter and gadgets, has tweeted his feelings of the new Blackberry 10:
People think me an incurable Apple fanboi, but I have to say I'm tremendously impressed by the BlackBerry Z10.
What do you think of the new Blackberry? Tweet us: @itvnews
Advertisement
After Blackberry announced the new Z10 handset many of you have taken to Twitter to share your reaction to the new look and features of the phone:
Since I still use a BlackBerry despite owning a Samsung Galaxy S3, the BB10 launch excites me because I'm still a fan of physical keyboards.
the reason many use @blackberry is because their addicted to their keypad and to remove that is just not smart IMO
People defending Blackberry now are the same as those defending Atari when the 8 bit consules came out
What do you think of the new Blackberry? Tweet us: @itvnews
Analysts company Ovum has said that while the Blackberry 10 has improved features, it is not enough to rescue the company from remaining a "niche player" in the market as a whole:
The Blackberry 10 platform offers a differentiated user experience in today's crowded and homogenous smartphone market. The Blackberry Z10 and Q10 will stand out from the Android masses and look distinct from Apple's iPhone. The user experience of Blackberry 10 introduces some nice new features but importantly builds on Blackberry's UI heritage and therefore will certainly appeal to existing Blackberry users. However, the challenge for the company will be to attract new users and those that have already moved to alternative smartphones.
Ovum believes that despite a well-designed Blackberry 10 platform, that will certainly attract short-term interest from existing users the company will struggle to appeal to a wider audience and in the long-term will become a niche player in the smartphone market.
– Adam Leach, principal analyst at Ovum
by Lewis Vaughan Jones - ITV News Correspondent
The new Blackberry Z10 phone is yet another thin black rectangle. With so many other smartphones looking so similar, when I first saw it, I was underwhelmed.
But it does get better when you pick it up. Swiping with thumb or finger is something we are used to by now and this phone uses it well. It has the apps you are used to but with an easier way to get at them.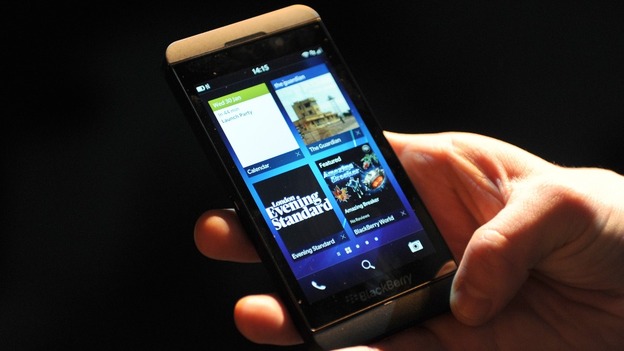 So I sweep my thumb over the screen and see all my messages from all my different apps (Twitter, email etc) in one place. It is simple and it works.
But it does not feel like a revolution in design. It makes sense but does not thrill the senses. It is a dramatic improvement on previous models and die-hard fans of the physical keyboard will be pleased that option is available.
Predictive text has taken a step forward but is hardly a game-changer, and there are plenty of good features. The design seems a success without being as radical as they hype suggested.
So far much of the reaction and analysis of the new Blackberry Z10 and the Blackerry 10 operating system seem positive. Blackberry has come up with new features, especially 'the Hub' which allows users to store all messages, from Facebook, Twitter, emails etc in one place.
However most analysts are unconvinced that the few leaps forward Blackberry has made are enough to recover so much ground already lost to rivals like Apple.
here are some of the reactions to the new handset so far:
In an era when Apple's iPhone 5 was a slight disappointment because it was a little bit predictable, and when Samsung is packing phones so full of features it's hard to always find a use for them, the Z10 is merely quite good. It will find its corporate niche, and 'too little too late' is too harsh. But it's not quite enough, not quite soon enough.
– Matt Warman, the Telegraph
Is the delightful BlackBerry Z10 enough to save its company?

Honestly? It could go either way. But this much is clear: BlackBerry is no longer an incompetent mess — and its doom is no longer assured.
– David Pogue, the New York Times
I like a lot of what RIM's done here.

However, BlackBerry 10 stumbles, first right out of the gate with its steep learning curve, and second with its anemic app selection that doesn't provide apps (like Vine) that deliver the full mobile experience that today's digital consumers want.
– Pete Pachal, Mashable
Advertisement
Singer Alicia Keys has tweeted that she is 'excited' about he new role as Global Creative Director at Blackberry:
Along with the the BlackBerry 10 operating system, the Z10 touchscreen phone and Q10, the first BlackBerry smartphone with a Qwerty keyboard, were launched at an event in New York that was beamed live to venues around the world.
The Z10 features:
4.2", 4 point multi-touch LCD display, 1280 x 768 resolution at 356 DPI
2 GB RAM, 16 GB Flash, Hot Swappable MicroSD slot
Dual Core 1.5 GHz processor
up to 10 hours of battery life on 3G
8 MP rear facing camera
Bluetooth and WiFi
You can compare the Z10 with some of the other smartphones on the market with Mashable.
The Blackberry 10 will feature a new map application featuring 2D maps and 3D turn-by-turn directions. The maps were put together by another company, and will feature traffic information from TomTom.
The map content is vector-based which the company says, "is very compact and results in smaller downloads. It also allows for faster rendering when you zoom in and out."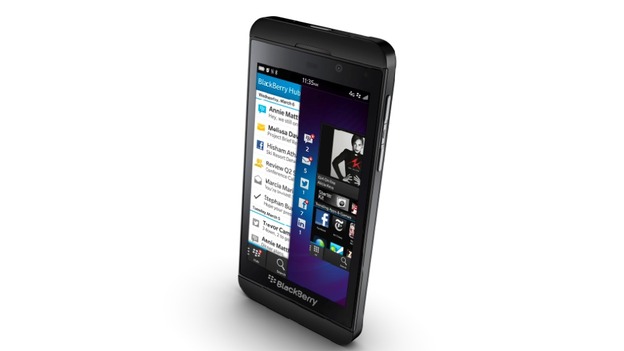 TomTom also provided information for the now infamous Apple Maps which left the technology company red faced and forced Apple CEO Tim Cook to apologise to customers after a barrage of complaints when the iPhone moved away from Google Maps.
The Blackberry 10 will go on sale in the UK before anywhere else in the world. It will be available from tomorrow.
Load more updates
Back to top