Burger King has taken out full-page advertisements today in several national newspapers to explain its decision to drop its supplier Silvercrest Foods.
Part of the statement reads: "Our independent DNA test results on product taken from Burger King restaurants were negative for any equine DNA. However, four samples recently taken from the Silvercrest plant have shown the presence of very small trace levels of equine DNA.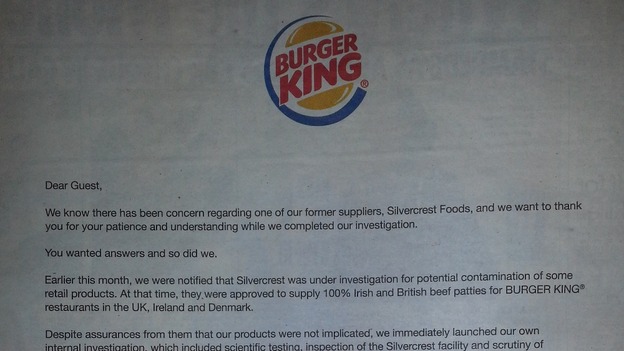 "Within the last 36 hours, we have established that Silvercrest used a small percentage of beef imported from a non-approved supplier in Poland. They promised to deliver 100 per cent Irish and British beef patties and have not done so.
"This is a clear violation of our specifications, and we have terminated our relationship with them.
"Through our investigation, we have confirmed that this non-approved Polish supplier is the same company identified by the Irish Department of Agriculture as the source of Silvercrest's contamination issue."